Legislative Update: Labor's five transportation principles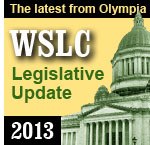 Following is today's edition of the Washington State Labor Council's Legislative Update newsletter (download PDF version):
---
OLYMPIA (Feb. 26, 2013) — Last week, Rep. Judy Clibborn (D-Mercer Is.), chair of the House Transportation Committee, unveiled the opening salvo in the debate over how to begin upgrading Washington's crumbling transportation infrastructure. The $10 billion package is funded by a 10-cent gas tax increase phased in over 5 years, plus vehicle tab renewal and other fees.
"This represents a very good first step in addressing the $50 billion in identified needs to restore Washington's crumbling transportation infrastructure," said WSLC President Jeff Johnson. He refers to the 2011 Washington Connects Task Force, which cited a 10-year funding need of $50 billion to rebuild this "backbone of Washington's economy.
At Clibborn's news conference announcing the package, she was surrounded by leaders representing labor, business, environmental groups and local government. This diverse group of interests has reached the common conclusion that current transportation revenues do not provide for the maintenance and operation of our existing highways, roads, ferry, or transit systems. And while the details of what will pass remain to be debated, all agree that now is the time to address this crisis.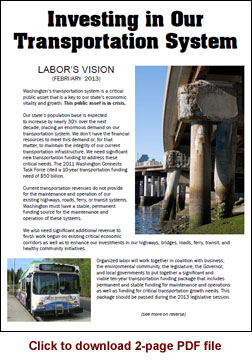 As the Legislature continues to debate this important issue, unions from across Washington state have come together to develop a set of five transportation investment principles:
1. Maintain what we have now: We need to maintain the value of our transportation assets through a permanent funding source for maintenance and operation. This should include funding for highways, bridges, roads, transit, and ferries at the state and local levels. The funding sources for maintenance and operations should be indexed to inflation where possible.
2. Invest in strategic-economic corridors: We need to complete funding for existing critical corridors (SR 509, Columbia River Crossing (CRC), SR 520, I-405, I-90, SR 395, SR 167 and SR 519). We should also include in the package, funding for the next set of critical economic corridors and increased investments in our ferry system.
3. Increase State and Local Investment in Roads, Rail, and Transit: Local roads and bridges are quickly deteriorating to unacceptable and unsafe levels. Local governments require the funding and tools to preserve these assets and address growth needs. Demand for public transit, funded largely by volatile local sales tax revenues, is expected to dramatically increase at the same time public transit has been forced to dramatically reduce services. We need a permanent reliable funding source for public transit, state owned freight rail, increased local funding options, and an increase to the State's share of transit funding.
4. Invest in Livable Communities: Transportation is responsible for more than 50% of our state's greenhouse gas emissions. We need to increase our investment in clean water infrastructure improvements and healthy, safe, and sustainable community transportation projects.
5. Build it in Washington: Our scarce transportation dollars should maximize the creation of jobs in Washington State. An improved transportation system allows businesses to prosper and employment to grow. Our investment in our transportation infrastructure can be a source of good local jobs. This includes but is not limited to preliminary engineering design work at WSDOT, pre-manufactured products, materials needed for road improvements, building new ferries, manufacturing rolling stock, and the use of community workforce agreements and apprenticeship utilization.
In addition to the WSLC, the following unions have signed onto this set of principles: Washington State Building and Construction Trades Council; Seattle Building and Construction Trades Council; Aerospace Machinists 751; United Transportation Union; Maritime Trades Council; ILWU Local 19; ILWU Puget Sound District Council; Professional and Technical Employees, Local 17; International Union of Operating Engineers 302; Masters, Mates and Pilots; Brotherhood of Locomotive Engineers and Trainmen; Amalgamated Transit Union 587; Marine Engineers Beneficial Association; and Laborers District Council.
---
Wage theft, other bills need votes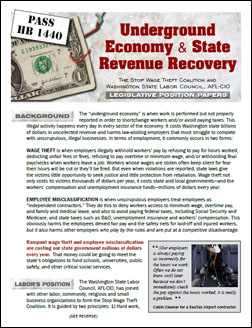 HB 1440, the wage theft and employee misclassification bill, got a hearing last week in the House Finance Committee, but needs a vote by this Friday, March 1 to advance. The Washington State Labor Council and the Stop Wage Theft Coalition strongly urge this committee, chaired by Rep. Reuven Carlyle (D-Seattle), to approve HB 1440 for a full House vote.
Wage theft and employee misclassification demand a solution based solely on the exploitation of workers denied their pay and basic protections like overtime pay, and workers' compensation and unemployment insurance coverage. But given its benefits in recovering state revenue while also supporting honest employers, HB 1440 should be considered a win-win proposal for labor, business and all levels of government.
Other labor-backed bills that need committee votes before this Friday's deadline for bills to pass fiscal committees:
HB 1025 (Rep. Jim Moeller) — Applying prevailing wage standards to publicly subsidized projects. This ensures that taxpayer-subsidized work doesn't reward contractors that undercut community wage standards. Passed House Labor, now in Finance. Companion SB 5395 (Sen. Steve Conway) missed cutoff.
HB 1313 (Rep. Laurie Jinkins) — Establishing minimum standards for paid sick and safe leave, similar to what was recently enacted in the City of Seattle, but for all workers in Washington. Passed House Labor, now in Appropriations (hearing Tuesday). Companion SB 5594 (Sen. Nick Harper) missed cutoff.
HB 1457 (Rep. Tami Green) — Implementing Washington's currently inactive Family and Medical Leave Insurance program. Passed House Labor, now in Finance. Companion SB 5292 (Sen. Karen Keiser) missed cutoff.

---
Labor-backed bills that missed cutoff
"Dead" is relative in Olympia. Bills that miss cutoff deadlines can be resurrected via amendment to live bills or through other extraordinary procedural means. That said, the following labor-backed bills didn't advance from policy committee before last Friday's cutoff deadline. So they're dead… kind of.
HB 1026 (Rep. Jim Moeller) — Promoting the hiring of Washington resident workers on tax-funded or subsidized public works projects. At least 75% of work hours on such projects would be state residents, although contractors could get a waiver if enough qualified local workers aren't available. Companion SB 5394 (Sen. Bob Hasegawa) also died.
HB 1085 (Rep. Sherry Appleton) — Would establish a single-payer health system called the Washington Health Security Trust. As in Vermont, HB 1085 would allow our state to seek an "innovation waiver" under the Affordable Care Act to provide universal single-payer coverage for specific services for all state residents. SB 5224 (Sen. Jeanne Kohl-Welles) also died.
SB 5029 (Sen. Bob Hasegawa) — Establishing the Washington Investment Trust to advance construction loans to local government entities for infrastructure projects. Modeled after a successful North Dakota institution, SB 5029 would enable the state's money to be at its own disposal, instead of parked at Bank of America or some other commercial bank.
SB 5429 (Sen. Maralyn Chase) — Creating some accountability for businesses that receive tax breaks for new or replacement machinery. This bill would require the subsidized business to demonstrate a net benefit to the state in terms of jobs created or maintained and the economic activity created.
SB 5482 (Sen. Karen Keiser) — Ensuring low-income workers have access to health coverage under the Affordable Care Act. It requires the state to monitor enrollment reports, by income and enrollment status, from the state's new Health Benefits Exchange. If more than 10% of workers at or near the poverty threshold are uninsured, the state would implement the Federal Basic Health Option.
---

Legislative Conference next week
The WSLC Legislative Reception and Conference is next week! If you haven't already registered for the March 6-7 event at the Olympia Red Lion Hotel, click here for registration forms and more information.
---
MUCH more at The Stand!
This weekly WSLC Legislative Update newsletter is published on Tuesdays during the 2013 session and outlines the legislative agenda of the Washington State Labor Council and its affiliated unions. But there is much more legislative news and information posted DAILY at The Stand— www.TheStand.org .
For example, in a story posted earlier today, Sen. Rodney Tom's bill eliminating state employees' defined-benefit pensions is called "a gratuitous attack" at Monday's Senate Ways and Means Committee hearing. Check it out!
Short URL: https://www.thestand.org/?p=21156
Posted by
David Groves
on Feb 26 2013. Filed under
STATE GOVERNMENT
. You can follow any responses to this entry through the
RSS 2.0
. Both comments and pings are currently closed.