WA ♥'s ACA, immigration reform progress, problem with paychecks…
Monday, March 11, 2013
---
LOCAL
► In the Seattle Times — Olympia hospital workers plan to strike Monday over health costs — If more than 500 service workers and others at Providence St. Peter Hospital in Olympia go on strike Monday morning as planned, it will be the largest health-care strike since 2004, union officials said.
ALSO TODAY at The Stand — Providence workers strike over health cuts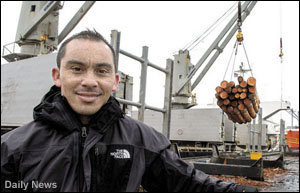 ► In the (Longview) Daily News — New ILWU 21 president understands value of communication, compromise — Jake Whiteside knows he has a big task as the new Local 21 longshore union president: Erasing the image of thuggery the union got during the 2011 EGT labor struggle and convincing prospective employers that the Port of Longview docks are a good place to expand and bring jobs.
► In the Bellingham Herald —Bellingham's working waterfront: Can it continue? — With big changes expected as the community considers waterfront redevelopment, a group of marine business owners hope that industry remains intact. They are forming an industry association to explain to the Port of Bellingham the importance of marine businesses when it comes to jobs.
► In the (Aberdeen) Daily World — Smoking ban on Grays Harbor County worksites considered
---
HEALTH CARE
► In Sunday's Spokesman-Review — A large dose of reform: Washington embraces Affordable Care Act — Health care, American-style, is about to undergo the biggest change since the enactment of Medicare 48 years ago. In quiet office buildings far from the glare of television cameras, officials worry that people who need these changes have no idea what's coming. Health insurance is complicated, and there's been no lack of controversy to obscure the emerging structure of reform. But in Washington state, reform is becoming reality, more rapidly than in most areas of the country.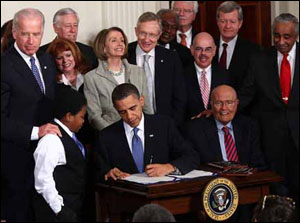 ► In today's Spokesman-Review — Health care reform result of lawmakers, public workers, Seattle boy — If "Obamacare" deserves a face, it's not Barack's. It's a young Seattle boy named Marcelas Owens, whose mother, like thousands of Americans every year, died of a treatable disease. Or maybe it's the public-service workers, unknown to the national stage, who now have picked up the baton and are sprinting for a Jan. 1 finish line.
► In today's Washington Post — Paul Ryan calls for Obamacare's repeal — Republican Rep. Paul Ryan's budget proposal is sure to encounter stiff resistance from Democrats in Congress who are committed to protecting Obamacare. That push back is likely to complicate Obama's efforts this week to reach a grand bargain on the budget.
► At Politico — Frustrated GOP health staffers jump ship — Since the election, one top Republican health policy staffer after another has fled the Hill for consulting and lobbying gigs that promise better pay, fewer hours and less obstructionism.
---
STATE GOVERNMENT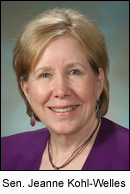 ► In the (Everett) Herald — Fight human trafficking (editorial) — Olympia lawmakers, in concert with activists and local prosecutors, are also working to daylight the crisis and enact legislation that will help victims, hold traffickers accountable, and ideally reduce demand. The hats-off leader is state Sen. Jeanne Kohl-Welles (D-Seattle).
► In the News Tribune — State decides to outsource web work to private company — State government plans to outsource the operation of Access Washington to a private company at no cost to state taxpayers. Kansas-based NIC Inc. will recoup its expenses — along with a profit — for running the Web portal and other "e-government" services for the state. But the money will come from transaction fees on businesses that, for example, want information about vehicle licenses.
EDITOR'S NOTE — So, the state pays nothing, but businesses/individuals will pay new fees for formerly free public information so this Kansas company can make a profit.
► In the News Tribune — Peacemaker in Tacoma teachers' strike likely doomed — Barely 18 months after teachers in Tacoma went on strike over their district's proposal to give principals more authority over teacher placement, the Legislature is poised to derail the plan that helped make peace between the union and school system.
► In the Olympian — State Democrats may have to listen to GOP transportation ideas — Hoping to persuade Republicans to support a major gas tax increase, Democrats may have to take seriously some GOP proposals about how state money is spent on road projects. One bill would require the state DOT to explain why employees were not fired after mistakes of more than $1 million. "Take the pontoon fiasco. I can't think of a corporation or business, however small or large, that somebody wouldn't have to resign because they cost the shareholders or owners that kind of money," said Rep. Steve O'Ban (R-Tacoma).
EDITOR'S NOTE — Mr. O'Ban, meet Mr. McNerney. Mr. McNerney… Mr. O'Ban.
---
BOEING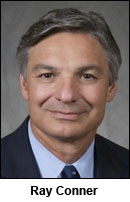 ► In the PS Business Journal — Ray Conner's flight path: 787 crisis is latest challenge in remarkable career — The puzzle, how to return the grounded fleet of 787s to flight, has thrust the little-known Conner, only eight months into his job as president and CEO of Boeing Commercial Airplanes, into what may be the defining challenge of his career. With the $200 million planes grounded for seven weeks and counting, no one knows if Conner will stem the damage to Boeing's reputation and bottom line.
► From AP — Boeing moving simulators to Miami — The company will move its Seattle-area flight training operations to Miami, starting with two 787 flight simulators. Boeing says all eight flight simulators in its Renton site will move to Miami, affecting about 100 local jobs. A spokesman says those workers will be offered an opportunity to relocate.
---
CONGRESS
► In today's LA Times — Senators agree on path to legal status for illegal immigrants — Eight senators who have spent weeks trying to write a bipartisan bill to overhaul immigration laws have privately agreed on the most contentious part of the draft — how to offer legal status to the nation's 11 million illegal immigrants.
► In today's NY Times — In search of debt deal, Obama walks narrow path — The president will go to Capitol Hill this week to try to salvage a big deficit-reduction deal, battling not only Republican resistance but also complaints from Democrats that he mishandled his last attempt.
► In The Hill — Voters see economy getting worse after sequester cuts — A strong plurality of voters believe economic conditions in the United States are getting worse, not better, according to a new poll for The Hill — and believe the $85 billion package of cuts known as the sequester will only make things worse.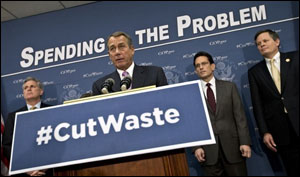 ► In the NY Times — Dwindling deficit disorder (by Paul Krugman) — The facts about our dwindling deficit are unwelcome in many quarters. Fiscal fearmongering is a major industry inside the Beltway, especially among those looking for excuses to do what they really want, namely dismantle Medicare, Medicaid and Social Security. People whose careers are heavily invested in the deficit-scold industry don't want to let evidence undermine their scare tactics; as the deficit dwindles, we're sure to encounter a blizzard of bogus numbers purporting to show that we're still in some kind of fiscal crisis. But we aren't. The deficit is indeed dwindling, and the case for making the deficit a central policy concern, which was never very strong given low borrowing costs and high unemployment, has now completely vanished.
---
NATIONAL
► From AP — Thomas Perez reportedly pick for Labor Secretary — Sources say President Barack Obama is close to naming Thomas Perez as his choice to head the Department of Labor. Perez, 51, has led the Justice Department's Civil Rights Division since 2009 and previously served as Maryland's labor secretary. He is expected to have solid support from organized labor and the Hispanic community.
► In today's LA Times — Public-employee unions push back with lawsuits over pension cuts — California Gov. Jerry Brown, normally seen as a labor ally, is forced to defend the reforms he backed.
► In Sunday's Washington Post — Research ties economic inequality to life expectancy — Even as the nation's life expectancy has marched steadily upward, reaching 78.5 years in 2009, a growing body of research shows that those gains are going mostly to those at the upper end of the income ladder. The tightening economic connection to longevity has profound implications for the simmering debate about cutting or raising the eligibility age of Social Security and Medicare.
---
TODAY'S MUST-READ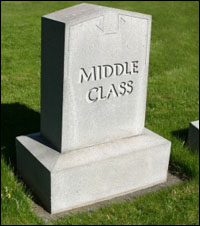 ► In Sunday's Seattle Times — Problem with paychecks (by Jon Talton) — The erosion of economic mobility is at complete odds of our self-image as the Land of Opportunity. It is also a change from a previous America. Globalization, offshoring and technology have decimated the old blue-collar middle class. The economy has shifted to service jobs that not only tend to pay less but are increasingly part time and temporary. Financialization of the economy has led to what economists call "rent seeking," focusing on making government change the rules to make a business more profitable rather than investing in the production of real goods and services. It also offers the very wealthy a casino including $600 trillion worth of derivatives rather than having them invest in job-creating enterprises. … Whatever the causes, little is being done to correct our trajectory into historic high inequality that is greater than other advanced nations. Things may have to get worse before change happens. One thing is clear: Our situation is unsustainable and un-American.
---
The Stand posts links to Washington state and national news of interest every weekday morning by 10 a.m.
Short URL: https://www.thestand.org/?p=21585
Posted by
David Groves
on Mar 11 2013. Filed under
DAILY LINKS
. You can follow any responses to this entry through the
RSS 2.0
. Both comments and pings are currently closed.