Inslee's budget, USPS closures, sequester cuts, Trumka's vision…
Thursday, March 28, 2013
---
STATE GOVERNMENT

► In today's (Everett) Herald — Inslee will seek to extend temporary taxes — Gov. Jay Inslee today will call for extending taxes set to expire this summer as part of his plan for balancing the next state budget and steering more than $1 billion of new money into public schools in the coming two years. Inslee also will identify tax breaks he wants to close as a means of raising revenue to erase a projected budget shortfall and satisfy a Supreme Court directive to better fund the state's education system. The governor has scheduled an 11 a.m. news conference to discuss his spending blueprint for the biennium that begins July 1. (Watch it here on TVW.)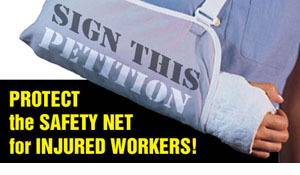 ► In today's (Everett) Herald — Aerospace executives urged to fight for more help — Sens. Steve Hobbs (D) and two of his Republican colleagues warned that revisions in the workers' compensation program passed by the Senate are in danger because of political differences with the Democrat-controlled House. House Speaker Frank Chopp said significant changes made to the program in the last two years need time to take root first.
EDITOR'S NOTE — The "revisions" the conservative senators are talking about don't support the aerospace industry, they undermine this middle-class safety net by cutting benefits or giving employers more control over injured workers' medical treatment. (More on this in tomorrow's WSLC Legislative Update newsletter.)
► In today's News Tribune — Payday lending bill advances in House — A controversial proposal backed by Seattle-based payday lender Moneytree took another step forward in the Legislature on Wednesday. The proposal drew criticism from consumer advocates during Wednesday's hearing, claiming SB 5312 is being rushed through the process and called the high-interest loans dangerous.
► At PubliCola — Isn't it weird… — Rep. Ross Hunter (D), who says he needs to find new revenue as the Democrats' budget point person, is sponsoring a bill that would cost the state $5.2 million this biennium — and more than $16 million over the next three biennia — by letting Costco off the hook for paying the 17% liquor licensing fee on sales to restaurants and bars.
► In today's Olympian — Ending unneeded tax breaks could help sew up budget (editorial) — Does ending a tax break constitute a tax increase? If enough lawmakers decide it does not, then the competing budget proposals might emerge closer than otherwise expected, giving hope to dodging an expensive special session.
► In today's (Everett) Herald — Giving teeth to Medicaid (editorial) — The Washington Legislature must act to provide dental coverage to Medicaid-insured adults as a requisite feature of Medicaid expansion.
---
BOEING
► In the Seattle Times — Memo to the governor: A post-Boeing state (by Jon Talton) — Yesterday, I asked, "Chicago, to we have a problem?" after the recent string of Boeing cutback news. My conclusion: We're a branch-office town for a short-term-focused, self-destructive company that sees itself as inconveniently tethered to the Puget Sound, no matter the skills and advantages we bring.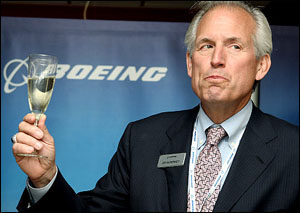 ► In today's Seattle Times — Boeing CEO says 787 is 'very close' to flying — Boeing CEO Jim McNerney said his company is "very close" to getting its troubled 787 Dreamliner jet back flying again. He called the grounding a "frustrating experience" but said regulators are putting safety first.
► In today's NY Times — New problem for 787 battery maker — Two lithium-ion car batteries produced by GS Yuasa, the same Japanese company that supplies batteries for the grounded Boeing 787 jetliner fleet, have overheated in recent days.
---
LOCAL
► At APWU.org — APWU denounces USPS plans to accelerate closures of mail processing plants — The USPS notified the APWU on Tuesday that it would implement 53 consolidations this year that were originally scheduled for 2014. In January, the Postal Service said it would accelerate implementation of 18 other closures.
EDITOR'S NOTE — The accelerated closure list from the USPS includes the mail processing facility in Pasco.

► In The Stranger — Who would Jesus fire? — There's a hole in our state's antidiscrimination law — a giant, Jesus-shaped hole — that exempts religious not-for-profit organizations from honoring it. Aside from church groups, it excuses religious nonprofits like schools, universities, hospitals, and even credit unions from honoring the antidiscrimination law. Moreover, it grants them the legal protection to discriminate in areas totally unrelated to their religious practices or ethical beliefs. It also allows them to hypothetically fire security guards for being too old, doctors too black, or nurses too lesbian. And it appears that the state's largest religious hospitals, at least, are taking advantage of the exemption, as is their legal right.
► In the (Aberdeen) Daily World — Westport Shipyard lays off workers in Westport, Hoquiam and Port Angeles — Westport Shipyard has laid off workers at its Westport, Hoquiam and Port Angeles facilites, the company confirmed on Tuesday, declining to comment on how many workers were affected or how long the workforce reduction may last. Various reports indicated the layoffs at the two Harbor facilities may amount to as many as 60 to 80 workers.
► In today's News Tribune — Another Port of Tacoma longshore worker hurt on the job — A longshore worker was in the hospital Wednesday night after he fell on a ship at the Husky Terminal.
► In today's News Tribune — Tacoma firefighter who rescued canoeist is first woman to receive Valor award — For her bravery and quick acting, the Tacoma Fire Department presented Annie Craig its Medal of Valor Award on Wednesday.
---
SEQUESTER
► In today's News Tribune — Lewis-McChord civilian workers plead with Sen. Patty Murray — Anxiety is rising among civilian workers at Joint Base Lewis-McChord, who stand to lose up to a fifth of their pay this year to furloughs if Congress fails to prevent forced federal budget cuts this month, a panel of workers told U.S. Sen. Patty Murray on Wednesday.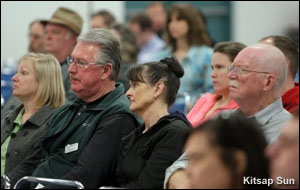 ► In today's Kitsap Sun — Sequester victims hear words of support — Defense workers received varied support Tuesday, with a rally at a shipyard gate in the afternoon and town hall meeting in the evening. A credit union-led event helped ease fears of some of the 13,700 local civilian defense employees faced with losing 20% of their pay because Congress can't agree on a deficit-reduction plan. Furloughs were planned to begin April 26, but required 30-day notices were delayed two weeks to assess implications after Congress passed a new continuing resolution.
► In today's Seattle Times — Federal public defenders are victims of automatic cuts — On Friday, federal public defenders will shutter their offices for the first in a series of unpaid furloughs through September. And federal prosecutors may not be far behind — they've been served with notice that up to 14 days of furloughs could begin next month.
► In today's Spokesman-Review — Spokane Airports leading legal challenge against FAA closures — Spokane Airports is at the forefront of an expanding legal challenge to the FAA's decision to close the Felts Field air control tower and 148 others at small airports around the country as part of sequestration budget cuts.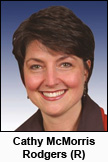 EDITOR'S NOTE — Yesterday, a Talking Points Memo report indicated that the small airport closures have some Republicans in Congress to decry sequestration cuts in their own states and districts, but decline to support a sequestration replacement plan that includes higher revenue. We wonder if Rep. Cathy McMorris Rodgers (R-WA) will get a case of this "sequestration remorse," like Doc Hastings apparently has.
► In today's Tri-City Herald — Hanford song 'Furlough Comes' strikes a chord on chord on YouTube — Jason Strickling of Pasco, the husband of a Hanford worker, has created what may be the new Hanford theme song, "Furlough Comes," sung to the tune of the Banana Boat Song. "D-DOE say, furlough come and we got to go home," he sings. "Tanks are leaking and governor's mad." (Listen to the song here.)
---
IMMIGRATION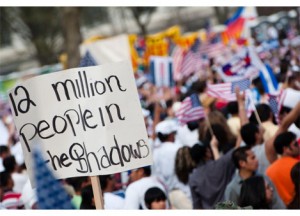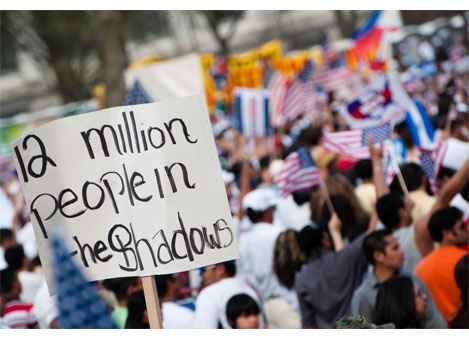 ► In today's National Journal — Big Labor and Big Business have one big issue: Immigration reform — Immigration reform has become the No. 1 policy priority at the AFL-CIO, a remarkable shift for the labor group that has in the past spent more effort trying to pass a health care law or destroying a proposal to privatize Social Security. Immigration reform has also become a top priority at the Business Roundtable, which represents the largest U.S. corporations. The group previously has focused its attention on corporate tax reform and trade policy. Welcome to the new reality. Immigration is where it's at.
► At Politico — Immigration talks back on track, union says — Talks on a new visa program for low-skilled workers are "back on the right track" after a dispute over wages stalled progress on a Senate immigration reform bill, said Ana Avendaño, immigration director for the AFL-CIO.
---
NATIONAL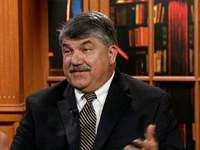 ► In today's Washington Post — AFL-CIO's Trumka looks to remake U.S. labor movement — AFL-CIO President Richard Trumka said Wednesday he is crafting a new plan to remake the American labor movement, which is struggling to retain clout in Washington and state capitals amid a steep decline in membership. In an interview taped for C-SPAN's "Newsmakers" program, Trumka said he was seeking a more formal alliance with other key elements of the Democratic Party's liberal base, including civil rights organizations and women's rights groups. The hope, he said, is to then broaden union membership beyond the traditional realm of workplace-based organizing.
► In today's NY Times — Justices cast doubt on benefits ban in U.S. marriage law — The Supreme Court appeared ready on Wednesday to strike down a central part of a federal law that defines marriage as the union of a man and a woman, as a majority of the justices expressed reservations about the Defense of Marriage Act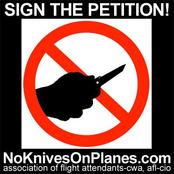 ► In today's NY Times — A no-fly zone for knives (by AFA-CWA's Sara Nelson) — There is something cynical in the TSA's position that knives will not "result in the catastrophic failure of an aircraft." Does that mean that anything less — the death or serious injury of a flight attendant or a passenger, for example — is acceptable?
ALSO at The Stand — Sign petition urging against knives on planes
---
The Stand posts links to Washington state and national news of interest every weekday morning by 10 a.m.
Short URL: https://www.thestand.org/?p=22290
Posted by
David Groves
on Mar 28 2013. Filed under
DAILY LINKS
. You can follow any responses to this entry through the
RSS 2.0
. Both comments and pings are currently closed.