Frustrated Bradken workers in Chehalis seek first contract
By DAVID GROVES
The Stand
CHEHALIS (Mar. 18, 2013)  — This town has a proud history of labor activism. But, like many other towns in rural Western Washington state, the decline of the forest products industry and loss of the mills has meant far fewer union jobs.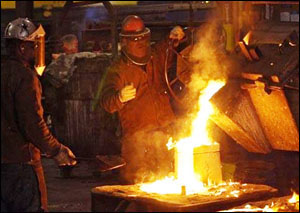 That's why it was front-page news in The (Centralia) Chronicle last fall when about 100 foundry workers at Bradken Engineered Products in Chehalis voted to form a union with IAM Local W130. Bradken employees were upset about constantly changing shift hours, inconsistent pay policies, and wages that were $4 to $7 below what workers in Bradken's Tacoma foundry were getting for the same work.
On Aug. 10, 2012, despite an aggressive campaign by management to discourage unionization, they voted to form a union in what Bob Guenther, president of the Thurston-Lewis-Mason Labor Council, called Lewis County's biggest organizing victory in more than 30 years.
But today, Bradken workers are finding out that in this country — given its lax labor laws and its multi-billion dollar union-avoidance industry — it can be very difficult to get an employer to negotiate in good faith for a first contract. Although IAM negotiators remain hopeful, more than seven months after voting to organize a union, contract bargaining with Bradken has gotten nowhere.
Guenther says Bradken could be purposefully stalling so the workers get frustrated and give up their union. If the company delays the contract for a year, it can petition for a new union election, at which time there may no longer be enough employee support and representation could end, he said.
That's why the local labor community is rallying around the Bradken workers to raise awareness of their situation and to urge management to do the right thing and negotiate a fair contract that respects the employees that make the company successful.
The Thurston-Lewis-Mason Counties Labor Council recently passed a resolution in support of a fair first contract for Bradken employees.
…The Thurston Lewis Mason Counties Central Labor Council believes in a fair day's work for a fair day's pay and would like to unanimously declare our support for the workers employed at the Bradken foundry in Chehalis. We believe these workers deserve wages and hours and working conditions for the skills they have, and deserve wages comparable to the average wage paid in the region for the work they perform.
TAKE A STAND!  Here's what YOU can do to support Bradken employees in Chehalis:
Send a message of support to Bradken employees. The solidarity of other union organizations, members and people in the community means a lot to these folks. Send you message via email here or to IAM Local W130, 2211 Foron Road, Centralia, WA, 98531.
Send a message to management at Bradken Chehalis. Encourage them to do the right thing and bargain in good faith for a fair first contract. Make sure they know that the community is watching and wants their friends and neighbors who work at Bradken to be treated with respect. Mail those messages to Bradken Engineered Products, 109 Sears Road, Chehalis, WA, 98532.
Visit and "like" the Bradken workers' Facebook page. Click here or search on Facebook for "Bradken Chehalis IAM Workers." That way you can stay posted on developments in negotiations and other ways you can support these employees.
BACKGROUND — Bradken is an Australia-based conglomerate that is heavily unionized — outside the United States. The foundries in its Engineered Products division in the U.S. produce products for the railroad industry, mining, industrial, power and cement, and military. The company touts that it "strives to act as a good corporate citizen and supporter of the regional communities in which it operates… (and maintains) open lines of communication with neighbours, community groups and local authorities."
But employees at Bradken's Chehalis foundry are paid significantly less the company's workers at a foundry just a few miles up the road in Tacoma. The average wage at the Chehalis plant is less than the $17.50 per hour that is considered to be a family wage in Lewis County.
Plus, the wage policies are not standard. Management's inconsistent pay policies were also a driving factor in the employees' unionization. Paul Kochanek, an employee at Bradken Chehalis, described how two employees, doing the same work in the same department, ended up making different wages.
"At their six-month anniversary, they both received a pay raise. At their one-year anniversary, one received a pay raise, but the other did not," said Kochanek. "When management was asked why one did not get a pay raise, the answer was that employee was 'topped out.' But the employee that got the raise is making more than the one that is topped out."
After forming their union with the IAM, the employees elected a negotiation committee which has met with management several times with very little progress.
Download a Bradken Chehalis IAM fact sheet for more background information.
---
Joe Kear of IAM District Lodge W24 contributed to this report.
WASHINGTON IS A UNION STATE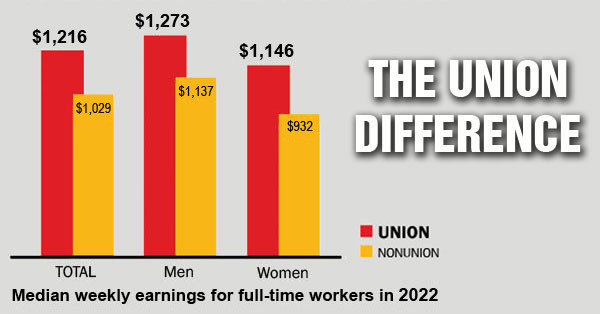 CHECK OUT THE UNION DIFFERENCE in Washington state: higher wages, affordable health and dental care, job and retirement security.
FIND OUT HOW TO JOIN TOGETHER with your co-workers to negotiate for better working conditions and respect on the job. Or go ahead and contact a union organizer today!