Report finds Sea-Tac workforce standards below other airports
The following is from Puget Sound SAGE:
---
SEATTLE (Mar. 20, 2013) — While many eyes have been on the recent ups and downs of the airline industry with Boeing's outsourcing troubles and Alaska Airline's on-time award, on Tuesday a regional think tank issued a report shedding light on the substandard working conditions at Sea-Tac Airport and the harmful consequences. The report titled, Below the Radar finds that Sea-Tac Airport has fallen behind minimum workforce standards compared to other West Coast airports.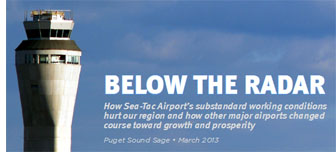 For decades, the local airline industry has cut costs on ground-based operations that are critical to passenger air service including baggage handling, cabin cleaning and wheelchair services.  By outsourcing these services to businesses with lower wages and fewer benefits, the industry's workers, their communities and travelers have been subjected to many unintended, negative consequences.
"Airline contractors compete fiercely by cutting costs that can also compromise airport security, public health and passenger safety," said Nicole Keenan, the report's author.
The report compares Sea-Tac Airport with four major West Coast airports (Los Angeles International, San Francisco International, Oakland International and San José International). Here is how the airports compare: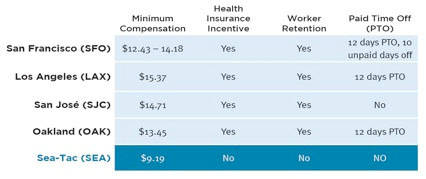 These four other West Coast airports implemented standards to reduce poverty, strengthen safety and security, improve public health and minimize the public cost of their low-wage workforces.
"At these major airports on the West Coast, the airline industry along with policymakers played the leading role in establishing necessary reforms that allow people to make ends meet while meeting airline and customers needs for growth and shared prosperity," said King County Councilmember Julia Patterson.
Some industry leaders recognize the relationship between improved workplace standards and the success of their airline.
Anne Naylor, a senior director of ground operations for Southwest Airlines, who supported new policies in San Jose, was quoted in an industry publication saying, "Other airlines are playing a dangerous game with their customers. Although they may save on ground handling fees and maximize profit in the short-term, they are damaging the relationship of trust with the passenger. Such an approach is far less likely to lead to loyal customers."
Major airlines flying in-and-out of airports all along the West Coast abide by these reasonable, fair-wage standards, yet at Sea-Tac Airport they fail to do so.
"Alaska Airlines has logged record profits for several years while embracing these enlightened policies all up-and-down the West Coast. But here in Seattle — where loyal employees laid the foundation for Alaska's success — the company allows working conditions to stagnate and decline," said Bruce Herbert, Chief Executive of Newground Social Investment.  "An economically secure workforce is a motivated, productive workforce — which pays dividends in terms of retention, output, safety, and long-term reputation. Treating workers fairly creates win-win outcomes not just for workers, but for investors and the community alike."
The report recommends that agencies responsible for the health and welfare of King County residents should work together to enact policies and programs that align with the standard set by other West Coast airports. Alaska Airlines can and should lead this transformation.
---
Puget Sound Sage is a regional think-tank committed to building communities were all families thrive.  Sustainable growth for our region requires good jobs, quality employment opportunities, a cleaner environment and affordable housing for families with low- and moderate-incomes.
Short URL: https://www.thestand.org/?p=21964
Posted by
David Groves
on Mar 20 2013. Filed under
LOCAL
. You can follow any responses to this entry through the
RSS 2.0
. Both comments and pings are currently closed.