Federal furloughs, Baumgartner's bill, end death traps, 'job creators'…
Wednesday, May 15, 2013
---
AUSTERITY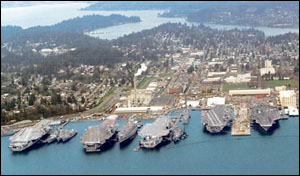 ► In today's Kitsap Sun — Defense exempts local shipyard workers from furloughs — The Pentagon will furlough about 800,000 civilian employees for 11 days due to the across-the-board cuts known as "sequestration." But employees in Navy shipyards, including at the Puget Sound Naval Shipyard in Bremerton. However, furloughs will affect civilian employees throughout Naval Base Kitsap including at Bremerton, Bangor, Naval Hospital Bremerton, Manchester Fuel Depot, and NUWC Keyport. In addition, these impacts will also be felt for Department of Defense civilian employees at JBLM in Pierce County and NAVMAG Indian Island in Jefferson County.
EDITOR'S NOTE — U.S. Rep. Derek Kilmer's response:
While I'm pleased to see an exception from furloughs for employees at the Puget Sound Naval Shipyard, these across-the-board cuts and the resulting furloughs will affect our military readiness and have a negative impact on our local economy. These problems are entirely avoidable if Congress would get its act together and replace these across-the-board cuts altogether. I believe the way out of our economic mess is getting both parties to work together on a balanced, strategic, long-term budget plan. Congress needs to get this done for the American people. We can't give up the fight.
► In today's Washington Post — Hagel announces hundreds of thousands of furloughs for Defense workers — Secretary of Defense Chuck Hagel put an end to months of uncertainty and fleeting hopes for the department's civilian workforce Tuesday, announcing plans to begin furloughing hundreds of thousands of employees for up to 11 days starting July 8.
► In today's Yakima H-R — Jobless benefit cuts to affect thousands — More than 2,000 Yakima County residents will see a significant cut in their federal unemployment benefits starting next week. Statewide about 40,000 residents will see a 21 percent cut in weekly benefits starting Sunday. The cuts come as a result of the sequester,
ALSO at The Stand — Federal cuts are about to hit unemployed
► Meanwhile, in today's NY Times — U.S. budget deficit shrinks far faster than expected — Since the recession ended four years ago, the federal budget deficit has topped $1 trillion every year. But the latest figures show the government's annual deficit is shrinking far faster than anyone in Washington expected. Given that the economy continues to perform well below its potential and that unemployment has so far failed to fall below 7.5%, many economists are cautioning that the deficit is coming down too fast, too soon.
---
STATE GOVERNMENT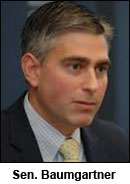 ► In today's (Everett) Herald — Will Washington become a 'right-to-work' state to win Boeing's 777X? — Will Washington become a right-to-work state in order to secure design and manufacturing of Boeing's 777X here? The answer: Not likely. But one Republican state senator has proposed legislation that would weaken labor unions here should the state workers' compensation insurance rates continue to increase. The move would help position Washington to win work on Boeing's updated 777, said Sen. Michael Baumgartner.
► In today's News Tribune — Plan to finish Routes 167, 509 questioned — The biggest piece of an $8.78 billion transportation proposal in the Legislature – the project to finish state Routes 167 and 509 in Pierce and King counties – hasn't garnered much criticism. The controversy has, instead, been over the taxes that would pay for it. But a few dissenting voices are starting to emerge, mainly questioning whether the proposal would worsen suburban sprawl and soak up money that could be used to repair existing roads.
► At PubliCola — Questions for Sen. Rodney Tom — PubliCola: "Is workers' comp reform one of the tradeoffs for you that will get this budget deal done?"  Sen. Tom: "Yeah."
---
LOCAL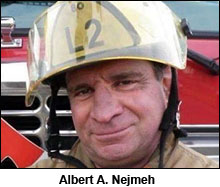 ► In today's News Tribune — Tacoma firefighter collapses, dies while on aid call — A Tacoma firefighter rendering aid to a sick person collapsed of an apparent heart attack and died Tuesday, city officials said. Albert A. Nejmeh was a 12-year veteran of the department and became the 14th city firefighter to die in the line of duty, department records show. The last was in 1988. Department flags were lowered to half staff and firefighters wore mourning badges Tuesday.
► In today's Seattle Times — 400 show up to object to potential cuts in Seattle bus service — While state lawmakers drift through a special session in Olympia, transit riders in Seattle are also putting in overtime, pushing for new taxes to prevent a potential 17% cut in bus service.
► In today's News Tribune — Seattle tunnel creates jobs in Pierce County — A sign prominently posted on Canyon Road East, near the entrance to FPS-Encon Precast's expanded Frederickson plant, explains in short measure why dignitaries are gathering at the plant Wednesday to celebrate. "Now hiring," the sign declares.
► In today's Seattle Times — Seattle Symphony, musicians reach agreement on new contract (brief) — After 15 months of negotiations, the Seattle Symphony and its musicians have reached agreement on a new contract.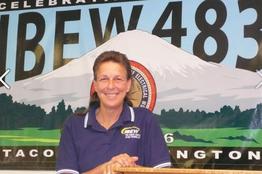 ► At AFL-CIO Now — Tacoma union members make it a banner year for union-made peanut butter donations — Alice Phillips of Tacoma, Wash., is a union leader who's willing to create a little buzz. At least, that's the sound the clippers will make when Phillips, the IBEW business manager, fulfills her pledge to get a Mohawk haircut if the members of Electrical Workers Local 483 would double last year's donation of union-made peanut butter as part of the Letter Carriers' National Food Drive. They brought the jars. So she's on the hook.
ALSO at The Stand — Pierce County unions collect record haul of peanut butter
---
CONGRESS
► At Huffington Post — NLRB nominations may be blocked by GOP, rendering labor board inoperable — With the Senate about to consider President Obama's nominees to the National Labor Relations Board, Democrats and labor groups are growing concerned that Republicans will block the administration's left-leaning nominations, rendering the board inoperable once a current member's term expires in August.
► In today's LA Times — Nuking the filibuster (editorial) — If Senate Republicans won't give Obama nominees an up-or-down vote, it may be time to change the body's rules.
► At AFL-CIO Now — What planet is Washington elite on when they're debating Social Security? — While there is a growing consensus inside the beltway between the White House and Republicans in Congress that the "fix" to Social Security must start with a discussion of cutting the rate at which we compensate Social Security beneficiaries for the increases in the cost of living, the American people overwhelmingly think the discussion should begin with how to add revenue to the program. A new report shows that 75% of working people think we should be discussing strengthening Social Security benefits to provide people with a more secure retirement.
► In today's Washington Post — Why Washington scandal-mania may save Social Security, Medicare — The Monica Lewinsky scandal may have helped save Social Security in the late 1990s. Now the scandal fever currently gripping Washington — IRS, Benghazi, Associated Press phone records — may save Social Security and Medicare two decades later.
► In today's Washington Post — Senators protect fragile compromise on H-1B visas — Senators behind a sweeping immigration reform bill managed to defend their fragile compromise on Tuesday from a seige of amendments to expand or restrict a visa program for highly skilled workers beyond what was initially proposed in the legislation.
► In today's NY Times — House Republicans to vote yet again to repeal health care law — The 37th time won't be the charm. But House Republicans are charging forward anyway this week on a vote to repeal President Obama's signature health care overhaul, which will put the number of times they have tried to eliminate, defund or curtail the law past the three-dozen mark.
---
END DEATH TRAPS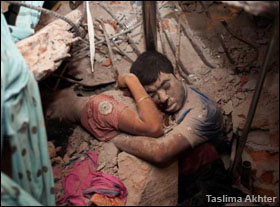 ► At AFL-CIO now — U.S. brands, retailers should sign Bangladesh safety accord — Rana Plaza, the Bangladesh factory that collapsed three weeks ago, killed more than 1,100 workers, many of them young women. This tragedy adds to the more than 1,500 Bangladeshi workers killed in preventable fires and building collapses since 2005. Documents found at the factory show that the workers produced for big names in global retail, revealing the link between poor workers in Bangladesh and major retail  brands. Obviously, the government must improve local laws and their enforcement to stop these tragedies, but brands also must take responsibility for their supply chains. They must be held accountable to the tragedy that happened in their supply chain.
ALSO at The Stand — Modern day shackles in Wal-Mart's global supply chain (July 2012)
► In today's NY Times — As firms line up on factories, Wal-Mart plans solo effort — Wal-Mart, rejecting a safety plan backed by more than a dozen European companies, said its monitors would "conduct in-depth safety inspections" at all factories it uses in Bangladesh. Meanwhile, newly found documents indicate that apparel had been produced for Wal-Mart at one of the operations in the factory building that collapsed last month, killing more than 1,100 workers.
► In today's Seattle Times — Nordstrom reviews records on factory safety — Nordstrom's says its products were not made in the collapsed building, but the Seattle-based retailer does have some production at three other factories in Bangladesh's Dhaka district
► In today's Washington Post — Mending factory conditions after Bangladesh (by Harold Meyerson) — Some of the major retailers and brands that had boasted of their safety inspections before the Rana collapse have since admitted that while their inspectors looked for things such as fire extinguishers, they didn't check the structural soundness of the buildings. Noticing whether stairwells are open or closed, however, doesn't require an engineering degree. Making sure that factories have staircases sealed off by fire doors simply wasn't a priority for the global retailers who went to Bangladesh because it was the cheapest place on the planet to make their goods.
---
NATIONAL
► At AFL-CIO Now — IAM, TWU come together at 'new' American Airlines — The Machinists and the Transport Workers have reached a partnership to jointly represent nearly 30,000 ground workers at the "new" American Airlines following the merger of American Airlines and US Airways. The two unions signed agreements this week to cover various segments of the merged airlines.
---
TODAY'S MUST-SEE

► This one has been around for a while, but in case you haven't seen it before… At AddictingInfo.com — This TED talk was banned for attacking the Job-Creator myth: The rich don't want you to see it — This TED talk isn't posted on the TED website. Why not? Apparently they feel it's too politically controversial. Seattle's own Nick Hanauer talks for six minutes on why the rich aren't the job creators — and as someone worth $1 billion, he knows a bit about the rich.
---
The Stand posts links to Washington state and national news of interest every weekday morning by 10 a.m.
Short URL: https://www.thestand.org/?p=23728
Posted by
David Groves
on May 15 2013. Filed under
DAILY LINKS
. You can follow any responses to this entry through the
RSS 2.0
. Both comments and pings are currently closed.