America's working families need a (rule) change
The following is from AFL-CIO Now:
---
WASHINGTON, D.C. (July 15, 2013) — Senate votes on several of President Obama's nominees to vital cabinet and agency positions, including Secretary of Labor and the National Labor Relations Board members, could come as soon as today. Republicans have blocked those and other nominations through Senate rules and filibuster threats.
Last Thursday, Senate Majority Leader Harry Reid (D-Nev.) filed for cloture on six nominees which, in effect, will force Republicans to either follow through on their threats to filibuster the nominees or agree to simple up or down votes that could begin to end the gridlock that has held up many of Obama's nominations. Reid has said if the Republican obstruction continues, he may be forced to take action that could change Senate filibuster rules concerning nominations. According to news reports, Senate Republicans and Democrats are meeting to discuss possible action on the nominees.
TAKE A STAND! Please email your senators and ask them to support changing the Senate rules so presidential nominees aren't blocked and workers' rights are protected.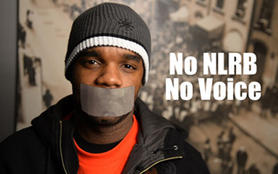 In the coming days, the Senate is expected to vote on a number of President Obama's appointees, including his five nominees to the NLRB — the agency that protects workers' rights. But Republicans in the Senate are threatening to shut down the NLRB by blocking an up-or-down vote on President Obama's nominees. If the NLRB nominees fail to be approved, the board would fall below a quorum on Aug. 1 and no longer would be able to do its job of protecting America's workers.
The nominees Reid filed cloture for are: Richard Cordray for director of the Bureau of Consumer Financial Protection; Richard Griffin, Sharon Block and Mark Pearce to the NLRB; Thomas Perez for Secretary of Labor; Gina McCarthy for administrator of the Environmental Protection Agency and Fred Hochberg to be President of the Export-Import Bank of the United States.
You can find out more about the battle over the NLRB and other nominations here, here and here.
Also check out this video explaining why a functioning NLRB is so important to workers and a functioning democracy:
Short URL: https://www.thestand.org/?p=25390
Posted by
David Groves
on Jul 15 2013. Filed under
NATIONAL
. You can follow any responses to this entry through the
RSS 2.0
. Both comments and pings are currently closed.