Immigration reform = jobs, AFL-CIO targets, High Flying Linemen…
Wednesday, August 14, 2013
---
IMMIGRATION REFORM

► In today's Yakima H-R — Advocates push economic case for immigration reform — Echoing a host of recent reports, a coalition of grower and labor interests presented a new study Tuesday that concludes comprehensive immigration reform would create jobs and pump billions of dollars into the state and national economies. The report said the Senate legislation awaiting action in the U.S. House would spur $21.3 billion in increased economic output in the state over the next 10 years and create 3,083 new jobs annually in the state.
"It's the smart thing to do for our economy in Washington," Sue Henricksen, vice president of the Washington Federation of State Employees, the state chapter of AFSCME, said Tuesday in Yakima. She singled out for criticism Rep. Doc Hastings (R-Pasco) and others for not acting on a solution in the House.
ALSO at The Stand — WSLC commends Reichert for backing pathway to citizenship (Aug. 9)
► In The Hill — White House: Pathway to citizenship would boost GDP $1.4 trillion over decade — The White House on Tuesday released a new report arguing a pathway to citizenship for the nation's 11 million illegal immigrants would add 2 million jobs to the economy and boost gross domestic product by $1.4. trillion over the next decade.
---
AEROSPACE
► At EOI's blog — Union busting doesn't pay off for Boeing — In an internal memo, Boeing bigwigs admitted that not only would the South Carolina move cost them money, but "the only consistent advantage attributed to Charleston was the ability to 'leverage' the site placement decision toward 'rebalancing an unbalanced and uncompetitive labor relationship'." But years later, Boeing is seeing another consequence to its costly move out of Washington — a less productive labor force.
ALSO TODAY in The Stand — Boeing thrives, invests in Washington state (By Bob Drewel, Maud Daudon and Jeff Johnson)
► In today's News Tribune — Boeing to outsource security at local plants — Boeing will outsource the security operation at many of its Puget Sound sites this fall, leaving about 64 of its uniformed guards facing layoffs. All Boeing security guards are members of the Security, Police and Fire Professionals of America (SPFPA), a union whose current contract includes a job protection guarantee for all hires before Nov. 22, 2006. Those guards will retain their jobs but the remainder will receive layoff notices in October as security at most local sites transfers to AlliedBarton.
---
LOCAL
► In today's Columbian — Sen. Murray: Let's get moving on infrastructure — U.S. Sen. Patty Murray signaled support Tuesday for the latest push to revive the Columbia River Crossing, saying the effort to replace the Interstate 5 Bridge should remain a priority.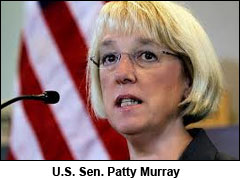 ► In today's (Longview) Daily News — Veterans' programs at risk amid budget battle, Sen. Murray warns — A recent series of across-the-board federal budget cuts is "strangling" the Longview Housing Authority and affecting programs that serve military veterans, staff members told U.S. Sen. Patty Murray.
EDITOR'S NOTE — Yesterday we learned that the U.S. budget deficit down 37% through July and remains on track to post its lowest annual budget gap in five years. So, why again are we "strangling" programs for our veterans?
► In today's Spokesman-Review — Spokane public school officers may carry guns — In January, 13 district employees, already commissioned peace officers, are expected to start wearing .40-caliber Glock pistols at their sides. Arming school resource officers is one of many safety measures the district approved in the wake of December's mass shooting in Newtown, Conn.
► In today's Seattle Times — Metro driver recalls terror, riders who rushed to help — One day after he survived a gunman's bullets, Metro bus driver DeLoy Dupuis said he's thankful to be alive.
---
NATIONAL
► In The Hill — AFL-CIO aiming at GOP governors in 2014 — The nation's most prominent labor organization plans to throw its political weight most heavily into a half-dozen governors' races in the 2014 cycle, focusing on states where the outcome of gubernatorial elections will be most "consequential" for union members and working-class voters. The six Republican governors at the top of the AFL-CIO target list: Rick Scott of Florida, Rick Snyder of Michigan, Paul LePage of Maine, John Kasich of Ohio, Scott Walker of Wisconsin and Tom Corbett of Pennsylvania.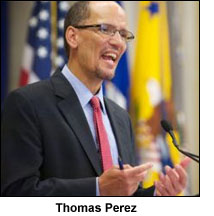 ► From AP — Likely Labor regs aid vets, disabled, unions — With Thomas Perez now confirmed as head of the Labor Department, the agency is expected to unleash a flurry of new regulations that have been bottled up for months — a prospect that has business leaders worried and labor advocates cheering. Some long-awaited rules would help boost employment for veterans and the disabled, increase wages for home health care workers and set new limits for workplace exposure to dangerous silica dust. Other, more controversial rules and actions could help labor unions in organizing campaigns and allow union officials to take part in safety inspections at nonunion companies.
► In the LA Times — Workers get more vacation time, less paid sick leave, than before — The average full-time worker at a private company gets 10 days of vacation a year, up from eight days in 1993, according to the analysis by the Bureau of Labor Statistics. However, the boost in paid vacations is being more than offset by a pronounced reduction in paid sick days off.
► In today's LA Times — 48% of all policyholders will get health-law subsidies, reports says — A new report estimates that nearly half of people who purchase individual policies now will qualify for premium subsidies as part of the healthcare overhaul. Wednesday's report by the nonpartisan Kaiser Family Foundation said the average tax credit among all existing policyholders would be $2,672. Those subsidies would cover 32% of the premiums, on average, for a mid-level Silver plan next year.
► In today's NY Times — North Carolinians fear the end of a middle way — With Republicans controlling all branches of the state government for the first time in more than a century, the legislature pushed through a wide range of conservative change.
► In today's NY Times — Summers of our discontent (by Maureen Dowd) — After stuffing of his pockets (with Wall Street money) within hours of leaving the White House job now makes it unseemly for Larry Summers to lead the Federal Reserve in enforcing the important new regulations from the Dodd-Frank financial reform bill. Can't the president find someone to run the economy who didn't help create the culture that ran it into the ground?
---
TODAY'S MUST-SEE

► A faithful reader brought this International Brotherhood of Electrical Workers video to our attention. It's one of the toughest, most dangerous jobs in the utility industry. Live-line helicopter crews fix and maintain transmission lines and towers from upwards of 150 feet off the ground. Members of IBEW Local 94 in New Jersey show what it takes to be "High Flying Linemen."
---
FOR NO APPARENT REASON…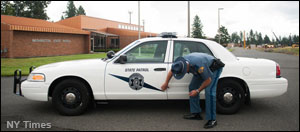 ► In today's NY Times — Officers are wistful as Crown Vic, long a fleet staple, nears retirement — SPOKANE — The greatest muscle car that ever wore a uniform is now racing toward retirement. After more than a decade as the most widely used law enforcement vehicle in the nation, the Ford Crown Victoria Police Interceptor — the Crown Vic, as it has become known — went out of production in 2011. And this summer, through whatever mysterious karma shapes the police universe, Trooper Randy Elkins was assigned to be the driver and keeper of the last Crown Vic bought by the Washington State Patrol.
---
The Stand posts links to Washington state and national news of interest every weekday morning by 10 a.m.
Short URL: https://www.thestand.org/?p=26058
Posted by
David Groves
on Aug 14 2013. Filed under
DAILY LINKS
. You can follow any responses to this entry through the
RSS 2.0
. Both comments and pings are currently closed.