Labor's 'Mr. Pierce County' Clyde Hupp dies at 83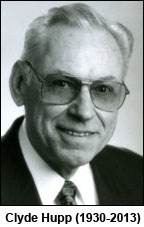 TACOMA (Aug. 13, 2013) — Former Washington State Labor Council Vice President and Pierce County Central Labor Council Secretary-Treasurer Clyde H. Hupp passed away Aug. 3 at the age of 83. He was a distinguished labor leader who was passionate about promoting apprenticeship, training and family-wage jobs in Pierce County and throughout Washington state.
"When I was hired by the State Labor Council in 1986, Clyde was serving as a Vice President from the 6th District," said WSLC President Jeff Johnson. "It was my great pleasure to work with him on the Labor Summer School for High School Students and Community and Technical College issues. Clyde was passionate about worker training and retraining. He knew that a skilled workforce and a union contract was the ticket to the middle class. For labor, Clyde Hupp was Mr. Pierce County. Clyde was a humble man who had a strong sense of community. He made the world a better place and we will miss him."
Per Clyde's wishes there will be no public service. To honor Clyde, donations can be made to the Clyde Hupp Scholarship at Bates Technical College Foundation, 1101 S. Yakima Ave, Tacoma, WA 98405, or contribute online (make sure you note under "designation" that it's for the "Clyde Hupp Scholarship.") Also, please sign his online guestbook.
Clyde was born in Tacoma, on Jan. 28, 1930, to Ardee and Louise Hupp. He graduated from Lincoln High School in 1947 and went on to work at various odd jobs before sailing around the world for a year on a tramp freighter as a deck boy. At 20, he joined the U.S. Marine Corp and served in the Korean War.
Clyde received his apprenticeship training at Bates Vocational School for the electrical construction industry in 1954. He worked as an electrician for 16 years before moving on to the Tacoma Urban League working under Harold Moss for four years in an apprenticeship outreach program. In 1974, Clyde was elected Executive Secretary for the Pierce Country Building and Construction Trades. Three years later he was then elected as the Secretary-Treasurer of the Pierce County Central Labor Council, AFL-CIO. He served in that position for 16 years before retiring in 1993. He also served as WSLC Vice President from 1978 to 1992. Throughout his career he promoted the importance of apprenticeship training for working people.
Clyde served as a long-time civic leader in numerous areas which included: United Way of Pierce County, Tacoma Urban League Board of Directors, Tacoma-Pierce County Blood Bank, Economic Development Corp of Pierce County, Bates' General Advisory Council, Governor's Advisory Council, Tacoma School District Levy Committee, Maritime History Committee, and the State Board for Community and Technical Colleges. Along with the many other service organizations and activities he was involved in, he profoundly and actively supported the Democratic Party. He was instrumental to the initiation and success of Solidarity Days.
Clyde was a member of IBEW for 53 years and was one of the founders of the IBEW 76 Federal Credit Union in 1957. In 1993, upon retirement, the first scholarship endowment fund for the Bates Foundation was established in his name along with the Clyde Hupp Board Room. Also, at that time, he received the Distinguished Citizen Award by the Municipal League of Tacoma-Pierce County.
Clyde's wife, Lulu Mae Bacon from Grants Pass, OR, whom he wed in 1953, preceded him in death in 1997. He is survived by his daughters Marilou Gadley (husband Roy K.), Barbara McCulloch (husband Larry Michael), and many other family members.
Upon his retirement in 1993, the Washington State House of Representatives passed the following resolution honoring Clyde's service and dedication to working families:
WHEREAS, Clyde Hupp's commitment to public service has spanned more than forty years, benefitted countless lives, and enriched the people of Washington State; and

WHEREAS, Clyde Hupp's leadership on the Pierce County Central Labor Council and Washington State Labor Council has inspired trust, respect, and affection across a broad spectrum of business, labor, and political leaders; and

WHEREAS, Clyde Hupp's tireless efforts as a member and past chair of the L.H. Bates General Advisory Council have contributed mightily to improvements in the curriculum and facilities of the L.H. Bates Technical College; and

WHEREAS, Clyde Hupp's outstanding service on the State Board for Community and Technical Colleges and the Governor's Advisory Committee on Investment in Human Capital has helped to enhance our work force and our future; and

WHEREAS, Clyde Hupp's distinguished tenure as Vice-President and President of United Ways of Washington, and as a respected leader on the Tacoma Urban League's Board of Directors, yielded many further contributions to the public good; and

WHEREAS, Clyde Hupp's renowned fairness, honesty, integrity, sincerity, ability, and likability is a tribute to his character and an inspiration to others; and

WHEREAS, Clyde Hupp has announced his decision to retire as Secretary-Treasurer of the Pierce County Central Labor Council, where his excellent leadership will be long remembered and sorely missed;

NOW, THEREFORE, BE IT RESOLVED, That the House of Representatives recognize and honor Clyde Hupp and hereby declare and proclaim March 26, 1993, as Clyde Hupp Day, and urge all citizens to join in this observance; and

BE IT FURTHER RESOLVED, That copies of this resolution be immediately transmitted by the Chief Clerk of the House of Representatives to Clyde Hupp, his wife Lula Mae, and to his daughters, Marilou Gadley and Barbara McCulloch.
Short URL: https://www.thestand.org/?p=25911
Posted by
David Groves
on Aug 13 2013. Filed under
LOCAL
. You can follow any responses to this entry through the
RSS 2.0
. Both comments and pings are currently closed.