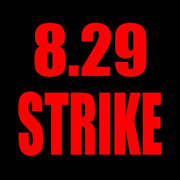 SEATTLE — Fast-food and other low-wage workers from McDonalds, Burger King, Taco Bell, Subway and other chains across Seattle will participate in a first-ever national strike of low-wage workers this Thursday, Aug. 29 beginning at 7 a.m. and continuing throughout the day. The workers are calling for better pay and the right to organize without retaliation. Strikelines will kick off with a gathering at Westlake Park, then spread to multiple locations across the city.
The August 29 national multi-city strike comes amidst an extraordinary upsurge of worker unrest which has moved low-wage worker issues to the center of public attention. Highly profitable fast-food corporations and other big employers have come under increasing pressure as workers continue to raise the question of how we can build a sustainable economy when the fastest-growing jobs pay poverty wages.
Sparked by the May 30 fast-food strike, Good Jobs Seattle is a growing movement which seeks to build a sustainable future for Seattle's economy from the middle out — by turning poverty-wage jobs in fast-food and other industries into good jobs that offer opportunities for a better future and pay enough for workers to afford basic necessities like food, clothing and rent. Good Jobs Seattle is supported by organizations including Washington Community Action Network, Working Washington, OneAmerica, and hundreds of workers and grassroots supporters.
In just a few months fast food workers in Seattle have sparked a fast-growing citywide movement for good jobs:
On May 30, strikelines spread across the city as hundreds went on strike for better pay and the right to organize, united under a call to "Strike Poverty – Raise Seattle".
On June 15, mayoral candidates debated what the city could do to raise the economy by lifting up poverty-wage jobs before an audience of about 200 fast food, grocery store, hotel, home care, and other poverty-wage workers and their supporters.
On July 11, fast food workers briefed members of the city council about working conditions, including low pay, wage theft, and health & safety concerns
On August 1, just days after workers filed criminal wage theft complaints, informational pickets & in-store teach-ins were held at fast food and coffee outlets across the city. The city made its first wage theft arrests that day, booking eight workers and supporters who participated in civil disobedience outside a downtown McDonald's store.
For more information, see Good Jobs Seattle's fact sheet on the 8/29 National Strike.
Posted by
David Groves
on Aug 27 2013. Filed under
LOCAL
. You can follow any responses to this entry through the
RSS 2.0
. Both comments and pings are currently closed.