RENTON — These past few weeks have been action-packed. Workers across industries are standing up to live better and realizing that their struggles are united. In the Puget Sound area last week, we witnessed grocery workers, hotel workers, and fast food workers all taking action for justice. And now it is our turn to stand with Walmart workers once again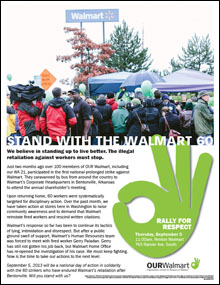 TAKE A STAND!  Please join Walmart employees and their community supporters for a Rally for Respect beginning at 11 a.m. Thursday, Sept. 5 at the Renton Walmart, 743 Rainier Ave. South. Download and share the event flier.
Ten current and recently fired Walmart strikers, including Gerry Paladan who was illegally fired from the Federal Way Walmart, locked arms in front of a Walmart lobbying office in Washington, D.C. last month until they were escorted away by the police. Workers say this dramatic escalation is just the beginning. They put Walmart on notice that it had until Labor Day to reinstate the fired workers.
If they had, then this week's Rally for Respect would have been a celebration. But they didn't, so this is our opportunity to send Walmart a message that the community isn't backing down.
Please RSVP by emailing Reagan Jackson of UFCW Local 21 or calling her at 206-436-6558. If you are unable to attend, please pass this information along.