SEATTLE (Sept. 6, 2013) – Convene a special session of the Legislature to fix state transportation problems now, says a broad coalition that has successfully fought for past road, transit and safety improvements.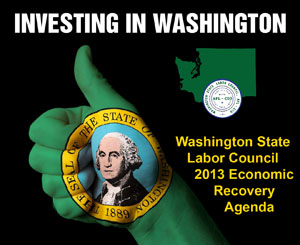 The call for lawmakers to act comes from Keep Washington Rolling (KWR), a statewide group that includes businesses, labor, environmentalists, local leaders, farmers, transit and freight mobility interests. From improvements to southeastern Washington's Highway 12, to safety projects in Snohomish County, to the Evergreen Point 520 Bridge and protecting transit service in King County, KWR has been a consistent voice for comprehensive, balanced state transportation spending.
TAKE A STAND! — Click here to send your state legislators a message urging them to pass a comprehensive transportation funding package in 2013.
As this year's I-5 bridge collapse near Mount Vernon underscores, the state can no longer wait to make investments.
"Fixing our transportation system is critical to the safety of our citizens and the health of our economy," said Jeff Johnson, president of the Washington State Labor Council, AFL-CIO. "After the I-5 bridge went down, Washington state was an international poster child for what happens when transportation investment doesn't keep up. We were lucky no one died and we can't afford another disruptive incident like it."
"Moreover, when you invest in transportation we are creating the sort of family-wage jobs so important to our state," he said.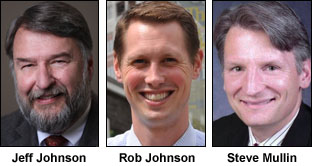 Steve Mullin, president of the Washington Roundtable,a state business organization, said the transportation system citizens depend on every day — our state's highways, bridges and transit systems — is aging before our eyes.
"Just look at I-5," Mullin said. "Pavements continue to break down from daily traffic, weather and age. Performance measures indicate that more of the state's highway pavement is slipping to poor condition – a worrying trend that reduces safety, produces travel delays and increases maintenance costs for all drivers."
Rob Johnson, executive director of the Transportation Choices Coalition, supports a special session to pass a balanced package that addresses the critical needs of transit and local governments around the state.
"A transportation system that works for all Washingtonians will include money for transportation choices, livable communities and will mitigate transportation's harmful pollution impacts."
Keep Washington Rolling leaders say they want lawmakers to address:
Preservation and maintenance problems on major roadways;
Cuts to county and city transit systems;
Completion of major projects such as I-90 over Snoqualmie Pass and the Evergreen Point Bridge;
Safety projects;
Needs in local communities and local options;
Chokepoints;
Projects necessary for economic health of the state;
Funding for local road projects;
Biking and walking infrastructure;
Stormwater investments and environmental mitigation; and
The importance of ensuring that transportation dollars are efficiently deployed.
Keep Washington Rolling leaders say momentum for a special legislative session later this year was built during the recently completed 2013 session. While lawmakers did not pass a comprehensive transportation package, they had a robust debate over what needed to be in a plan. Since then, lawmakers have gone home to their districts to listen to their constituents.
King County Executive Dow Constantine noted that 17 percent of the county's transit system faces cuts if the state doesn't move forward with a comprehensive transportation package: "A reliable roads system in King County and its 39 cities moves freight to and from our ports, producing prosperity for the entire state. Reliable transit service gets hundreds of thousands of commuters to work and to school, and enables companies like Boeing and Microsoft to create jobs and attract employees."