Add your name: Endorse SeaTac Proposition 1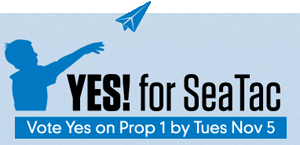 SEATAC (Sept. 13, 2013) — Multinational corporations, the Washington Restaurant Association, airline and rental car CEOs have tried everything to keep SeaTac Proposition 1, the Good Jobs Initiative, off of this November's ballot. They even appealed all the way to the Washington State Supreme Court. But justice has prevailed and the citizens of SeaTac who want to vote on this important measure will get their chance. In five weeks, thousands of SeaTac voters will begin receiving their ballots and voting Yes! For SeaTac Proposition 1.
TAKE A STAND!  SeaTac voters and airport employees need your help. CLICK HERE to add your name to the fast-growing list of people, businesses and organizations endorsing Yes! For SeaTac Proposition 1. It doesn't matter if you live in SeaTac or not — you can raise your hand to show your support for more full-time jobs and a livable wage in SeaTac. You'll be joining King County Councilmember Julia Patterson, the Washington State Firefighters, as well as SeaTac residents, businesses and organizations in supporting paid sick leave, more full-time jobs, tip protection and a livable wage for more than 6,000 hard working men and women at SeaTac airport and big airport hotels. The full endorsement list is here.
SeaTac small businesses are exempt — SeaTac Prop 1 applies to big multinational corporations making record profits at our airport while paying poverty-level wages. More money in the pockets of airport employees means more spending at local businesses, and that means better schools and better services for everyone in SeaTac. That's why many businesses, like the SeaTac Bull Pen Bar & Grill, have already endorsed Yes! For SeaTac Proposition 1.
What would SeaTac Prop. 1 do?
Puts Our Health and Safety First: Right now, many employees working in and around our airport must make a choice go to work sick, or lose their pay. Prop 1 provides up to 5 days of paid sick leave for fulltime airport employees, preventing the spread of dangerous disease and keeping our families and community safe. (Proposition 1, Section 7.45.020)
Creates Full-Time Job Incentives: Right now, many of the big overseas and multinational corporations working at the airport are gaming the system, providing more part-time jobs with low pay we can't live on. Prop 1 incentivizes airport-related businesses to employ full time workers, creating jobs our neighbors can count on to make ends meet. (Proposition 1, Section 7.45.030)
Ensures Tip Fairness: Right now, many hotels and restaurants in SeaTac pocket the tips and service charges that many guests and customers believe go to their servers. Prop 1 requires SeaTac hotels and hotel restaurants to do the right thing and give tips and service charges to the employees who perform the actual services. (Proposition 1, Section 7.45.040)
Boosts SeaTac's Economy by allowing more of our family, neighbors and friends to buy locally: Prop 1 ensures that SeaTac residents employed at and around the airport can receive a living wage of $15 helping them make ends meet. Because thousands of local employees will now have more money to buy locally, it's estimated that Proposition 1 will create 412 new jobs , with millions of additional dollars pumped into SeaTac's struggling economy.
Here's a video explaining more.
For more information, visit the Yes! For Prop. 1 website. And don't forget to endorse the Yes! For Proposition 1 campaign.
Short URL: https://www.thestand.org/?p=26603
Posted by
David Groves
on Sep 13 2013. Filed under
LOCAL
. You can follow any responses to this entry through the
RSS 2.0
. Both comments and pings are currently closed.