House Republicans vote to slash food assistance for poor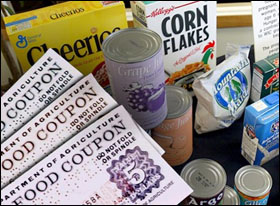 WASHINGTON, D.C. (Sept. 20, 1013) — On a 217-210 vote that fell largely along party lines, House Republicans narrowly approved cutting about $39 billion in funding for food-stamp programs over the next decade. Washington's GOP Reps. Cathy McMorris Rodgers, Dave Reichert and "Doc" Hastings all voted to approve the cuts. (Rep. Jaime Herrera Beutler did not vote.) All of Washington's Democratic representatives voted "no."
"This is just wrong," U.S. Rep. Adam Smith (D-9th) said of the bill that would result in nearly 4 million Americans losing all or part of their nutrition assistance through the Supplemental Nutrition Assistance Program (SNAP):
This summer, I visited the Cherry Street Food Bank, Seattle's Summer Food Service Program, Marra Farm, and more nutrition services throughout the 9th District. I saw firsthand how thousands of children, seniors, veterans, and families in our state rely on SNAP for meals and nutrition. Cutting close to $4 billion a year from this program would have a devastating impact.

As our economy continues to recover, and unemployment is still high, it is critical that we continue to fight to save SNAP and the essential assistance it provides for millions of Americans. I have cosigned letters and cosponsored legislation that demands adequate funding for SNAP, and will do all I can to ensure that families get the nutrition assistance they need.
Meanwhile, the Associated Press reports today that officials with the state Department of Social and Health Services are already prepping low-income residents around Washington state for a reduction in food-assistance benefits when the federal stimulus package expires this fall. The cuts sought by House Republicans would be in addition to those reductions.
The House Republican plan differs sharply from a bipartisan Senate proposal passed in June, and its passage is certain to further strain relations between the House and Senate as they prepare to wage their next battle: whether to shut down the government and default on its debt obligations over the House GOP effort to defund Obamacare.
The AFL-CIO, in a letter to Congress, urged representatives to oppose passage of this "cruel legislation" that "would deny millions of children, seniors, people with disabilities, low-income and unemployed Americans food assistance during a prolonged period of anemic job growth, declining or stagnant wages and growing income inequality."
In 2011, SNAP lifted 4.7 million of America's working families out of poverty and eased poverty for tens of millions of others. SNAP helps low-wage working parents, seniors on fixed incomes, people with severe disabilities and adults who are unemployed or underemployed. Who gets food stamps? According to Feeding America:
76% of SNAP households included a child, an elderly person or a disabled person. These vulnerable households receive 83% of all SNAP benefits.
SNAP eligibility is limited to households with gross income of no more than 130% of the federal poverty guideline, but the majority of households have income well below the maximum: 83% of SNAP households have gross income at or below 100% of the poverty guideline ($19,530 for a family of three in 2013), and these households receive about 91% of all benefits. 61% of SNAP households have gross income at or below 75% of the poverty guideline ($14,648 for a family of three in 2013).
The average SNAP household has a gross monthly income of $744; net monthly income of $338 after the standard deduction and, for certain households, deductions for child care, medical expenses and shelter costs; and countable resources of $331, such as a bank account.
AFL-CIO Now contributed to this report.
Short URL: https://www.thestand.org/?p=26798
Posted by
David Groves
on Sep 20 2013. Filed under
NATIONAL
. You can follow any responses to this entry through the
RSS 2.0
. Both comments and pings are currently closed.