Shutdown at 2 weeks, grocery talks, SeaTac Prop 1…
Monday, October 14, 2013
---
G.O.P. SHUTDOWN DAY 14

► At TPM — No deal in sight: Deal to avert default remains elusive — Republicans have all but abandoned their lofty demands to defund or dismantle Obamacare and are insisting on locking in sequestration spending levels beyond this year, which Democrats are resisting. Democrats have publicly refused to offer substantive concessions merely to reopen the government or avert default, wary of encouraging Republicans to use the threat of crisis to extract ransom.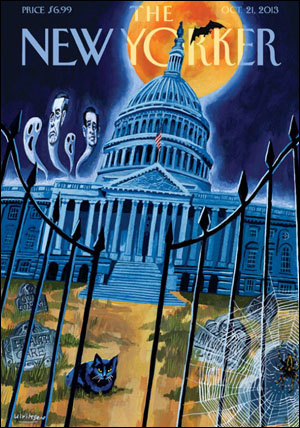 ► In today's Washington Post — Debt-ceiling breach would push economy into free fall, without a government safety net — The Obama administration will have to decide whether to delay — or possibly suspend — tens of billions of dollars in Social Security checks, food stamps and unemployment benefits if negotiations to raise the federal debt ceiling are not resolved this week, experts say, one of the many difficult choices officials will have to make at a time when the government will essentially be running on fumes.
► At Huffington Post — House Republicans changed the rules so a majority couldn't stop the shutdown — In the hours working up to the government shutdown on Sept. 30, Republican members of the House Rules Committee were developing a strategy to keep a clean CR off the floor, guaranteeing the government would remain shut down. Though at least 28 House Republicans have publicly said they would support a clean CR if it were brought to the floor — enough votes for the government to reopen when combined with Democratic support — a House rule passed just before the shutdown essentially prevents that vote from taking place.
► In The Olympian — From child care subsidies to food aid, government shutdown effect could get more real soon — The ongoing federal government shutdown is starting to tighten the funding noose on a few state run programs in Washington . No one was pushing a panic button Friday, but money could run out at the end of the month for a child care subsidy program that helps 24,000 working families with children.
► In the Spokesman-Review — Spokane companies losing deals, money due to government shutdown — Several Spokane-based companies with federal contracts are losing deals and money as the government struggles with sequestration and shutdown.
EDITOR'S NOTE — Shutdown Cathy's handiwork hits home.
► In The Hill — Dems ask banks to go easy on federal workers — Thirty House Democrats are asking banks to waive or reduce penalties that federal workers might face as a result of having their paychecks shut off under the government shutdown.
► At Politico — Federal judge: 'It's time to tell Congress to go to hell' — Federal judges, long used to being blasted as "judicial activists" by members of Congress, are now directing a stream of anger and vitriol right back at Capitol Hill.
► At TPM — Let's call the shutdown what it is: secession by another means (by Bill Moyers) — When the president refused to buckle to this extortion, they threw their tantrum. Like the die-hards of the racist South a century and a half ago, who would destroy the union before giving up their slaves, so would these people burn down the place, sink the ship. At least, let's name this for what it is: sabotage of the democratic process. Secession by another means.
---
LOCAL
► In Saturday's Seattle Times — Grocery contract talks continue Saturday, delaying strike — Talks over a new labor agreement for thousands of union grocery-store workers in the Puget Sound area will continue Saturday, postponing the possibility of a strike. The negotiators made progress Friday but disagreements still remain over wages and benefits, according to a union spokesman.
ALSO at The Stand — Grocery workers authorize strike; show your support!
► At In These Times — Obamacare complicates UFCW talks; Seattle grocery workers in the brink of strike — The grocery chains Safeway and Albertsons, along with Fred Meyer and QFC (subsidiaries of Kroger Co., the largest supermarket owner in the country), are seeking to eliminate healthcare coverage for a total of 8,000 union members who work 30 hours or less per week, citing the Obamacare provision that says employers are not required to cover part-timers, according to UFCW Local 21's Tom Geiger: "They are trying to make a bogeyman out of Obamacare. Obamacare is supposed to provide coverage for the uninsured, but our members are insured right now. There is nothing in the law that requires them to eliminate coverage. It's just an attempt to save money."
► In the (Everett) Herald — Ferry system plans to hire dozens of workers — Washington State Ferries is looking to hire dozens of deckhands after worker shortages caused scrubbed sailings to spike at the end of the summer season.
► In the Oregonian — Oregon union files ballot measures to combat 'right-to-work' — Two of Oregon's major public employee unions have filed a pair of ballot measures designed to act as a "poison pill" against a union-dues initiative that they don't like. Under Oregon law, when conflicting initiatives are passed by voters, the one that has the most votes hold sway.
---
ELECTION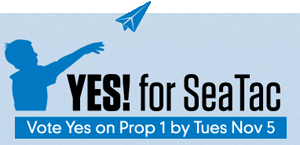 ► In Sunday's NY Times — In Washington state, home of the highest minimum wage, a city aims higher — SeaTac Prop 1 would lift wages for thousands of workers at one of the nation's busiest airports, Seattle-Tacoma International, which is within city limits. But business and labor leaders say the economic and political implications, with local democracy going where state and federal legislators mostly fear to tread, could be equally profound.
► In today's Seattle Times — Big boost in minimum wage: Would Prop. 1 pay off? — If the experience of Long Beach, CA, is any indication, the short-term effects of a living-wage ordinance in SeaTac would be neither as good as supporters hope, nor as bad as critics warn.
► At YouTube — Sen. Elizabeth Warren on minimum wage being $22 an hour
► In today's Seattle Times —Money rolls into 26th District over campaign to control State Senate — The GOP wants to pick up the seat currently held by Democratic Sen. Nathan Schlicher to solidify its control of the Senate and gain momentum for the 2014 election cycle. The party has pinned its hopes on state Rep. Jan Angel (R-Port Orchard). "The Republicans probably can't get to the majority without the 26th District," said former state GOP Chairman Chris Vance.
EDITOR'S NOTE — The name of the Democrat in this race is not even mentioned until the 9th paragraph of this story, after the chair and former chair of the Republican Party have commented on the importance of the race. Hmmm.
---
NATIONAL
► From AP — Social Security, veterans' benefit increases to be lowest in decades — Preliminary figures suggest next year's benefit increase will be roughly 1.5%, according to an analysis by The AP. The increase will be small because consumer prices, as measured by the government, haven't gone up much in the past year.
---
The Stand posts links to Washington state and national news of interest every weekday morning by 10 a.m.
Short URL: https://www.thestand.org/?p=27328
Posted by
David Groves
on Oct 14 2013. Filed under
DAILY LINKS
. You can follow any responses to this entry through the
RSS 2.0
. Both comments and pings are currently closed.