700-plus City of Portland workers vote to join with PTE 17
The following is from PTE Local 17:
---
PORTLAND, Ore. (Oct. 24, 2013) — Last month, the executive board of the City of Portland Professional Employees Association (COPPEA) voted overwhelmingly to join Professional & Technical Employees (PTE) Local 17.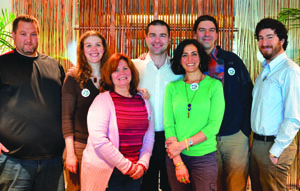 COPPEA, a successful, independent union representing professional public employees at the City of Portland, has existed for more than 50 years. In 2010, it was seeking a strategic alliance to secure better and more consistent representation for its members, and chose PTE Local 17 to embark on an experimental, temporary collaboration. Due to the success of that working relationship, the temporary alliance became a permanent affiliation in September.
"By partnering together for the past three years, our two unions have made significant, positive changes to the COPPEA contract and our relationship with the City of Portland," said Local 17 Deputy Executive Director, and COPPEA Union Representative, Behnaz Nelson.
The 2013-2017 contract, negotiated earlier this year, reinstated the professional development fund and provided a cost-of-living increase that would not break the city budget, while still respecting employees' financial sacrifices. These negotiations were hailed as a perfect example of collaboration by both union and city officials, including Portland Mayor Charlie Hales who said, "This really is public service at its finest."

There are more than 700 members in COPPEA, increasing the total membership of PTE Local 17 to nearly 9,000. Local 17 has been in existence since 1918 and represents public employees at the state, county and city level, as well as public health districts, across the state of Washington. COPPEA will be the first members from outside of Washington State.
"At a time when many unions are static or shrinking, growth for Local 17 and the opportunity to expand into our neighbor state, Oregon, is a remarkable gain," said Local 17 Executive Director Joe McGee.
Local 17 and COPPEA hope to be even more effective by working together. COPPEA President, Gerry Verhoef, stated that Local 17 has helped COPPEA achieve more member involvement, better communications and increased training, which were some of her key goals when she took office.
Local 17's financial and staffing resources will also provide additional security for COPPEA members. For example, if there's a push to eliminate collective bargaining for public employees next year in the Oregon legislature, Local 17 has the means to send staff to Salem to lobby against it. In turn, Local 17 hopes to benefit from the active and engaged membership in Portland, especially since they will now comprise the third largest contingency of members in the union, with a significant presence on its decision-making committee.
"Our organizations are a natural fit and Local 17 will greatly benefit from the strong member-driven structure COPPEA has developed," said Nelson. "We are excited for what the future holds."
Short URL: https://www.thestand.org/?p=27551
Posted by
David Groves
on Oct 24 2013. Filed under
LOCAL
. You can follow any responses to this entry through the
RSS 2.0
. Both comments and pings are currently closed.