Analysts like Everett, SeaTac Prop 1 by 46, 'I am Ed Barnes!'…
Tuesday, November 19, 2013
---
BOEING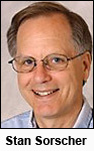 ► MUST-READ at Huffington Post — Because they can (by Stan Sorscher of SPEEA) — This is not a pendulum that will naturally swing back. We are experiencing a steady decline toward an unstable unsustainable future. This won't work. No society has prospered with this level of inequality and asymmetric political and economic power. If this Lesser America is our new normal, then we will be fighting over the last kernel of corn on the table.
Members of the Machinist union — a visible legitimate credible stakeholder — have said, "No!" Their work has dignity. They create value. Design and production workers helped rescue the 787 program which was in chaos and threatened disaster for the entire company. Workers have earned a fair share of the gains they create.
The purpose of an economy is to raise living standards. I'm happy for business to succeed, as long as gains are shared. There is no legitimate policy purpose to have business succeed at the expense of workers, families and communities.
► In today's Seattle Times — Supporters rally to Machinists' cause — Several hundred union workers and community members rallied Monday afternoon to support Boeing Machinists. David Angulo, a member of Ironworkers Local 86, said he was there because "we are all different trades, but we all want fair deals to support our families, so we all have to stick together."
► From AP — Labor rally in Seattle for Boeing machinists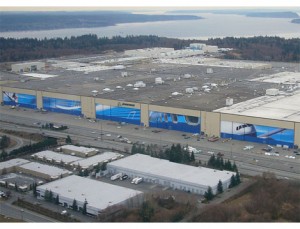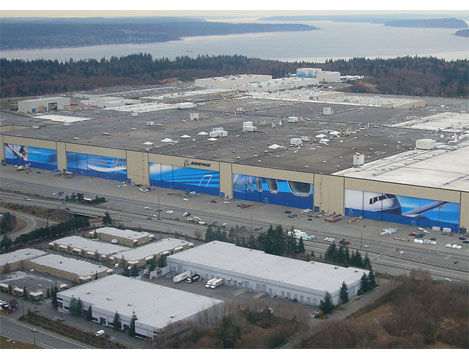 ► In today's (Everett) Herald — Everett still holds key draw for 777X, analysts say — Aerospace industry experts say that while economics point to Everett for building the Boeing Co.'s new 777X, the company's troubled relationship with unions might drive the decision. "There's no economic argument that I can think of for leaving Puget Sound," said Richard Aboulafia, an aerospace analyst with Teal Group, a Fairfax, Va.-based consultant.
► From KING 5 — If a Boeing workers moved to Long Beach, CA, it would cost… — A worker who makes $85,000 per year in Everett would need to make just under $100,000 in comparison in Long Beach, an increase of 16.88%, to maintain his or her standard of living.
► In Sunday's Seattle Times — Boeing Machinists: How dare thee? (by Ron Judd) — The sooner you greedy 777 line workers begin to lay back and enjoy your own subjugation like the rest of us, the freer the rest of us can pretend to be… Seriously, People: Can't recall a more pathetic day here in the Corporate Welfare State than the morning after highly profitable, subsidized-to-the-hilt Boeing failed in its attempt to gut local employees' hard-won benefits, and the union members who stood up to it became the target of the most scorn by local Schadenfreude-ians. Classy.
---
LOCAL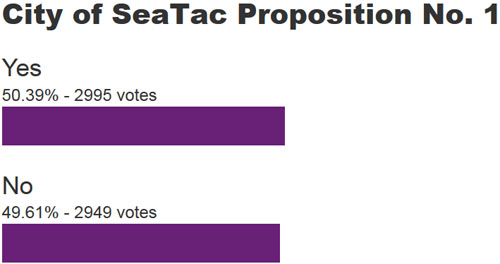 ► In today's Seattle Times — SeaTac minimum wage measure holds 46-vote lead — A ballot measure to raise the minimum wage to $15 an hour for hospitality and transportation workers in SeaTac held a 46-vote lead in updated results this afternoon.
ALSO at King County Elections — Get the latest tally on SeaTac Prop 1.
► In today's Seattle Times — Start of Seattle seawall replacement to tuck Alaskan Way under viaduct — Work to replace Seattle's waterfront seawall starts this week with construction of a temporary road that will displace several blocks of parking spaces beneath the Highway 99 viaduct between Madison and Pike streets.
---
STATE GOVERNMENT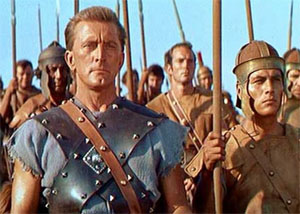 ► Another MUST-READ in today's Columbian — 'I am Ed Barnes!' — State Sen./Clark County Environmental Services Director Don Benton's latest strong-arm tactic was to get one of his attorneys to send a threatening letter to a citizen — retired labor leader Ed Barnes — who has been complaining about him. … Benton the politician should know it was silly to threaten the voice of a citizen. It just resurfaces the entire hiring issue again. But he's sort of clueless that way. Worse for Benton, there's a county commission meeting at 6 tonight at the Public Service Center downtown. I urge folks to show up! Give the commissioners an earful!
There's a great scene in the classic movie "Spartacus," where Spartacus and many of his men were captured. They were told all would live if they would only point out Spartacus. As Spartacus was about to give himself up, one of his men stood and said, "I'm Spartacus!" Then another. And another. "I'm Spartacus!" They all rose. "I'm Spartacus!" they yelled together.
Wouldn't it be great if those at the county meeting all stood up and shouted, "I'm Ed Barnes!" Because in a way, we all are Ed Barnes. A little guy being pushed around by a few bullies. Sure, they all would be gaveled down, but it would be worth it. Yes, "I'm Ed Barnes!"
► In today's Spokesman-Review — North Spokane Corridor has one last chance in Legislature (editorial) — An upcoming session of the Legislature, be it special or regular, may be the last time Spokane sees an open road to full funding for a North Spokane Corridor that connects with Interstate 90. Let's take it.
► In today's Seattle Times — Doctors, hospitals catch goofs on state insurance exchange — The Washington Healthplanfinder insurance exchange has a feature on its website that allows consumers to see if particular doctors and hospitals are in a plan's network of health-care providers. But the directory has been plagued with errors since the website was launched six weeks ago.
---
WORLD'S LARGEST EMPLOYER



► At Huffington Post — Walmart broke labor law and retaliated against workers, NLRB charges — The agency's general counsel investigated and "found merit" in workers' claims that Walmart "unlawfully threatened" employees for taking part in walkouts surrounding last year's Black Friday shopping season. The agency said that Walmart intimidated, surveilled or punished workers in 14 different states, violating U.S. labor law.
► At Salon — Wal-Mart faces warehouse horror allegations and federal Labor Board complaint — The world's largest private employer faces escalations on multiple fronts Monday, including strikes by its employees in Ohio and workers who haul its goods in California.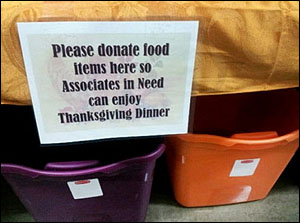 ► At Think Progress — Walmart holding canned food drive for its own underpaid employees — A Walmart in northeast Ohio is holding a holiday canned food drive — for its own underpaid employees. The need for a food drive illustrates how difficult it is for Walmart workers to get by on its notoriously low pay. The company has long been plagued by charges that it doesn't pay its employees a real living wage. In fact, Walmart's President and CEO, Bill Simon, recently estimated that the majority of its one million associates make less than $25,000 per year, just above the federal poverty line of $23,550 for a family of four.
► At Huffington Post — Walmart CEO's retirement plan 6,200 times bigger than workers' plans — Walmart CEO Mike Duke's retirement package of more than $113 million is nearly 6,200 times bigger than the average 401(k) balance of a non-executive Walmart worker, which was $18,303, according to a new analysis.
---
NATIONAL



► At Think Progress — Sen. Elizabeth Warren calls for expanding Social Security — American values demand that Congress boost retirement benefits rather than shrinking them to satisfy deficit hawks, Sen. Elizabeth Warren (D-MA) said on the Senate floor Monday afternoon. "We should be talking about expanding Social Security benefits, not cutting them," she said.
---
TODAY'S MUST-READ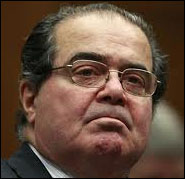 ► At NBCLatino.com — U.S. Supreme Court should protect right of workers and unions (by Raul Reyes) — Could the future of labor unions be hanging in the balance?  Observers and experts seem to think so.  The Supreme Court just heard arguments in Unite Here Local 355 vs. Mulhall, and The Atlantic notes that that this case "could put a dagger in organized labor." Salon termed the case "(Justice) Scalia's chance to smash unions." Professor Benjamin Sachs of Harvard Law School judged it possibly "the most significant labor case in a generation." These analyses are no exaggeration.  So let's unpack the issues in Mulhall to understand why the case is significant ­– to Latinos and other Americans.
---
The Stand posts links to Washington state and national news of interest every weekday morning by 10 a.m.
Short URL: https://www.thestand.org/?p=28122
Posted by
David Groves
on Nov 19 2013. Filed under
DAILY LINKS
. You can follow any responses to this entry through the
RSS 2.0
. Both comments and pings are currently closed.