'Not on target' for schools, Fast Track hamster wheel, reuniting rivals…
Friday, January 10, 2014
---
STATE GOVERNMENT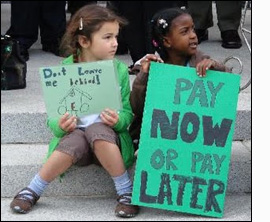 ► In today's Olympian — McCleary: State Supreme Court wants speedier action on school funding — Washington state lawmakers need to move faster to meet a court order to fund schools, the state Supreme Court ruled Thursday. The court said the Legislature took "meaningful steps" last year but is "not on target" to implement the key funding promises it has made in earlier years. The court said the 2013 funding amounted to just a 6.7 percent increase over what would have been spent with no changes. And the court majority called it "deeply troubling" that the Legislature's report evaluating its own progress didn't address state funding for teacher and administrator salaries. Educators haven't received a raise or cost-of-living increase from the state since the Great Recession hit.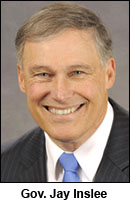 ► And a related story in today's Seattle Times — Inslee bemoans corporate incentive competitions — Gov. Jay Inslee said Thursday he wishes states weren't in constant competition to provide financial incentives to secure jobs from big companies. Inslee said he would like to see a national agreement to make that sort of state subsidy escalation illegal. His comments come just two months after Washington approved perhaps the largest corporate tax break in U.S. history — valued at nearly $9 billion — to persuade Boeing to build a new airplane in the state.
► From AP — Issues with 520 bridge, viaduct replacements loom over transportation talks — The problems facing two state transportation "megaprojects" will loom large over discussions in the Legislature this year to raise the gas tax to pay for roads, bridges and transit throughout Washington.
► In today's Columbian — Lawmakers: Washington not revisiting CRC — A panel of legislative leaders signaled Thursday that there's no interest in bringing Washington back to the table on the Columbia River Crossing.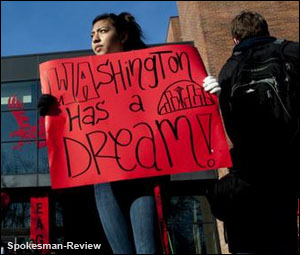 ► In today's Spokesman-Review — Undocumented students work to pass financial aid act — Tears stained Elena Calderon's cheeks Thursday as she stepped up to speak at Eastern Washington University during a student-organized rally in support of immigrants' right to compete for state financial aid. She spoke to nearly 100 EWU students, faculty and community leaders to encourage state lawmakers to pass the DREAM Act, which despite sharing a name with federal legislation only pertains to offering state scholarships to undocumented students.
► In today's News Tribune — Gov. Jay Inslee unveils health-care agenda — Gov. Jay Inslee wants to convince the Legislature to address health care purchasing and children's obesity.
► In the PS Business Journal — State Rep. Cody suggests converting health exchange, OIC into state agencies — State Rep. Eileen Cody is planning to introduce a new bill that would convert the state health exchange into a state agency instead of the public-private partnership structure it has now.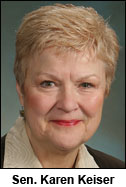 ► In the Senate Democrats' blog — Sen. Keiser's focus shifts to capital budget — "After serving for more than a decade on the Senate Health Care Committee, which I chaired from 2005 through 2012 and where I've long worked to improve the state's health care delivery system, I am shifting my primary focus and energies to the state's Capital Budget."
► In today's Spokesman-Review — Spokane Valley businessman selected for 4th LD seat — Leonard Christian, an Air Force veteran and Spokane Valley real estate businessman, was selected Wednesday to fill the 4th District legislative seat vacated by former Rep. Larry Crouse.
► In today's Olympian — Republicans announces nominees for 2nd LD seat
► In today's Spokesman-Review — Eyman's latest initiative looking for a problem (editorial) — Tim Eyman has a new idea, his worst ever, and that's saying something. the initiative puts a $1 billion gun to the head of legislators. Eyman calls the incentive "oomph." Blackmail is more like it. This is not about protecting taxpayers. I-1325 is about keeping Eyman in business.
---
LOCAL



► In today's (Everett) Herald — Everett IAM business rep to run for national union office — Jason Redrup, an IAM District 751 business representative of 2,500 workers at the Everett Boeing plant, says he is joining a national reform ticket seeking to oust the top leaders of the IAM. He will run for general vice president of the international.
MORE coverage in the PSBJ and Seattle Times.
► In today's Spokesman-Review — Deaconess, Valley hospitals abandon ethics investigation request — Deaconess and Valley hospital officials are abandoning their request for an ethics investigation of three Spokane City Council members who used city letterhead to express concerns about medical staffing levels during an ongoing labor dispute.
► In today's Oregonian — Portland teachers union to send latest offer by Saturday — The Portland Association of Teachers is expected to send Portland Public Schools its latest proposal by Saturday, responding to an offer sent by the district yesterday afternoon. Both sides are still talking after failing to reach an agreement after a 21-hour mediation session on Monday.
---
FEDERAL GOVERNMENT



► At AFL-CIO Now — Trumka: Fast Track trade promotion 'undemocratic' and 'bad for American workers' — AFL-CIO President Richard Trumka: "It is past time for the United States to get off the corporate hamster wheel on trade. This legislation renews the undemocratic "trade promotion" process and completely fails to provide the transparency, accountability and oversight necessary for the far-reaching trade and investment agreements that the administration is negotiating, including the Trans-Pacific Partnership and the Trans-Atlantic Trade and Investment Partnership."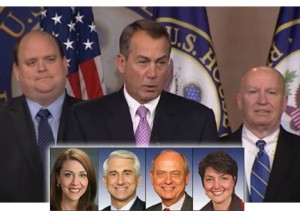 ► In the People's Weekly World — Labor and allies turn up heat on GOP over jobless benefits — With 72,000 more unemployed workers losing their jobless benefits every week, organized labor and its civic, religious and congressional Democratic allies turned to public pressure to push resurrection of the benefits through a hostile GOP majority in the U.S. House.
ALSO at The Stand — Call Congress to urge renewal of unemployment benefits — Call your U.S. Representative at 877-318-0483 and urge him or her to renew the emergency unemployment insurance benefits immediately!
► In The Hill — Unemployment talks stall in Senate — The Senate left town Thursday without a deal for renewing federal employment benefits after bipartisan talks over an offset reached an acrimonious impasse.
EDITOR'S NOTE — After decades of bipartisan support for reauthorizing unemployment benefit extensions — which are needed both for struggling families and for local businesses in their communities — Republicans are holding the UI extension hostage in their ideological quest to "offset" its cost with other cuts in government spending. Meanwhile…
► From the Tribune — Federal deficit takes sharp drop — The latest figures from the nonpartisan Congressional Budget Office indicate that the red ink for the first quarter of fiscal 2014, which began Oct. 1, dropped by almost 40 percent compared with the same period a year earlier. The deficit has gone down so much that the federal government actually ran a surplus for December.
► In The Hill — Congress to vote on three-day measure to fund government, prevent shutdown — The measure is necessary because lawmakers have yet to agree to a $1 trillion omnibus budget bill.
---
NATIONAL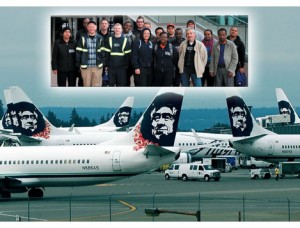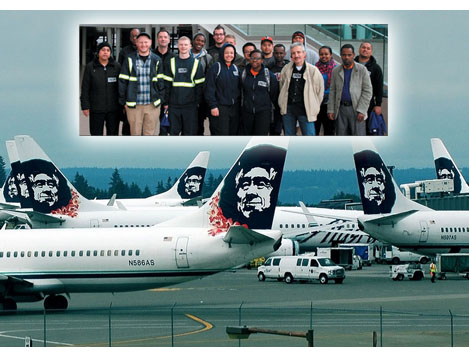 ► At Huffington Post — As airport business takes off, are workers getting left behind? — Yaseen Abdul-Malik has spent the last seven years working at Baltimore-Washington International Airport. His friends and family often remark upon how well he must be doing for himself. This always makes Abdul-Malik laugh. They seem to cling to an outdated notion of the airport as a fancy place for the well-heeled, where money trickles down from first class to the working class.
ALSO at The Stand — Urge Port of Seattle officials to enact Prop 1 at Sea-Tac Airport — Sea-Tac International Airport workers and their community supporters are calling on the Port of Seattle to stop standing in the way of good jobs and to implement SeaTac Prop 1 as approved by voters.
► In today's LA Times — Insurers under fire as Obamacare kicks in — Consumers are easing up on criticism of government exchanges and turning their frustration and fury toward some of the nation's biggest health insurers. All too often, new policyholders say, the companies can't confirm coverage, won't answer basic questions, and haven't issued identification numbers needed to fill prescriptions or get medical care.
EDITOR'S NOTE — Let's see if the Republicans direct their ire at their corporate benefactors with the same zeal with which they blasted the government website snafus.
► From AP — U.S. jobs report brings disappointing news — U.S. employers added a scant 74,000 jobs in December, the fewest in three years. The disappointing figure ends 2013 on a weak note and raises questions about whether the job market can sustain its recent gains.
► From ABC News — Hospitals overcharging patients, nurses union says — New data released by National Nurses United revealed that not only do a handful of hospitals charge patients more than 10 times the actual cost of treatment but that prices have been steadily increasing for nearly two decades.
► At TPM — Poll: Americans identifying as liberal reaches all-time high — The percentage of Americans identifying as liberal ticked up to a new record high, according to a new poll released Friday.
---
T.G.I.F.



► This week, the Coachella lineup was announced and the biggest news is the confirmed reunion of the Entire Staff of The Stand's all-time favorite hip-hop duo… OutKast! André 3000 and Big Boi went on hiatus in 2007. They've done solo albums and made many guest appearances since then, but haven't worked together. (Remixes featuring both don't count, fact checkers.) The two appeared headed in different musical directions 10 years ago (!) when they released what were essentially two solo albums under the OutKast name: Big Boi's Speakerboxxx and André 3000's The Love Below. Their combined effort was the first hip-hip album to win the "Album of the Year" Grammy. The debate among fans and critics over which album was better was parodied in this West Side Story-inspired video about their "rivalry."
We hope their Coachella reunion in April is a big success and OutKast returns to the studio soon.
---
The Stand posts links to Washington state and national news of interest every weekday morning by 10 a.m.
Short URL: https://www.thestand.org/?p=29075
Posted by
David Groves
on Jan 10 2014. Filed under
DAILY LINKS
. You can follow any responses to this entry through the
RSS 2.0
. Both comments and pings are currently closed.