Workers' compensation: Here we go again
Following is today's edition of the WSLC Legislative Update newsletter (PDF version):

---
Senate GOP resurrects bill expanding lump-sum buyouts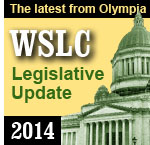 OLYMPIA (Jan. 23, 2014) — Lest we forget, Washington's state government went to the brink of a D.C.-style shutdown in 2013 when the Republican-controlled Senate tried to force the Democratic-controlled House to vote on several policy bills before passing a budget. In the second special session of this impasse, a frustrated Gov. Jay Inslee called out the Senate's "ideological wish list" and eventually the bills were set aside and a budget was approved.
But those ideological bills didn't go away. And this week, the Senate quickly resurrected one of these controversial bills that is of particular concern to injured workers and their families. SB 5127 aims to increase the number of lump-sum "structured settlement" buyouts of workers' compensation claims by lowering age restrictions from 55 to 40 years old. It would also block the state, when authorizing buyouts, from considering the workers' "best interests" if they have legal representation.
The bill was advanced to third reading this week and could be voted on again (it passed 30-19 last year) by the Senate. Again, the Washington State Labor Council joins advocates for injured workers in strongly urging a "no" vote.
These "voluntary" buyouts are negotiated during times of financial desperation — when families have lost their income and are likely to be facing extreme hardship. That can lead people into taking buyouts that aren't in their best interests, especially younger workers who can't anticipate their future expenses. And in fact, the only way these buyouts save any money — which is the bill's goal — is if injured workers accept less in lump-sums than they would otherwise get.
In the state's limited experience since legalizing these lump-sum buyouts, estimates of how much they would save the workers' compensation system have proven to be wildly optimistic. Last year, the Department of Labor and Industries had to transfer $242 million from the system's reserve funds to adjust for that optimism. And this week, L&I informed legislators that their revised estimate of the savings is roughly 75% lower than they initially thought.
For some legislators, this is a good reason to expand the buyouts and get more injured workers to play "Let's Make a Deal" with their claims. But this would just take us further and further away from the statutory goal of this safety net, which is "to provide sure and certain relief for workers, injured in their work, and their families and dependents."
"Organized labor argued all along that projected savings were wildly off base. Those inaccurate projections from 2011 were the biggest reason legislators legalized the lump-sum buyouts in the first place," said Jeff Johnson, President of the Washington State Labor Council. "Now some legislators want to double-down on this failing experiment. Our state must stop chasing phantom savings down this rabbit hole. It's harming injured workers and their families."

---
Legislators urged to tackle wage theft
Wage theft is an insidious crime. When people are not paid or are underpaid for their work, it can quickly push a family into a crushing cycle of debt. For low-wage workers in particular, the loss of a single paycheck can cause debilitating financial and personal burdens, such as home eviction, utility shutoff, and car repossession. And yet, wage theft often goes unreported because the laws to protect people from wage theft are weak, failing both to deter the crime and to protect workers from retaliation for attempting to recover the pay they're owed.
"Wage theft hurts not just workers, it also hurts law-abiding employers, it hurts local economies, and results in significant loss of state revenues," said Teresa Mosqueda, Government Affairs Director of the Washington State Labor Council. "It is wrong, and it doesn't have to be this way."
The House Labor and Workforce Development Committee on Tuesday heard four bills to discourage wage theft:
HB 2334, sponsored by Rep. Marcus Riccelli (D-Spokane), would address the workplace fraud of misclassifying employees as independent contractors to avoid paying taxes and premiums for workers' compensation and unemployment insurance. It would establish a simple, three-part test—one used in other states—to make it clear who is a traditional employee and who is a bona fide independent contractor.

HB 2331, sponsored by Rep. Mike Sells (D-Everett), would enable workers on public construction projects to confirm they are being lawfully paid their prevailing wage by requiring contractors to post timely electronic certified payroll reports.

HB 2332, sponsored by Rep. David Sawyer (D-Tacoma), would discourage wage theft by making employers liable for triple damages, rather than double, in a civil action.

HB 2333, sponsored by Rep. Cindy Ryu (D-Shoreline), would establish criminal penalties for employers who retaliate against workers who seek their rightfully earned wages. Today, victims of wage theft often don't seek their earned pay due to the threat their hours will be cut, they will be fired, or they will face some immigration-related action initiated by the employer.
At Tuesday's hearing, Cariño Barragan of Casa Latina described two brothers who sought her help to recover more than $40,000 in unpaid wages from a Bellevue construction contractor. Shortly thereafter, one of the brothers was arrested by immigration authorities. When Barragan spoke to him at the Tacoma Detention Center, "He said he could hear one of the ICE agents speaking to his boss over the phone, describing what he looked like, and the agent said, 'Yes, we got him'."
Thousands of people in Washington state are under-paid or not paid at all for the work they perform. State laws to protect them are inadequate and many feel powerless to recover what's been taken from them for fear of retribution. The Washington State Labor Council and the Stop Wage Theft Coalition of community, religious and labor organizations urge the House to advance these important bills.
(Read more on this at The Stand.)
---
A voice from colleges' front lines
Starting with the Day 1 passage of the DREAM Act, the House is moving quickly in this short 60-day session to pass bills over to the Senate. On Wednesday, the House approved HB 1536, which would bring some front-line expertise to the boards of trustees for community and technical colleges. Supported by AFT Washington and sponsored by Rep. Larry Seaquist (D-Gig Harbor), this bill would require that at least one member of these boards be from labor and one from business, codifying a practice that already exists for many of these boards.
It passed Wednesday by a 58-39 vote. Last year it passed by an almost identical vote but didn't even merit a hearing in the Senate Higher Education Committee chaired by Sen. Barbara Bailey (R-Oak Harbor). The WSLC hopes that changes in 2014 and that Senate leaders don't again block HB 1536 from a vote.
---
Sign up for WSLC Legislative Conference
The annual Washington State Labor Council Legislative Reception and Conference is getting a makeover this year that will allow participants to get more hands-on experience at the Capitol and face-to-face contact with the lawmakers and the legislative process.
Union leaders, staffers and rank-and-file members of WSLC-affiliated unions are invited to meet and mix with legislators, as always, at the WSLC Legislative Reception at the Olympia Red Lion on the evening of Thursday, Feb. 6. The following morning, Friday, Feb. 7, instead of convening a plenary session at the hotel, participants will have a brief breakfast and lobbying training at the WSLC's Olympia office building at 906 Columbia St. S.W. After learning about the most pressing legislative issues facing labor, WSLC delegates will walk up to the Capitol campus and lobby their own legislators on these issues. Delegates will return to the WSLC Olympia office for lunch, report-backs and a discussion with legislative leaders.
For this intensive day of lobbying to be successful, the WSLC has urged its affiliated unions to send as many rank-and-file members and staff as possible. The $85 registration fee will cover the WSLC Legislative Reception on Feb. 6 from 6:30 to 8:30 p.m. at the Olympia Red Lion Hotel, the Lobby Training on Feb. 7, plus the breakfast and lunch served that day. CLICK HERE to register online or call 206-281-8901 for more information.
WASHINGTON IS A UNION STATE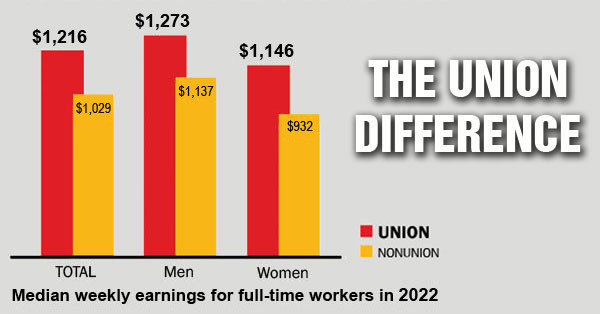 CHECK OUT THE UNION DIFFERENCE in Washington state: higher wages, affordable health and dental care, job and retirement security.
FIND OUT HOW TO JOIN TOGETHER with your co-workers to negotiate for better working conditions and respect on the job. Or go ahead and contact a union organizer today!