Everett gets 777X wing, just 13 votes, ObamaTrade…
Monday, February 17, 2014
---
BOEING



► In today's Seattle Times — Boeing picks Everett for building wing of 777X — Boeing has decided to build the new 777X wing facility next to the widebody jet final-assembly plant in Everett, assuring more than a decade of work on advanced composite materials for thousands of Snohomish County workers. An announcement is expected as early as Tuesday.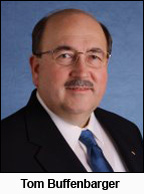 ► In the P.S. Business journal — IAM's Buffenbarger: Boeing was leaning against building 777X in Washington — Machinists International President Tom Buffenbarger thought members of Seattle-based District Lodge 751 would not approve the recent contract extension with Boeing, when they voted Jan. 3. He also said he was convinced that at the time of the vote, Washington state was not on Boeing's final list of sites for the 777X.
► At Labor Notes — Outrage at Boeing spurs reformers' bid for top spots at Machinists Union — For the first time in more than 50 years, the IAM will hold a contested election for top officers. The vote was ordered by the Department of Labor after member Karen Asuncion protested violations in the union's 2013 uncontested election. An opposition slate, IAM Reform, is headed by former Transportation Coordinator Jay Cronk. Cronk is a former officer because he was fired, after more than 20 years at the International, eight days after he announced his candidacy.
---
STATE GOVERNMENT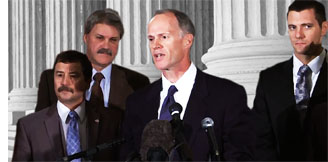 ► In the Olympian — GOP transportation package has limited support so far — The Senate's Republican-dominated majority showed its cards Thursday, saying half of the 26-member group supports a proposal to raise the gas tax by 11 1/2 cents while also making changes in how transportation money is spent. Republican Senate Transportation Co-chairman Curtis King said he has at least 13 votes for a plan he unveiled Thursday. But that leaves it 12 shy of a Senate majority, and Democrats showed no sign of helping out. Even while moving toward Democrats on transit, Republicans moved further away with a call to funnel sales tax on all highway projects back into transportation (without a plan to pay for the cuts to schools, health care and other services this would require from the general budget).
► In the Olympian — Feds relent; no mental-health privatization imminent in Washington — The federal government is stepping back from requiring that Washington change how it spends mental-health money.
► In today's Seattle Times — State legislators older, richer, less diverse than population — A Seattle Times analysis found that, overall, Washington's 147-member Legislature tends to be wealthier, older and less diverse than the population it represents. The typical legislator here is similar to those across the nation: a mid-50s white guy.
---
LOCAL



► In the Olympian —  GOP Rep. Doc Hastings calls it quits after 20 years, delighting environmentalists — Washington state Republican Rep. Doc Hastings is calling it quits after 20 years in Congress, an unexpected announcement that drew both cheers and jeers Thursday in the nation's capital.
► In the Yakima H-R — Candidates emerge for Hastings' seat in U.S. House — The potential names include former state legislator and Department of Agriculture director Dan Newhouse, state Sen. Jania Holmquist Newbry (R-Moses Lake), Rep. Charles Ross (R-Naches), Sen. Sharon Brown (R-Kennewick), Franklin County Commissioner Brad Peck, and Benton County Commissioner Jerome Delvin, a former state lawmaker.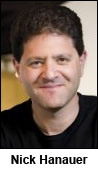 ► In today's Seattle Times — Seattle 1-percenter a leader in push for $15 minimum wage — As a renegade member of the 1 percent, venture capitalist Nick Hanauer is leading the debate locally and nationally for raising the minimum wage to $15 an hour.
► In the News Tribune — Power line workers, city of Tacoma to re-enter mediation — The city of Tacoma and a union of workers who maintain high-voltage power lines for the city and Tacoma Public Utilities are entering a second round of mediation.
EDITOR'S NOTE — Meanwhile, these folks are working hard outside right now in this miserable weather to restore power to thousands of families.
► In the News Tribune — Pierce County Jail outsources medical care, lays off 15 — The Pierce County Sheriff's Department began contracting out medical care at the county jail Feb. 1 in a cost-cutting move that laid off 15 full-time workers.
---
FEDERAL GOVERNMENT



► In today's NY Times — Global trade talks threaten Obama's longtime balancing act — The president plainly wants to achieve the Trans-Pacific Partnership deal that the United States is currently negotiating with Asian countries and, less urgently, a separate pact with the European Union. But they conflict with another, more immediate political goal: to preserve unity among fellow Democrats. Many of them believe that those deals would undercut efforts to narrow income inequality and therefore complicate the party's campaign for midterm House and Senate elections.
► From AP — House Dems try to force votes on wage, immigration — House Democrats are determined to cast an election-year spotlight on Republican opposition to raising the minimum wage and overhauling immigration laws. To try to accomplish that in the GOP-controlled House, Democrats are planning to rely on an infrequently used, rarely successful tactic known as a "discharge petition."
---
NATIONAL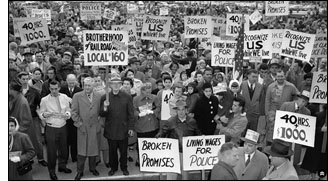 ► At Politico — The growing silence of 'union radio' — The golden age of unions is long gone — and for the radio shows that focus on labor and workers rights, every day is a struggle just to stay on the airwaves. There are a number of talk radio shows around the country covering — and funded by — organized labor that are still up and running, but like the labor movement as a whole, what remains is a far cry from the time when unions and the concerns of workers were a dominant part of the media landscape.
EDITOR'S NOTE — In Washington state, there are still a few pro-labor radio programs, including:
"We Do The Work," which airs on KSVR 91.7 FM in Slagit County.
Labor Neighbor Radio, which are on KBCS 93.1 in Bellevue and on KGHI 91.5 in Westport.
Labor programs on KSER 90.7 FM in Everett, including ""Radio Labor Journal."
► In today's NY Times — Labor regroups in South after VW vote — Volkswagen labor officials in Germany renewed calls on Sunday for the company's three-year-old plant here to establish a German-style works council even though its workers voted days earlier against unionizing.
► From AP — After UAW defeat, can GOP fulfill promise of jobs? — Attention turns to whether the GOP can fulfill its promises that keeping the union out means more jobs will come rolling in.
---
TODAY'S MUST-READ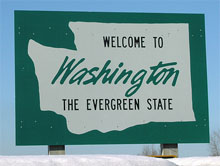 ► In today's NY Times — Crossing borders and changing lives, lured by higher minimum wage — Carly Lynch is one of the many minimum-wage migrants who travel from homes in Idaho, where the rate is $7.25, to work in Oregon, where it is the second highest in the country, $9.10. Similar migrations unfold every day in other parts of Idaho, including at the border with Washington, which has the highest state minimum, $9.32. Their experiences underscore what many proponents of raising the wage assert: that even seemingly small increases in pay can galvanize people's lives, allowing workers to quit second jobs, buy cars or take vacations. The competition for workers has in turn forced many businesses on the Idaho side to raise their wages.
---
The Stand posts links to Washington state and national news of interest every weekday morning by 10 a.m.
Short URL: https://www.thestand.org/?p=29806
Posted by
David Groves
on Feb 17 2014. Filed under
DAILY LINKS
. You can follow any responses to this entry through the
RSS 2.0
. Both comments and pings are currently closed.