Working sick, sparing Social Security, an album U want…
Friday, February 21, 2014
---
STATE GOVERNMENT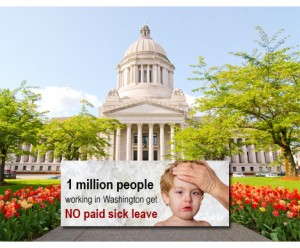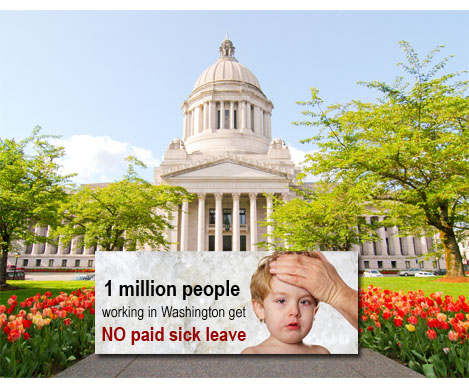 ► At Huffington Post — Way too many Americans go to work sick, survey finds — Worried about lost wages, a backlog of work or punishment from the boss, more than one in four American workers recently surveyed said they show up to work while ill, even though they could sicken their colleagues. In a poll of more than a thousand U.S. adults in the midst of this year's flu season, a public-health testing group based in Michigan found that a quarter of those who copped to working while sick said their boss required them to. Thirty-seven percent said they needed the money.
ALSO at The Stand — House passes Paid Sick Days
► In today's Yakima H-R — Warnick to seek Holmquist Newbry's state Senate seat — State Rep. Judy Warnick (R-Moses Lake) said she will seek to replace fellow Moses Lake Republican Sen. Janéa Holmquist Newbry, who declared for Congress Wednesday and will not seek re-election to the state Senate. Fellow 13th District Rep. Matt Manweller (R) confirmed he has no interest in seeking the Senate seat and will support Warnick.
► In today's Tri-City Herald — Newhouse latest to enter race for Congressional seat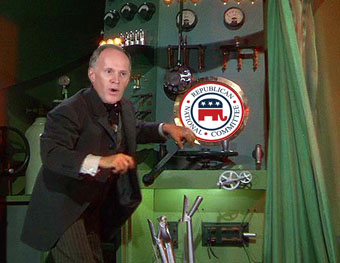 ► At SeattlePI.com — Titular Democrat Rodney Tom hires fiery Republican campaign manager — Senate Majority Leader Rodney Tom has occupied many corners of the political map, from Republican to Democrat to official leader of a Republican-dominated coalition that runs the state Senate with an iron hand. Now, while saying he'll run for re-election as a Democrat, Tom has hired a fiery Republican political operative to run his re-election campaign in the Eastside 48th District.
---
LOCAL



► From KUOW — 'McPoverty' protesters call for Seattle fast-food boycott — Supporters of a $15 minimum wage in Seattle staged demonstrations at fast food restaurants across the city Thursday.
► From KPLU — Adjunct faculty at Seattle U seek to unionize — A local SEIU chapter has filed a petition on behalf of adjunct faculty members at Seattle University. The adjunct faculty members, which include part-time, temporary and other contingent instructors, want better teaching conditions, including higher pay.
► In today's Seattle Times — Issaquah firm to pay $550K to workers in overtime suit — A drywall contractor in Issaquah has agreed to pay $550,000 to settle a U.S. Department of Labor lawsuit alleging it shortchanged nearly 400 workers on overtime wages over a 3½ year period.
ALSO TODAY at The Stand — Issaquah drywall firm ordered to pay $550,000 in back wages
---
BOEING



► In the Detroit Free-Press — South Carolina governor says Ford, GM, Chrysler union jobs not welcome in her state — South Carolina is glad to have nonunion jobs from BMW, Michelin and Boeing, but don't expect any factories from Ford, General Motors, Chrysler or other companies with unionized workforces. According to Gov. Nikki Haley, they're not welcome. Haley said Wednesday that she discourages companies from building new facilities in South Carolina if they are planning to bring a union with them.
► From KUOW — Boeing's 'terrible teens' cut into profit, tax revenue — Boeing says it will have to wait until sometime in 2016 to turn a profit on the 787 Dreamliners line. By that time, the aerospace says developing the game-changing plane will cost the company more than $25 billion. There was a time when Boeing thought it would take $5 billion to develop the new plane.
► In today's (Everett) Herald — Air Force dubs KC-46A tanker 'Pegasus' — The KC-46A aerial refueling tanker finally has an official name: Pegasus, the winged horse of Greek mythology.
---
FEDERAL GOVERNMENT



► In today's NY Times — Obama's budget omits Social Security cuts — President Obama's forthcoming budget plan will not include a proposal to trim cost-of-living increases in Social Security checks, the gesture of bipartisanship he made to Republicans last year in a failed strategy to reach a "grand compromise" on reducing projected federal debt.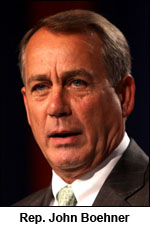 ► In The Hill — Boehner: I'd rather kill myself than raise the minimum wage — Speaker John Boehner is so against raising the minimum wage that he once said he would rather commit suicide than vote for a "clean" increase. Some Democrats are optimistic Boehner will cave and allow a vote this year, but the record shows there is little if any daylight between the pro-business Speaker and his conservative conference on this issue.
► At Politico — White House faces rising grassroots heat on immigration — But Obama has not had great success in building public pressure on Republicans to act on any issue that doesn't involve a fiscal deadline.
► In The Hill — Doomed pilots complained of fatigue — Sen. Barbara Boxer (D-Calif.) says Congress should place limits on the number of hours the pilots of cargo airplanes can work in honor of the operators of a UPS flight that crashed last year in Birmingham, Ala. Boxer's call followed the release of a dramatic transcript in which the pilots of the plane, who both died in the crash, express concern about their fatigue.
---
NATIONAL



► In today's NY Times — Public sector cuts part-time shifts to bypass ACA — Cities, counties, public schools and community colleges around the country have limited or reduced the work hours of part-time employees to avoid having to provide them with health insurance under the Affordable Care Act, state and local officials say.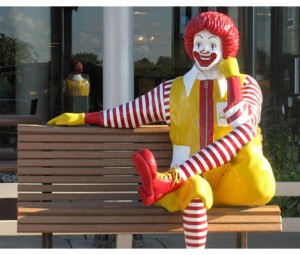 ► At Huffington Post — McDonald's accused of firing single mother for donating food to firefighters — Heather Levia, a single mother in nursing school and an eight-year employee of a McDonald's in Olean, N.Y., says she was fired from her job at the hamburger chain after she paid for a donation of food for firefighters.
► At Huffington Post — MSNBC hosts urged to speak out against Comcast deal — Writers and producers with the Writers Guild of America-East at Peacock Productions — which is owned by NBC Universal — are petitioning Rachel Maddow, Lawrence O'Donnell, Al Sharpton, Ed Schultz and Chris Hayes to speak out against the impending merger. In December, workers accused NBC Universal and Comcast, its parent company, of union busting.
---
T.G.I.F.



► Kent State University art students Gerald Casale and Bob Lewis created a number of satirical art pieces in 1970 about the concept of "de-evolution," the idea that humans are regressing into a destructive herd mentality. The joke became serious that May when members of the Ohio National Guard opened fire on unarmed Kent State students, killing four and wounding nine. Casale and Lewis subsequently cited the event as the impetus for the formation of their band Devo.
This week, one of Devo's original guitarists, Gerald's brother Bob Casale, died of heart failure at the young age of 61. In honor of "Bob 2," The Entire Staff of The Stand™ presents this memorable cut — reportedly inspired by The Knack's "My Sharona" — from Devo's classic 1980 album Freedom of Choice (which all of you should own). Enjoy.
---
The Stand posts links to Washington state and national news of interest every weekday morning by 10 a.m.
Short URL: https://www.thestand.org/?p=29921
Posted by
David Groves
on Feb 21 2014. Filed under
DAILY LINKS
. You can follow any responses to this entry through the
RSS 2.0
. Both comments and pings are currently closed.