BHR strike ends, $15 Soon, the divide that counts…
Monday, March 17, 2014
---
LOCAL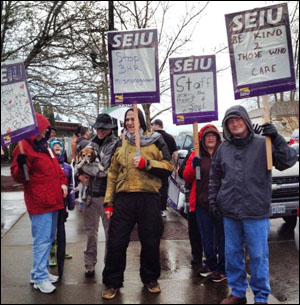 ► From KOMO — Behavioral Health Resource workers launch 3-day strike — Healthcare union workers walked off the job and onto the picket lines in Olympia on Friday. During the three-day strike, case managers, therapists, nurses, and mental health professionals are calling for new leadership at Behavioral Health Resources. The group says they've lost more than $400,000 of income under their last contract to help the struggling treatment facility's finances. But after two years, the company is still struggling.
ALSO at The Stand — 3-day strike at Behavioral Health Resources begins Friday — The unfair labor practice strike by SEIU Healthcare 1199NW members ended this morning at 7:59 a.m. For more information, visit SaveBHR.com.
► From KUOW — Protests as Seattle schools face staffing cuts — The staff at 31 Seattle public schools have voted down their schools' proposed budgets to protest job cuts the district is calling for at schools this fall.
► In the News Tribune — Relatives say three men at Tacoma detention center refuse food — Three immigrants detained at the Northwest Detention Center in Tacoma continued their weeklong hunger strike Saturday, and, according to relatives who have visited them, they have no intention of giving up until their demands are met.
---
MINIMUM WAGE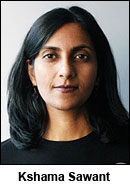 ► At Slog — Sawant proposes 3-year minimum wage phase-in for small businesses, starting at $11/hour in 2015 — But big businesses would have to pay $15 an hour right away. "The mayor said he is concerned about very small businesses. Let's take that off the table here today," Sawant said at the rally yesterday. "Let's support both small businesses and human services by phasing them in over three years starting with $11 an hour on January 1st, with an inflation increase, with regular steps [toward] $15 each year."
► In today's Seattle Times — New Port of Seattle leadership takes up $15 minimum-wage issue — The commissioners are taking on the wage question as part of a larger quest for political relevance.
► In today's Seattle Times — With our nation's values, giant income gap makes no sense (by Jerry Large) — The way our economy is working at the moment makes sense only if we embrace exploitation at the expense of equality. A wage increase at the bottom might put upward pressure on other wages and, probably on some prices, too, but I think we can live with paying what the goods and services we use are worth.
---
STATE GOVERNMENT




► From KUOW — Health Exchange open enrollment deadline looms — If you don't have health coverage yet, you still have two weeks to sign up. But state officials are urging people not to wait until the last minute. They say there are reasons to enroll sooner — you'll avoid the surge leading up to the deadline.
► In the Olympian — Legislators face delicate assignment: Report card — Washington lawmakers left the state Capitol after completing their regular session Thursday, but they still have a touchy homework assignment to complete and not much time to get it done.
► In the Spokesman-Review — Lawmakers missed opportunity on key issues (editorial) — The failure to agree on a transportation package is the biggest disappointment, because lawmakers punted on this issue last year. They needed to go big or go home. They went home.
---
SOUTH OF THE BORDER



► In today's Oregonian — City of Portland rejects latest contract offer from District Council of Trade Unions — Portland and the District Council of Trade Unions, the umbrella group representing 1,600 city workers, are inching closer to strike vote.
► From KOIN — Portland State University faculty poised for strike —  Faculty members at Portland State University (AAUP) have voted overwhelmingly to authorize the union's bargaining team to call for a strike if the school's administration refuses what the union calls faculty stability, educator lead higher education and student-centered budget priorities.
---
NATIONAL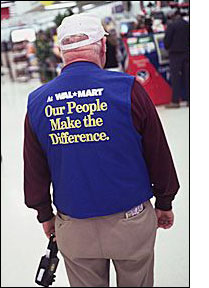 ► From AP — Low-wage jobs represent way of life for many — For years, many Americans followed a simple career path: Land an entry-level job. Accept a modest wage. Gain skills. Leave eventually for a better-paying job. The workers benefited, and so did lower-wage retailers such as Wal-Mart: When its staffers left for better-paying jobs, they could spend more at its stores. And the U.S. economy gained, too, because more consumer spending fueled growth. Not so much anymore. Since the Great Recession began in late 2007, that path has narrowed because many of the next-tier jobs no longer exist. That means more lower-wage workers have to stay put. The resulting bottleneck is helping widen a gap between the richest Americans and everyone else.
► In today's NY Times — Low-wage workers are finding poverty harder to escape — Having worked as a nurse's aide for 15 years, Erika McCurdy has been among the nearly 25 million workers in the United States who make less than $10.10 an hour — the amount to which President Obama supports increasing the minimum wage. Of those workers, 3.5 million make the $7.25 federal minimum wage or less.
► In the Seattle Times — Congress must act to extend federal unemployment benefits (editorial) — Long-term unemployment persists statewide. Congress should extend federal emergency benefits so that people can continue to seek work, and Washington state must do more to close the skills gap… U.S. Sen. Patty Murray (D-Wash.) should continue to champion a bipartisan effort to update and reauthorize the Workforce Investment Act, which would provide more adults with job-search and training opportunities.
► In today's NY Times — That old-time whistle (by Paul Krugman) — American conservatism is still, after all these years, largely driven by claims that liberals are giving money away to "those people."
---
TODAY'S MUST-SEE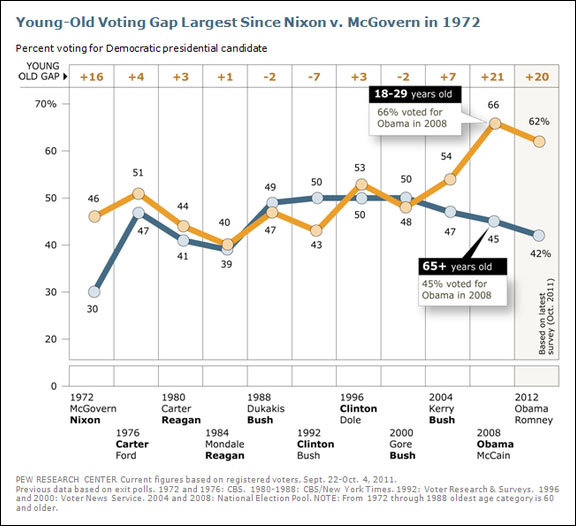 ► MSNBC's Krystal Ball (really?) tells it like it is: "Republicans and their deck-chair shifting civil war don't matter. If you are interested in where the country goes from here the action is all on the Democratic side, and while our own internal divide is less noisy than the Republican one it is just as real and way more important. This divide, the one that counts, is between the pro-corporate Democrats and the pro-worker Democrats."
---
The Stand posts links to Washington state and national news of interest every weekday morning by 10 a.m.
Short URL: https://www.thestand.org/?p=30604
Posted by
David Groves
on Mar 17 2014. Filed under
DAILY LINKS
. You can follow any responses to this entry through the
RSS 2.0
. Both comments and pings are currently closed.