Smith-Kilmer bill would renew aid for trade-affected workers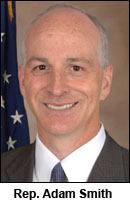 WASHINGTON, D.C. (Mar. 6, 2014) — U.S. Rep. Adam Smith (D-WA) introduced the Trade Adjustment Assistance (TAA) Act of 2014 on Thursday to provide critical job training and worker assistance for Americans who have lost their jobs due to increased competition in the global marketplace. Reps. Derek Kilmer (D-WA), Sandy Levin (D-MI) and Charles Rangel (D-MI) are all original co-sponsors who were instrumental in introducing the bill.
"Our nation's economy and success depend on our workers," Rep. Smith said. "As we continue to recover from the economic crisis and adapt to a rapidly changing economy, it is critical that we update and improve the TAA program to help workers transition. In the face of greater global competition, we need to provide training, income support, and healthcare to help displaced workers adjust and enhance their skills for new jobs and careers."
The U.S. manufacturing, service, farming, and fishing sectors have been hit hard with declines in employment, and American workers need support and training to secure new employment. At the beginning of this year, TAA expired for thousands of service industry workers affected by trade, as well as for workers losing their jobs due to imports from countries including China. If Congress doesn't reauthorize TAA by the end of the year, the entire program will expire.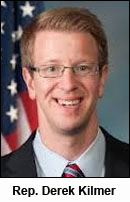 "As someone with over a decade of experience in economic development, I know that job training is a key catalyst for job growth," Rep. Kilmer said. "Our workers and employers have to compete with those of countries around the world. That's why we need to ensure access to training that can protect and produce quality jobs. TAA helps to do just that, which is why I'm going to do everything I can to build support for this bill in the House."
The Trade Adjustment Assistance Act would ensure that TAA eligibility is available to workers and firms in the services and manufacturing sectors, workers whose firms shift production to (or are adversely affected by imports from) FTA and non-FTA countries, U.S. suppliers of component parts, public sector workers, and farmers and fishermen.  The bill also invests in American workers by restoring comprehensive levels of benefits in areas such as job training, case management, income support, and job search and relocation allowances that are critical to workers adversely affected by increased global competition.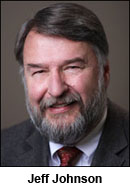 Washington State Labor Council President Jeff Johnson issued the following statement Thursday in response to the introduction of the Trade Adjustment Assistance Act:
"The Washington State Labor Council, AFL-CIO and our affiliates are encouraged to see the introduction of the Trade Adjustment Assistance Act (TAA) of 2014 and proud to have Congressmen Smith and Kilmer championing such an important effort. As a border and port state, Washington is particularly impacted by foreign trade. When faced with layoff from long-term employment, TAA is one of the best resources to return workers quickly to family wage jobs. Also significant is the role TAA plays in tracking job losses due to outsourcing; important data that aids in making informed decisions regarding future trade agreements. This effort is not only good for individual workers, but our economy as a whole.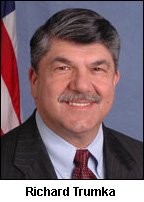 AFL-CIO President Richard Trumka released the following statement Thursday:
"The Trade Adjustment Assistance program has long helped U.S. workers whose jobs are outsourced or offshored to get back on their feet.  Working people are proud to have leaders like Congressman Adam Smith (D-WA) who champion this critical safety net for Americans who continue to lose their jobs due to imports or outsourcing. We owe it to these workers, who lost their jobs through no fault of their own, to support Congressman Smith's bill — but without linking it to the undemocratic Baucus-Camp Fast Track legislation."
Congress created the TAA program in 1962 in response to the loss of jobs among hard-working Americans as a result of increasing global competition as well as to promote American competitiveness. TAA benefits have several components: training assistance, income support while in training, and job search and relocation assistance. The program assists workers dislocated by the elimination of tariffs and other barriers to trade. Additional programs assist farmers, fishermen, and firms with the development and implementation of business plans to enable them to regain a competitive foothold.
---
Also see TAA program helps many laid-off workers (The Stand, Aug. 12, 2013), written by Caitlyn Jekel and Bill Messenger, WSLC Labor Liaisons for the Workforce Investment Act. Or contact Bill (bmessenger@wslc.org) and/or Caitlyn (cjekel@wslc.org) for more information.
The following 2011 video that explains Trade Adjustment Assistance was produced by the Washington State Labor Council, AFL-CIO:
Short URL: https://www.thestand.org/?p=30341
Posted by
David Groves
on Mar 6 2014. Filed under
NATIONAL
. You can follow any responses to this entry through the
RSS 2.0
. Both comments and pings are currently closed.