Tell House: Extend lifeline to jobless families
WASHINGTON, D.C. (April 11, 2014) — Since House Republican leaders allowed the Emergency Unemployment Compensation benefits program to expire in December 2013, nearly 2.8 million jobless workers have lost their economic lifeline. After previous efforts to renew those vital benefits were blocked by Republicans, this week the U.S. Senate voted to renew them and that means the ball's back in the House of Representatives' court. So lawmakers need to hear from their constituents that jobless Americans can't wait any longer.
TAKE A STAND! — Click here to send a message to send a message to your Representative — especially if yours is Republican Rep. Dave Reichert, Jaime Herrera Beutler, "Doc" Hastings, or Cathy McMorris Rodgers — urging him or her to renew unemployment benefits before more families are pushed into poverty.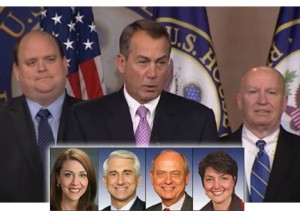 House Speaker John Boehner (R-Ohio) confirmed Thursday that he opposes allowing a vote on the Senate-approved five-month extension of the long-term unemployment insurance program. Instead, he punted to the White House, saying he has told that Obama administration that he will block a vote on the bill unless its costs are offset by additional budget cuts — cuts that he refuses to identify publicly.
Meanwhile, the Treasury Department announced today that ongoing federal budget cuts, including those related to sequestration, amid rising tax revenue have unexpectedly and dramatically lessened the budget deficit. In March, the Treasury collected $216 billion in taxes, up 16 percent from a year ago, helping reduce the deficit for the month to $37 billion, from $107 billion last year. Spending also sank by 14 percent, or $40 billion. The budget gap last month was the smallest deficit recorded for the month of March since 2000, when economic growth was running at a much faster pace than it is today.
So why are we punishing families struggling with long-term unemployment by holding their lifeline hostage to additional budget cuts?
AFL-CIO Policy Director Damon Silvers said:
What many lawmakers seem to forget is that our job crisis was not caused by American workers or their families. Yet it has been workers bearing the brunt of this economic disaster, while multinational corporations ship jobs overseas and the banks that created these conditions are shielded from responsibility.
Click here to send a message to send a message to your Representative TODAY urging him or her to support the Senate-approved extension of unemployment benefits!
---
The Washington State Labor Council has two staff members who can assist with unemployment insurance issues. If affiliated unions have members that who support, please contact Bill Messenger (bmessenger@wslc.org) or Caitlyn Jekel (cjekel@wslc.org) for help.
Short URL: https://www.thestand.org/?p=31078
Posted by
David Groves
on Apr 11 2014. Filed under
NATIONAL
. You can follow any responses to this entry through the
RSS 2.0
. Both comments and pings are currently closed.