IAM election, $15 experiment, how America treats moms…
Monday, May 12, 2014
---
AEROSPACE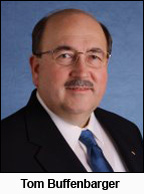 ► At KPLU — Machinists union leaders keep positions after rare contested election — International President Tom Buffenbarger kept the position he's held since 1997 by a margin of two-to-one, according to preliminary results. About 23,500 members voted for Buffenbarger, and about 11,200 voted for IAM Reform candidate, Jay Cronk. Turnout was low; only about 6 percent of about 550,000 eligible members and retired members voted. Nine other incumbents held onto their positions, including general secretary-treasurer Robert Roach, Jr.
► In the (Everett) Herald — Machinists leaders claim victory, challengers dispute vote — Leaders of the Machinists union say they have beaten back a challenge from reform candidates in the union's first contested general election since 1961. The challengers, a slate called IAM Reform, say they will dispute the results with the U.S. Department of Labor, which is overseeing the election.
► And this from Crikey.au — Is an ideological agenda destroying the future of Boeing? — The most perplexing thing about Boeing for those watching its affairs from the 'outer darkness' of the rest of the world is the intensity of the ideological hatred from its management for its Washington-state based workforce… As a half American who nearly ended up working for Boeing almost 50 years ago, is that I have seen America become a more unhappy, more poverty stricken and more unequal land than back then. It doesn't value scientific leadership nor curiosity as much as it once did, indeed all that seems to matter anymore is short term stock valuations.
---
LOCAL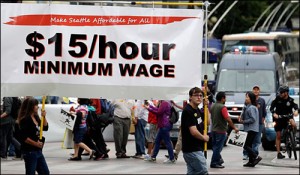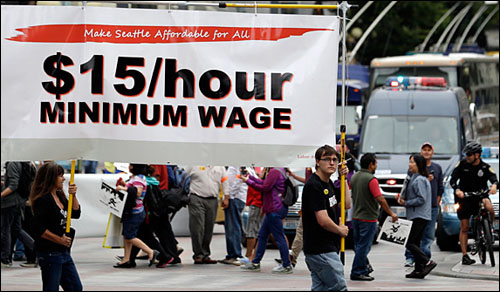 ► In today's Seattle Times — Grand experiment of $15 is just that (by Jon Talton) — Even if Seattle's test proves itself, even if it emboldens efforts in other cities, it will not be enough. Four decades of ruinous policies (including the destruction of strong unions, undermining of progressive taxation, deregulation, and ill-advised trade agreements) will have to be repealed or changed nationally. So far, the evidence that will happen is disheartening, despite compelling evidence that rising inequality hurts the economy and reasonable redistribution policies don't affect growth. But perhaps Seattle can light a path.
► In today's Seattle Times — Worker safety a bright spot on troubled Hwy. 99 tunnel project — Construction teams on the Highway 99 tunnel job have worked about 3¼ million hours so safely that the lead contractors are getting a big discount on workers' compensation insurance.
► At PubliCola — Metro property tax supporters likely to drop initiative, support Murray's plan — Keep Seattle Moving's Ben Schiendelman confirmed that he has suspended the signature-gathering effort for his Metro property tax measure.
► In today's Seattle Times — Hundreds at apple-packing plant may face layoffs after immigration audit — Hundreds of workers at an apple-packaging company in Cashmere could be facing layoffs soon, after a federal immigration audit required Crunch Pak to ask its employees to prove they are legally allowed to work.
► In today's Bellingham Herald — Sheriff: Whatcom County won't hold inmates on immigration detainers — The Whatcom County Sheriff's Office has changed its policy on delaying the release of inmates who are suspected of having entered the country illegally. Many other counties in Washington and other states already have done the same.
► In today's Oregonian — Pay by the hour, or pay for production? Gresham-area farm at center of federal wage lawsuit — The U.S. Labor Department is suing the operators of a Gresham-area farm where regulators say employees were paid not for the hours they worked but for the number of wreaths they made. The list of workers who may be owed back wages and unpaid overtime fills more than 18 pages, double-spaced, in the feds' complaint.
---
STATE GOVERNMENT



► From KPLU — After Washington loses NCLB waiver, feds show leniency to other states — Less than a month after Washington state became the first state to lose its waiver from the No Child Left Behind Act, the feds are showing leniency to other states, according to a report by Education Week. Those states passed laws creating teacher evaluation systems that they're now struggling to implement.
► At Stateline — For state workers. a thaw in frozen wages — Government workers across the U.S. are expected to get raises this year, many of them for the first time since the Great Recession spurred states to freeze wages, furlough employees and slash workforces. State employees this year will get a boost in many states, including some controlled by Republicans.
EDITOR'S NOTE — General government employees in Washington haven't received a cost-of-living pay increase since 2008. A possible 1% increase didn't happen this year because state revenue projections were insufficient.
---
NATIONAL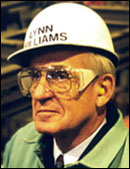 ► In today's NY Times — Lynn Williams, who lead Steelworkers union, has died — Lynn R. Williams became head of the United Steel Workers union in 1983, early in one of the worst decades in history for steel and steelworkers in America. The bookish, Canadian-born Williams, who died May 5 in Toronto at 89, assumed control of a union that at 600,000 members was half the size it had been in 1979. In the next few years, he would steer members through round after round of layoffs, company bankruptcies and a six-month work stoppage at U.S. Steel. Yet by the time he retired in 1994, he also added 100,000 new members to the union's ranks and pioneered strategies for carving lasting benefits for workers from the fast-shrinking industrial core of the American economy.
► In The Hill — Poll: Voter enthusiasm drops sharply — Voter enthusiasm has dropped sharply over the last four years, according to a Gallup poll released Monday. More than half of registered voters now say they are less enthusiastic about voting compared to previous elections. Just over one third say they are more enthusiastic.
---
TODAY'S MUST-READ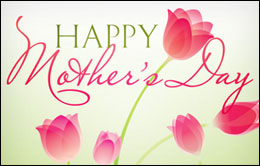 ► At Vox — If America really valued mothers, we wouldn't treat them like this — Here's the thing about the world's hardest job (being a mom): a lot of the people doing it also hold another job, or even a few other jobs. More than two-thirds of mothers hold jobs outside the home, and mothers are the primary earners in 40 percent of families. But in America, public policy makes balancing those jobs a lot harder than it has to be. America is, for instance, one of the only countries in the world that doesn't guarantee paid maternity leave… The U.S. doesn't even ensure that parents get leave that they can use for child care. For instance, a lot of parents (sadly) use vacation days when they need a day off to care for a sick child. But in the U.S. — unlike in every other developed nation — there is no guarantee of paid vacation days… Nor, of course, is there a guarantee of paid sick days. If we really value mothers as much as we say we do, we've got a long way to go to show it.
ALSO at The Onion — Nation successfully completes Mother's Day by 9:18 a.m.
---
The Stand posts links to Washington state and national news of interest every weekday morning by 10 a.m.
Short URL: https://www.thestand.org/?p=31710
Posted by
David Groves
on May 12 2014. Filed under
DAILY LINKS
. You can follow any responses to this entry through the
RSS 2.0
. Both comments and pings are currently closed.