State budget crisis, health care fail, hidden money's cost…
Monday, June 16, 2014
---
STATE GOVERNMENT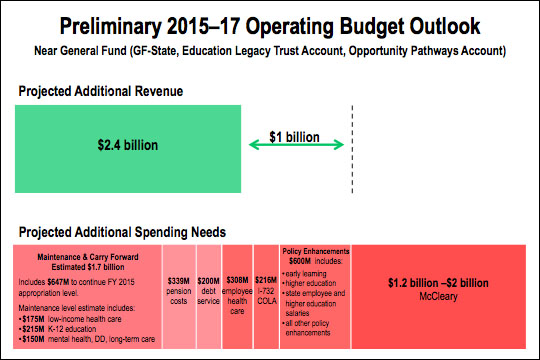 ► At PubliCola — Sobering slide show adds to McCleary crisis — Last week's Washington State Supreme Court ruling demanding that the state explain why it has come up short on the Court's 2012 McCleary mandate to fully fund education (with a warning that the Court is going to make them pay up) hit at a vulnerable moment: In preparation for the governor's 2015-17 budget proposal, state agencies are currently — as requested by the Office of Financial Management — preparing their own budgets with the news from OFM that even with an estimated $2 billion in new revenue coming in, the state would still be $1 billion short to cover everything that the current $34 billion 2013-2015 biennium budget pays for.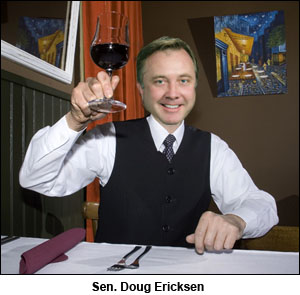 ► In the Seattle Times — Reform rules on wining, dining of lawmakers by lobbyists (editorial) — One lawmaker, state Sen. Doug Ericksen (R-Ferndale), accepted more than 60 meals worth more than $2,000 during the nearly four-month long 2013 legislative session… Lawmakers should get a clue: Perception matters. If there's no conflict, they should have no problem revealing who covers their food and bar bills. Better yet — they should just pay for themselves.
► In the Olympian — Judge says AG's lawsuit against Grocery Manufacturers can move ahead — A Thurston County judge rejected a motion Friday by the national Grocery Manufacturers Association to dismiss a campaign finance complaint stemming from the 2013 initiative fight over labeling genetically modified foods in Washington.
---
HEALTH CARE



► In the Seattle Times — Boeing, health-care providers join forces in bid to curb costs — The plans involve the formation and use of accountable care organizations, a form of delivering health services that's growing in popularity as a way to improve patient health while reining in costs.
► In the P.S. Business Journal — Machinists, aerospace engineers out — for now — on new Boeing health plan options — The new health care deals that Boeing struck with UW Medicine and Providence Health and Services/Swedish won't be available to the largest unions, officials at Boeing said Friday.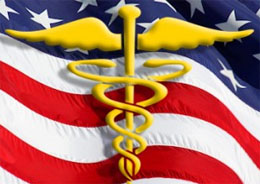 ► At Think Progress — U.S. has most expensive, least effective health care in the developed world — For the fifth time in a row, the United States has been ranked last in a prominent think tank's review of industrialized nation's health care systems. Compared to other wealthy countries like Germany, France, Switzerland, and Australia, the U.S. lags far behind when it comes to ensuring health care access, efficiency, and equity. Among the nations included in the Commonwealth Fund's survey, the highest percentage of U.S. residents skip out on the medical care they need because they can't afford it.
► In Labor Notes — Fight for health care justice moves to states (by Mark Dudzic and Jenny Brown) — Following the lead of tiny Vermont, advocates of Medicare for All are developing state campaigns to win health care that eliminates insurance companies and covers everyone. Beginning in 2017, the ACA allows the federal government to grant a waiver to any state that wants to introduce "innovations"—provided the coverage is at least as comprehensive, extensive, and affordable as coverage under the ACA. Since a "single-payer"-style state system would easily meet those criteria, activists are hoping for a path forward state by state.
---
LOCAL



► At Slog — Sawant rips 'abomination' of unpaid internships at UW Social Work graduation ceremony — At a University of Washington graduation ceremony, Seattle City Council Member Kshama Sawant seized the opportunity to denounce "practicums" — essentially unpaid internships that are required for graduation — at the School of Social Work.
► In the Spokesman-Review — Minimum wage not on agenda in Spokane, Stuckart says — Don't expect Spokane to follow Seattle's lead on a $15-an-hour minimum wage. City Council President Ben Stuckart said Friday he has no plans to call for an increase, nor does he have any intention of pushing for one in the future.
► In the Idaho Statesman — In Idaho, unions try to 'get our stick back' — AFL-CIO membership in Idaho has grown a little recently, but unions need faster growth to regain some of the muscle they once flexed at the bargaining table and in the Legislature, says Idaho AFL-CIO President Rian Van Leuven.
---
FEDERAL GOVERNMENT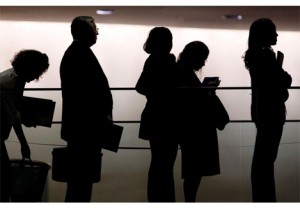 ► In Roll Call — Unemployment extension cause has invisible lobby — Walk through the Capitol South Metro station and you'll pass SoftBank ads that festoon the walls — but you won't see a campaign for the 3 million people hoping Congress will pass an unemployment insurance extension. "The sad fact is the unemployed aren't seen," said the AFL-CIO's Bill Samuel. "You're asking people who have been unemployed for months to attend press conferences and rallies, but they have other priorities now. They're trying to survive."
► In today's Washington Post — How many people would be 'out of work' if USPS eliminates Saturday delivery? (Fact Checker) — Some lawmakers cite an estimate of 80,000 that was generated by the National Association of Letter Carriers. But the USPS claims the figure is really just 25,000 full-time equivalent jobs — and it will be accomplished through attrition, not layoffs. What's going on here?
► In today's LA Times — Teachers' union leader blasts U.S. Education secretary over comments — AFT President Randi Weingarten sharply criticized U.S. Secretary of Education Arne Duncan last week for his praise of a ruling by a Los Angeles County Superior Court judge deeming certain job protections for teachers in California as unconstitutional.
---
NATIONAL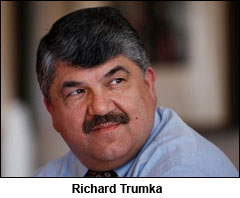 ► At Huffington Post — Unions 2.0? AFL-CIO's Trumka on austerity, labor's progressive roots and Elizabeth Warren (by R.J. Eskow) — AFL-CIO President Richard Trumka characterizes his vision of a progressive and populist-oriented labor coalition, not as a modern innovation, but as a return to labor's roots. In an in-depth interview, Trumka covered a range of topics which included the postwar heyday of the middle class, the union movement's relationship to the left, the logic behind fighting for non-unionized workers, and the possible Presidential candidacy of Elizabeth Warren. (Watch the entire interview or specific excerpts.)
► In USA Today — In San Jose, higher minimum wage pays benefits — Interviews with San Jose workers, businesses and industry officials show it has improved the lives of affected employees while imposing minimal costs on employers.
► At AFL-CIO Now — Moral Monday to highlight workers' rights — When Moral Monday actions reconvene today at the state Capitol in Raleigh, N.C., the spotlight will shine on workers' rights that have been under attack by the extremist North Carolina legislature.
---
TODAY'S MUST-READ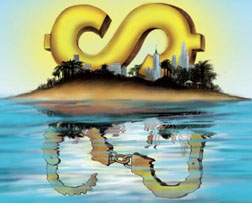 ► In today's NY Times — The true cost of hidden money (by Jacques Leslie) By analyzing data released in recent years by central banks in Switzerland and Luxembourg on foreigners' bank holdings, then extrapolating to other tax havens, creditable numbers have been created on tax evasion, showing that it's rampant — and a major driver of wealth inequality. A conservative estimate is that $7.6 trillion — 8 percent of the world's personal financial wealth — is stashed in tax havens. And these numbers do not include much larger corporate tax avoidance, which usually follows the letter but hardly the spirit of the law… What's beyond question is that there is no economic, political or moral justification for tax evasion — it exists only because of the political influence that wealth buys. A society that fails to fight widespread tax evasion proclaims its own corruption.
---
The Stand posts links to Washington state and national news of interest every weekday morning by 10 a.m.
Short URL: https://www.thestand.org/?p=32632
Posted by
David Groves
on Jun 16 2014. Filed under
DAILY LINKS
. You can follow any responses to this entry through the
RSS 2.0
. Both comments and pings are currently closed.