SEATTLE (June 3, 2014) — The Seattle City Council unanimously passed an historic ordinance Monday that establishes a $15 minimum wage, the nation's highest. The new law will raise wages for an estimated 100,000 workers, providing a $3 billion economic boost for the community.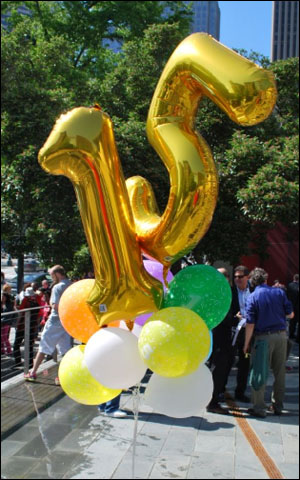 The ordinance will increase city's minimum wage to $15 for employees at large businesses with 500 or more employees, including most fast-food chains, by 2017. If their employees receive health care benefits, big businesses will have until 2018. It will phase-in the higher minimum wage for all other businesses to an inflation-adjusted equivalent over the next five to seven years, depending on the size of the business and whether employees receive tips or health care benefits.
The city's lowest-paid workers in the city will begin getting phased-in raises on April 1, 2015. By 2025, ALL workers in Seattle will earn an $18.13 inflation-adjusted minimum wage, regardless of tips or health care, and it will be increased each year thereafter for inflation.
"The passage of the phased-in $15 minimum wage in Seattle was a first strike against income inequality," said Jeff Johnson, President of the Washington State Labor Council, AFL-CIO. "Finally workers get a small share of the prosperity that they create. This is a very proud moment for the labor movement." He added:
"I want to extend our thanks to all the unions and community partners that worked so hard on this organizing effort as well as Mayor Ed Murray and the City Council, but in particular, I want to thank David Freiboth, Executive Secretary-Treasurer of the Martin Luther King Central Labor Council, UFCW 21, SEIU 775 and SEIU 1199NW for their leadership. Hopefully this will raise the level of debate around the country."
AFL-CIO President Richard Trumka released the following statement:
"Today's vote in Seattle will go down in history as a milestone in the struggle to raise wages and ensure fair pay for all workers. It is proof that when working people organize and make their voices heard, we all benefit.
"While Republicans in Congress fail to act, Seattle, along with other cities and states around the country, is ensuring that workers receive a fair day's pay for a hard day's work. We have already seen progress in states from Hawaii to Minnesota, and we will continue to fight to provide every worker with a good living wage and an opportunity to achieve the American Dream."
In just a year since fast-food workers in Seattle walked out on strike and sparked a movement for a $15 minimum wage, they have advanced their principle goal into law.
"Fast food workers have been paving the way for a better future for low wage workers across the city," said Crystal Thompson, a Domino's worker who has been a leader with Working Washington in the fast food movement. "Now many workers will have the chance to raise themselves out of poverty because of the $15 minimum wage."
"When I see $15," Thompson added, "I'll be able to afford my own place in a safe neighborhood where my kids can ride their bikes, and I'll finally be able to go back to school."