Rep. Adam Smith calls for justice for Nestora Salgado
The following is crossposted from the Seattle University School of Law:
---
SEATTLE (June 17, 2014) — U.S. Rep. Adam Smith (D-9th) joined advocates at Seattle University School of Law on Monday to speak in strong support of Nestora Salgado-García, the U.S. citizen from Renton who has been illegally detained by Mexican authorities since August.
"I am extremely troubled by the circumstances around Nestora's arrest and am outraged at reports of deplorable conditions and treatment that violate her basic human rights," Rep. Smith said. "I sent a letter to Secretary of State John Kerry urging him to ensure due process, access to attorneys, and a fair trial for Nestora. I also voiced my concerns, and the concerns of Nestora's family, for her inhumane treatment, and asked that the U.S. Embassy use all means necessary to ensure her health and safety while she is detained.  Every individual should have the right to due process, and I will continue to work with Nestora's family and her legal representation at Seattle University to push for justice and fairness."
A Mexican federal judge dismissed significant criminal charges in her case in March.
"The judge recognized that she was acting legally as an authorized leader of her indigenous community," said Professor Thomas Antkowiak, director of the International Human Rights Clinic at Seattle University School of Law, which has led international litigation on her behalf. "Nestora's ongoing detention is a flagrant violation of her most basic rights."
However, Mexican authorities have ignored the law and due process by detaining Salgado in a maximum-security prison. Not only has Salgado been denied her attorney, but a Mexican congressional delegation has reported other serious violations of due process, and the refusal of clean water and necessary medical treatment.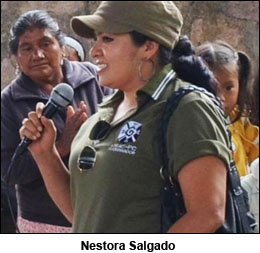 The congressional delegation recently visited Salgado and verified alarming detention conditions and other violations. In a public statement, the Mexican leaders denounced that she has been refused clean water and medical treatment, and has been held in virtual isolation, enduring "psychological torture." Salgado's daughter, Saira Crystal Rodríguez Salgado, traveled to meet the Mexican representatives.  In route, she narrowly escaped an apparent assassination attempt- underscoring the political persecution suffered by Salgado and her family, Antkowiak said.
Nestora's daughter, Grisel Rodriguez, of Renton, appreciated the backing of Representative Smith, the law school's work, and the dedication of those from the Free Nestora campaign, who have rallied broad support.
"This support must lead to my mother's release," Rodriguez said. "She cannot survive much longer in that terrible prison."
A naturalized U.S. citizen, Salgado moved to the United States in 1991 at the age of 20. More recently, she divided her time between Olinalá, in the state of Guerrero, Mexico, and the Seattle area, where she lives with her husband, José Luis Avila, her daughters, and grandchildren.
Salgado was arbitrarily arrested for her courageous community work in the indigenous village of Olinalá. Guerrero law and the Mexican Constitution guarantee the rights of indigenous communities to their own security institutions. Salgado was a leader of a community police group that is officially part of state law enforcement, and had the express approval of Guerrero's governor.
Authorities abruptly changed position, however, when her group arrested a local official for committing a crime. Salgado was immediately seized by military forces and flown nearly 1000 kilometers away to the maximum-security prison of El Rincón, in Nayarit.  She has been unable to see her attorney since the detention ten months ago.
A broad coalition of national and international supporters has demanded Salgado's release. The Freedom for Nestora Committee has obtained the endorsement of many thousands of individuals and organizations (at FreeNestora.org). The United Nations Working Group on Arbitrary Detention and the Inter-American Commission on Human Rights are closely monitoring the case.
Watch Monday's press conference in its entirety here.
---
ALSO at The Stand — WSLC joins campaign to release Renton woman from Mexican prison (Feb. 25, 2014)
Short URL: https://www.thestand.org/?p=32678
Posted by
David Groves
on Jun 17 2014. Filed under
LOCAL
. You can follow any responses to this entry through the
RSS 2.0
. Both comments and pings are currently closed.