State pay gap, roads to ruin, Dems vs. teachers, H-1B layoffs…
Monday, July 7, 2014
---
STATE GOVERNMENT



► In today's Olympian — Gap between state workers and counterparts' earnings one issue in Inslee pay talks — A 2014 consultant's report that says 81 percent of Washington state employees earn less than their counterparts in the public and private sectors is being cited by union leaders as they make the case that state workers deserve a cost of living adjustment. Such inflation-based raises will be a key part of the talks between Gov. Jay Inslee's labor team and more than 25 unions this summer. Inslee is on record as saying he believes state workers and public school teachers deserve a "modest" boost in pay after six years without cost of living adjustments, or COLAs.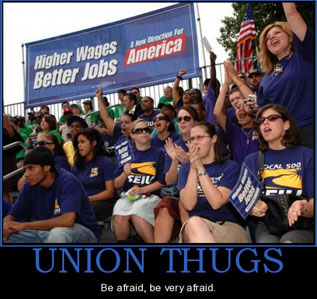 ► From AP — More government workers than private workers are unionized — Unions representing government workers are expanding while organized labor has been shedding private-sector members over the past half-century. A majority of union members today now have ties to a government entity at the federal, state or local level. The typical union worker now is more likely to be an educator, office worker, or food or service industry employee rather than a construction worker, autoworker, electrician or mechanic. Far more women than men are among the union-label ranks.
EDITOR'S NOTE — That's because governments tend to abide by the law, which guarantees employees the right to decide for themselves — free from threat or coercion by the employer — whether or not to form a union. In the private sector, ignoring that weakly enforced law is routine.
► In the News Tribune — In government, union fees coerce politics (editorial) — The argument for using state power to compel agency fees in the public sector boils down to: It's good for unions. That's true enough, but it's a thin rationale for compromising a worker's First Amendment right to political expression.
EDITOR'S NOTE — No, the argument for promoting free riders who don't pay their fair share of the costs of negotiating and enforcing contracts boils down to: It's bad for unions. All union members have First Amendment rights to political expression and — unlike, say, shareholders — union members get to vote on who and what their union supports politically. They also have the right to withdraw from the union when they disagree with the majority's priorities and become mere "agency fee" payers. But they should not have the right to benefit from the contract and require the union to represent them for free. That's not free speech, that's plain old-fashioned union-busting.
 ► At SeattlePI.com — Eyman initiative fails to make ballot; he denounces Seattle — Unlike past years, Eyman did not receive big business support for I-1325, which would have, in essence, blackmailed the Legislature. A top financial supporter of Eyman, financier Michael Dunmire, died earlier this year.
---
AEROSPACE



► In the P.S. Business Journal — Boeing delivers record 30 Dreamliners in second quarter — Since Boeing's 787 factory in North Charleston, South Carolina, continues to have production problems, most of the production improvement is showing up in Everett, said Scott Hamilton, president for aerospace consultancy Leeham Co. LLC. "I think overall the 787 program is hitting its stride, thanks to Everett and the surge line there," he said.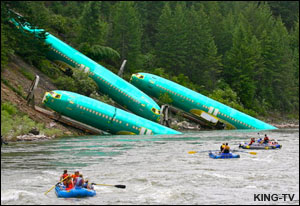 ► From KING TV — Boeing fuselages in Montana river after train derails — A train derailed near Superior, Mont., sending Boeing aircraft fuselages into the Clark Fork River. KPAX-TV reported the train was carrying parts for the 737, 747 and 777 Kansas City to Renton for final assembly. Boeing reportedly has sent experts to the scene to assess the situation.
► From AP — Tough task pulling fuselages from Montana river
► In the P.S. Business Journal — Train derailment threatens 737 production, leads to supply chain questions — This incident is leaving many aviation experts wondering why Boeing is so reliant on one manufacturer of the fuselages instead of multiple suppliers, like the company does with other models. "The company should consider creating a second fuselage production line," wrote aerospace analyst Scott Hamilton. "And it should be right here in Puget Sound."
---
LOCAL



► In the Seattle Times — Voter-registration deadline is Monday for Aug. 5 primary — Monday (today) is the last day to register either by filing online or by mailing a downloaded registration form if you want to vote in the Aug. 5 primary.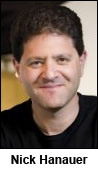 ► In the Seattle Times — The middle class' most unlikely advocate: a mega-millionaire (by Danny Westneat) — "This whole meme that prosperity trickles down from rich job creators — we've been stuck on it for 40-plus years and it's total BS,"  said Nick Hanauer. "What's jarring to people about what I'm writing is that I'm rejecting what we all think we have always known."
---
FEDERAL GOVERNMENT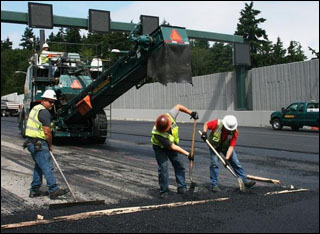 ► In The Hill — Highway Fund running on fumes — Lawmakers are under pressure to refill the Highway Trust Fund when they return to Washington after the Fourth of July weekend or risk losing thousands of construction jobs that could set back recent job growth. The Department of Transportation has warned that allowing the Highway Trust Fund to go broke would cost the U.S. about 700,000 jobs — more than twice the 288,000 that were created last month according to a jobs report celebrated by the administration.
► In today's Washington Post — State and local groups call on Congress to fix the Highway Trust Fund — The nation's economic vitality rests, in part, on Congress coming up with a long-term fix to the Highway Trust Fund, seven state and local groups argue in a Monday letter to House and Senate leaders. The letter echoes the urgency voiced by President Obama and his administration last week, both of which warned that states could begin feeling the effects of inaction as soon early August.
► In today's Columbian — It's time to tackle Highway Trust Fund (editorial) — President Obama has a few choice words for the do-nothing Congress:
It's not crazy, its not socialism, its not the imperial presidency. No laws are broken. We're just building roads and bridges like we've been doing for the last, I don't know, 50, 100 years. But so far House Republicans have refused to act on this idea. I haven't heard a good reason why they haven't acted. Its not like they've been busy with other stuff. No seriously. I mean they're not doing anything. Why don't they do this? Republican obstruction is not just some abstract political stunt. It has real and direct consequences for middle-class families all across the country.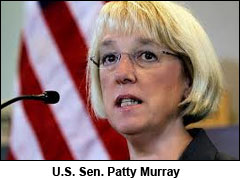 ► In the (Everett) Herald — That sweet bipartisan feeling (editorial) — The U.S. Senate passed Sen. Patty Murray's Workforce Innovation and Opportunity Act, 95-3. It's a testament to the leadership and legislative finesse of Washington's senior Senator that she managed to corral colleagues from both sides of the aisle, fine-tuning a host of workforce programs, some of which were pioneered in Snohomish County. In the U.S. Senate, there are workhorses and show horses. Murray demonstrates, time and again, that it's the workhorse who wins the race.
► In today's Washington Post — Which federal agencies have gained and lost the most employees? — The State Department (grown 17% in past four years) and Department of Veterans Affairs (16%) have the grown most by a long shot. The biggest losers was the Treasury Department, shedding nearly 9% of its workforce.
► In Sunday's NY Times — The real Internal Revenue scandal (editorial) — Budget cuts have led to sharply reduced staff, less enforcement of the tax laws and poor taxpayer service.
---
NATIONAL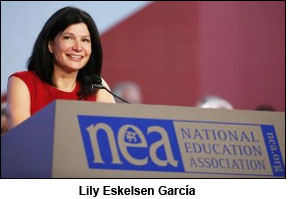 ► At Politico — Next NEA leader's first task: Win back public — Union watchers say the newly elected Lily Eskelsen García — a former school cafeteria worker teacher, folk singer and Utah teacher of the year — has a "hell of a job" ahead of her. She faces court cases challenging teacher tenure and job protections, the defection of historically loyal Democrats, growing apprehension over the Common Core, diminishing ranks, public relations campaigns painting her union as greedy and a complicated chessboard of state and local members with a variety of interests.
► In the Washington Post — Why many Democrats have turned against teachers unions — Two former top spokesmen for President Obama — Robert Gibbs and Ben LaBolt– have signed on to be part of a national public relations campaign to support legal challenges to teachers' jobs protections. If it sounds unusual for Democrats to be opposing unions, it shouldn't, because it's been happening for years now in the school reform arena. And now, union leaders are getting fed up. Said AFT President Randi Weingarten:
(Gibbs and LaBolt) are working for clients who are trying to undermine public education by pitting teachers against students and subscribing to a theory that to help kids you have to hurt teachers. Gibbs and LaBolt are relying on their reputation as Obama alums, yet they should know better than most the toxic and negative effects of a scorched earth strategy and how this kind of strategy derails us from the work we're trying to do to help kids, families and communities.
► In the LA Times — Union wins $15 minimum wage for L.A. schools' service workers — A Los Angeles Unified School District move to raise its minimum wage to $15 an hour has thrust the system into the forefront of a national movement and marks another political victory for a powerful labor group — and it's not the teachers union. It's SEIU.
► In the LA Times — Port truckers load up on labor suits — Truck drivers at Southern California ports have filed lawsuits and have flooded the state with hundreds of wage-theft claims alleging that they were improperly classified as independent contractors rather than employees by trucking companies. As contractors, the drivers don't get the kind of overtime, workers' compensation coverage and other guarantees that employees receive.
► In the Hollywood Reporter — New SAG-AFTRA deal builds on template, looks to future — The new deal achieved several key union goals: it unifies the legacy SAG and AFTRA television agreements, incorporates basic cable into an industry-wide agreement for the first time and includes wage increases and new media improvements similar to those obtained by the DGA and WGA.
► In today's NY Times — The risks of hospital mergers (editorial) — The experience in Massachusetts offers a cautionary tale to other states about the risks of big hospital mergers and the limits of antitrust law as a tool to break up a powerful market-dominating system once it is entrenched.
► In today's NY Times — When taxes and profits are oceans apart (by Gretchen Morgenson) — Many American companies won't divulge the tax bills they would face by bringing home their overseas earnings. It's a figure that investors could benefit from knowing.
---
TODAY'S MUST-READ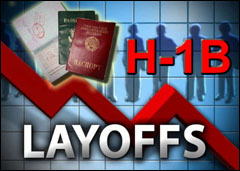 ► From AP — Backlash stirs in U.S. against foreign worker visas — Amid calls for expanding the nation's so-called H-1B visa program, there is growing pushback from Americans who argue the program has been hijacked by staffing companies that import cheaper, lower-level workers to replace more expensive U.S. employees — or keep them from getting hired in the first place.
---
The Stand posts links to Washington state and national news of interest every weekday morning by 10 a.m.
Short URL: https://www.thestand.org/?p=32923
Posted by
David Groves
on Jul 7 2014. Filed under
DAILY LINKS
. You can follow any responses to this entry through the
RSS 2.0
. Both comments and pings are currently closed.