Convention: Climate change, ACA and more
WENATCHEE (July 22, 2014) — Unions should not consider efforts to address climate change as a threat to their jobs. Instead, they should recognize the dire necessity for solutions and have a seat at the table to shape policies in ways that protect existing jobs and create new ones in emerging clean-energy industries. That was a recurring theme in today's opening session of the 2014 Constitutional Convention of the Washington State Labor Council (WSLC), AFL-CIO at the Wenatchee Convention Center.
"We know how income inequality threatens our prosperity, but climate disruption is also a clear and present danger to our prosperity," said WSLC President Jeff Johnson in his opening speech, adding that in 2011 and 2012 extreme weather disasters linked to climate change had inflicted more than $188 billion in damages in the United States alone. "And the fact is that those who have done the least to cause climate change, working people and our children and grandchildren, will suffer the most from its impacts."
Hundreds of WSLC delegates representing unions from throughout the state also heard from a panel of speakers on the issue of climate change.
Chris Davis, Governor Inslee's Advisor on Carbon Markets, explained that the governor is seeking to establish market-based policies that create an economic incentive for industries to reduce greenhouse gas emissions while being flexible enough to address the unique circumstances of each industry. He said that data is coming in from the places where governments have "put a price on carbon" and in New England, California and British Columbia carbon emissions are successfully being reduced and no jobs are being exported as a result of the policies.
USW's Chris Youngmark said his union decided back in 1990 that "climate change and environmental issues are the biggest threat to our members and their families" and they have helped influence regulations to protect jobs in California's cement industry, for example.
"If you don't have a seat at the table, you're probably going to be on the plate or the menu," he said.
Johnson, Youngmark and Dave Myers of the Washington State Building Trades Council, who also joined Tuesday's panel, all serve on Gov. Inslee's  Carbon Emissions Reduction Taskforce that will provide recommendations to the governor on design and implementation of a market-based carbon pollution program. Final recommendations are due Nov. 21, 2014.
In other convention action on Tuesday:
Elsie Schrader Award — Brenda Wiest of Teamsters Local 117 was presented the Women's Committee's 2014 Elsie Schrader Award for the advancement of women in leadership roles and activism on behalf of women within the labor movement.
Wiest was recognized for her tireless efforts not only to serve her union's members — particularly those involved in labor disputes at Davis Wire, Waste Management, United Natural Foods and others — but also her leadership roles in labor's community activities. She is one of the driving forces behind Tacoma's Paid Sick Days campaign, serve on the Emergency Food Network Board of Directors, and on the Executive Board of the Pierce County Central Labor Council, where she has been effective at recruiting other union members to get involved.
Affordable Care Act panel — Delegates heard from a panel of speakers about the challenges unions face with the Affordable Care Act. Moderator Teresa Mosqueda, WSLC Government Affairs Director, explained that the ACA has significantly expanded access to health care coverage to millions of people and has been particularly successful in states like Washington that have embraced Medicaid expansion and proactively established insurance exchanges. But for ideological reasons, too many states have denied such access to low0income families by rejecting Medicaid expansion and there are still changes that need to be made in the ACA.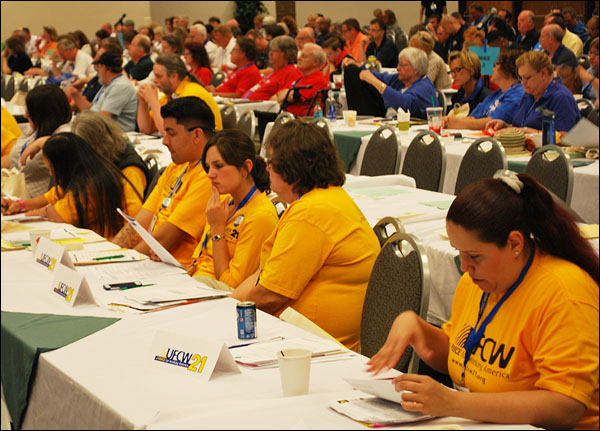 One of those changes, noted panelist Julie Popper of SEIU HealthCare 1199NW, is to protect Taft-Hartley multi-employer plans from having higher costs because they aren't considered "qualified health plans" and don't get ACA tax credits. Another challenge is the impending "Cadillac tax" on strong health plans negotiated by unions, which is lowering the bar what gets covered and how much consumer must pay out-of-pocket.
But ultimately, labor must understand the market forces that are making employer-based coverage less accessible and affordable, and press for single-payer coverage, said Will Pitts of Washington CAN. He and Popper urged delegates to get involved in a new organization called Health Care Is a Human Right that will fight for single-payer, as has been successfully established in Vermont.
Labor Education — Sarah Laslett of the Washington State Labor Education and Research Center and Conor Casey of the Labor Archives of Washington reported on the significant expansion of labor education resources and activities as a direct result of a three-year fundraising campaign initiated by the WSLC. Laslett said that unions' generous contributions have led to more than 100 events touching some 3,000 people to help them understand their workplace rights and responsibilities as union leaders. She also touted the 2014 publication of the Washington State Workers' Rights Manual, an easy-to-use guide to workplace rights under federal, state and local laws that is now available in several languages.
Bruce Brennan Award — Later Tuesday, Laslett was awarded the 2014 Bruce Brennan Award, which the WSLC Education, Training and Apprenticeship Committee gives to the individual who has contributed the most to further the cause of apprenticeship, education and training in Washington state.
"(Laslett) has devoted her talent and creativity to help convene the first leadership training for emerging leaders, supporting our Washington YELL organization; she is an advocated for opportunities and education for women and youth; supports and helps with our Mayworks cultural events and the design of our amazing Bread and Roses float; and consistently puts the development of leadership training at the top of her priorities."
Short URL: https://www.thestand.org/?p=33256
Posted by
David Groves
on Jul 22 2014. Filed under
W.S.L.C.
. You can follow any responses to this entry through the
RSS 2.0
. Both comments and pings are currently closed.