Right-wing group wants open contract talks, Ted Nugent
By DAVID GROVES
The Stand
OLYMPIA (Aug. 6, 2014) — The right-wing extremist Freedom Foundation is urging its supporters today to protest contract negotiations between the Governor's Office and state employees' unions because they want those talks to be open to the public. (Aug. 7 update: see coverage of the FF's big rally.)

Earlier this year, the Freedom Foundation unsuccessfully pushed a Senate bill to accomplish this. Inspired by model legislation from the corporate-funded American Legislative Exchange Council (ALEC) "bill mill," the legislation died due to lack of support, even in the Republican-controlled State Senate. It was one of several ALEC bills targeting unions that was introduced by conservative legislators last session.
"Nobody negotiates in public," testified Dennis Eagle of the Washington Federation of State Employees, AFSCME Council 28 during a hearing on the bill. "The private sector doesn't. The public sector doesn't. The U.S. and Russia don't. Nobody does. It doesn't work. It's a recipe for gridlock."
But gridlock is just what the Freedom Foundation wants. The right-wing group opposes workers' right to form unions and to bargain collectively, especially when they are public employees. Formerly known as the Evergreen Freedom Foundation, this group has been engaging in legal and public-relations campaigns against unions since it was founded in 1991. It also pushed state legislation intended to disrupt and defund unions.
"Opening these negotiations changes the dynamic, including inviting negotiators to spend more time grandstanding and mugging for the camera than actually trying to come to an agreement," said Joe Kendo, Legislative and Policy Director of the Washington State Labor Council, AFL-CIO.
Grandstanding is what the new Freedom Foundation is all about.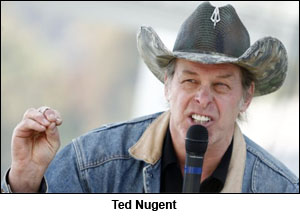 Earlier this week, the group's new CEO Tom McCabe posted an open letter to toxic rock-and-roller Ted Nugent inviting him to perform at a Freedom Foundation event later this month. Several of Nugent's concerts in the Pacific Northwest have recently been cancelled in light of his racist, violence-tinged and offensive remarks about Native Americans, Japanese, President Barack Obama, Hillary Clinton, homosexuals and immigrants, among others.
In his open invitation, McCabe defends Nugent's "colorful — but absolutely not racist" remarks about Obama, adding: "At the Freedom Foundation, we cherish the candor you've made the cornerstone of your career." Nugent has called Obama a "sub-human mongrel" and Native Americans "unclean vermin."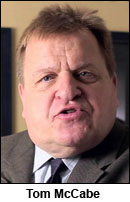 Since Day 1 on his new job, McCabe has openly declared that he wants the Freedom Foundation to "defund and discredit the union political machine" and "take on unions and their political allies."
In his previous stint running the Building Industry Association of Washington (BIAW), his political grandstanding and abrasive rhetoric — BIAW once declared that Gov. Chris Gregoire was a "heartless, power-hungry she-wolf who would eat her own young to get ahead" — alienated elected officials and some of BIAW's own members. (Amid internal BIAW acrimony, McCabe was ousted from his position there, but not before he negotiated a $1.25 million buyout and a year's health-care coverage as a severance package.)
Short URL: https://www.thestand.org/?p=33629
Posted by
David Groves
on Aug 6 2014. Filed under
STATE GOVERNMENT
,
TAKE A STAND!
. You can follow any responses to this entry through the
RSS 2.0
. Both comments and pings are currently closed.