Battelle rejected, misclassified and gouged, Animals House…
Friday, September 5, 2014
---
LOCAL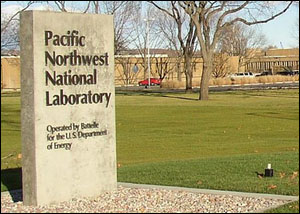 ► In today's Tri-City Herald — Hanford Atomic Metal Trades Council rejects Battelle contract proposal — Union workers at Pacific Northwest National Laboratory overwhelmingly rejected a contract proposal by Battelle in a vote Thursday. The total was 186 workers opposed and 11 workers in favor of the proposed five-year contract. "This certainly sends a clear message to Battelle their employees don't believe their offer is fair," said Dave Molnaa, president of the Hanford Atomic Metal Trades Council.
► In today's Tri-City Herald — Iron Workers unions file grievances with labor board about Richland freezer facility — A massive freezer storage facility being built in Richland has drawn a chilly response from unions concerned with the labor practices of two out-of-town contractors. Iron Workers Local 14 in Kennewick filed unfair labor practice charges with the NLRB accusing the companies of intimidation, harassment and coercion of employees, and refusal to hire union applicants.
► In the Peninsula Daily News — Sequim sued over delayed decision on two union initiatives — Susan Brautigam has filed a lawsuit against the city, saying the council violated state law when it opted to delay a decision on two initiatives. The initiatives seek to open contract negotiations with municipal employee unions to the public and allow city workers to opt out of union representation.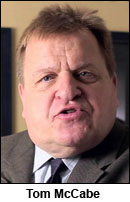 EDITOR'S NOTE — Tom McCabe's Freedom Foundation, an extreme right-wing organization based in Olympia, is funding these identical city propositions in Sequim, Shelton and Chelan in an attempt to impose so-called "right-to-work" restrictions on city employees. Not coincidentally, this mirrors the new strategy of the infamous corporate-funded bill mill, the American Legislative Exchange Council, to target city and local governments with anti-union legislation. Source Watch reports that the Freedom Foundation has close ties to ALEC and gets its money from national foundations funded by aggressively anti-union Republican billionaires.
As Sequim's City Attorney notes, these propositions are illegal for multiple reasons, but that doesn't bother McCabe who is actively seeking opportunities for litigation. It should, however, bother the citizens of these targeted cities. Their precious city tax dollars, which should be going to provide local services, will instead be spent in court defending against the Freedom Foundation's misguided and politically driven courtroom assault against their cities' employees. You know, ne'er-do-wells like these folks in Vancouver…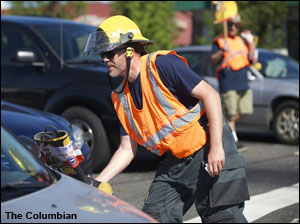 ► In today's Columbian — Filling the boots — Members of the International Association of Firefighters Local 452 are in the midst of their two-day "Fill the Boot" campaign to raise money to fight muscular dystrophy. Last year, the local's members raised $15,000 for the Muscular Dystrophy Association and firefighters nationwide raised more than $28 million.
---
STATE GOVERNMENT
► In today's Spokesman-Review — Inslee: Closing tax breaks still key to meeting school funding order — Gov. Jay Inslee said he believes the Legislature will have to find more money by closing some tax breaks that businesses receive, a course he's advocated for the past two years without much success. There are many options for legislators to consider next year, but "you can't generate $5 billion out of thin air."
► In today's Seattle Times — GET, state's prepaid college-tuition plan rebounds — Washington's embattled prepaid college-tuition plan — once threatened with a shutdown by state lawmakers who worried it would go belly-up and cost the state millions of dollars — is now fully solvent, State Actuary Matt Smith says.
EDITOR'S NOTE — As Goldy points out, in 2013 the Times editorial board was backing a panicked, reactionary proposal by Sen. Rodney Tom (R-D-MCC) to shut down GET, and invoking the right-wing's catch-all criticism of our times: "Unsustainable!"
---
ELECTIONS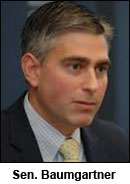 ► In today's Spokesman-Review — Weird on labor issues (by Cheryl Steele) — The only jobs Sen. Michael Baumgartner (R-6th) has created are those of his own campaign staff… I'm confused as to why he is fixated on compromising the working men and women of our state with so-called "Right to Work" legislation… I was a Republican. I ran for the Legislature as a Republican. But I don't recognize my party anymore. Baumgartner and the tea party types would do well to remember the words of President Dwight Eisenhower, who said, "Workers have a right to organize into unions and to bargain collectively with their employers. And a strong, free labor movement is an invigorating and necessary part of our industrial society."
---
FAST-FOOD STRIKES
► At AFL-CIO Now — Fast-food workers, allies arrested in nationwide strike — Thousands of workers walked out of restaurants and picked up picket signs in more than 150 cities on Thursday, demanding that big restaurant chains pay them a living wage of $15-per-hour. Said AFL-CIO President Richard Trumka:
This nation was built on the fundamental beliefs that work should be a gateway to the middle class, and that no job should ever trap someone in poverty. That's why the "Fight for Fifteen" movement is surging and the protests are getting ever louder. It's time for corporations to hear this resounding message: Every worker deserves a fair wage and the right to form a union without retaliation. We support them.
► At Huffington Post — '$15 could change everything:' Hundreds arrested as fast-food workers strike nationwide — "I'm just tired of seeing my family struggle," Robert Brown, a 20-year-old with short dreadlocks sprouting from his McDonald's visor, said right after a cop handed him a citation ordering him to appear in court. "I can't help them at all with what I make."
► At In These Times — Fast-food workers turn up the heat — Workers believe that their efforts to draw attention to the low wages and poor working conditions in the fast-food industry are having an effect on the national conversation.
---
FEDERAL GOVERNMENT
► In The Hill — Key Affordable Care Act premiums to decrease, study finds — The average cost of a benchmark Affordable Care Act plan is set to decrease next year in 15 major cities, according to a new Kaiser Family Foundation study. The premium for the second-lowest-cost silver plan, which is used to determine tax credits, will go down by an average of about 1 percent.
► At Politico — Senate Democrats urge President Obama to delay immigration order — More top Democrats are pressuring President Barack Obama to slow down on immigration reform, further diminishing the chances that he'll take sweeping administrative action before Election Day.
---
NATIONAL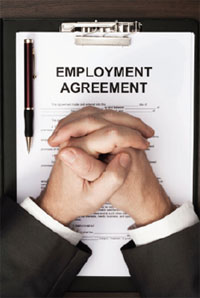 ► From McClatchy — Taxpayers, workers gouged by labor-law dodge — A review of public records in 28 states uncovered widespread cheating by construction companies that listed workers as contractors instead of employees in order to beat competitors and cut costs. The federal government, while cracking down on the practice in private industry, let it happen in stimulus projects in the rush to pump money into the economy at a time of crisis. Companies across the country avoided state and federal taxes and undercut law-abiding competitors. They exploited workers desperate for jobs, depriving them of unemployment benefits and often workers' compensation insurance.
► At ProPublica — How New York, Illinois curb a key labor violation while other states fall short — Illinois and New York have passed hard-nosed laws and formed task forces to take an aggressive tack toward employers who misclassify their workers.
► In today's L.A. Times — Economy adds just 142,000 jobs in August; unemployment dips to 6.1% — The disappointing figure broke a streak of six straight months of the economy adding more than 200,000 jobs, which had fueled hopes that the labor market finally had settled into strong and consistent growth.
► From AP — Median incomes drop for all but the wealthiest, Fed says — The richest 10 percent of Americans were the only group whose median incomes rose in the past three years, the Federal Reserve said Thursday in a report on consumer finances. The Fed said that incomes declined for every other group from 2010 to 2013, widening the gap between the richest Americans and everyone else.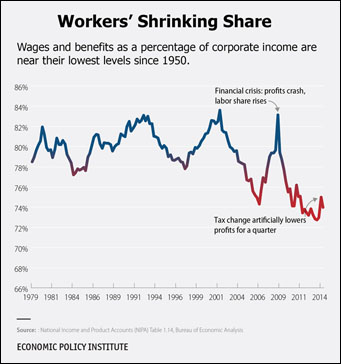 ► At Huffington Post — You have every right to demand a raise — in one chart — If you ever get to wondering why roughly half of America thinks we're still in a recession five years into the recovery, and after one of the longest stock-market rallies in history, just look at this chart.
► At Think Progress — Nevada hits electric-car jackpot, gets $5 billion Tesla 'Gigafactory' that will employ 6,500 — Nevada will be hosting the 10-million-square-foot factory — the equivalent of about 174 football fields — not only thanks to the state's low tax rates and proximity to renewable energy sources, but also due to a generous incentive package offered by the state, which until now has had little presence in the auto industry.
► In the P.S. Business Journal — Amazon tests U.S. Postal Service to deliver groceries — Amazon.com Inc. is using the U.S. Postal Service to deliver groceries in the San Francisco area as part of a test that could be rolled out nationwide.
► From Reuters — Raiders agree to pay $1.25 million to cheerleaders suing over unfair pay — The Oakland Raiders have agreed to pay $1.25 million to settle a lawsuit brought by 90 members of the team's cheerleading squad who alleged they were underpaid or faced lengthy delays in receiving their wages in violation of California labor law.
---
T.G.I.F.

► Fifty years ago this week, the Animals started a 3-week run at No. 1 on the U.S. singles chart with their version of a folk song of unclear origins about life gone wrong in New Orleans. Prominent music critic Dave Marsh dubbed it "the first folk-rock hit… (sounding) as if they'd connected the ancient tune to a live wire." The song ran over four minutes, considered way too long for a pop single at the time, so the record company simply printed the record's running time as three minutes. The Entire Staff of The Stand™ presents "House of a Rising Sun" — including its Bonus Minute!™
---
The Stand posts links to Washington state and national news of interest every weekday morning by 10 a.m.
Short URL: https://www.thestand.org/?p=34219
Posted by
David Groves
on Sep 5 2014. Filed under
DAILY LINKS
. You can follow any responses to this entry through the
RSS 2.0
. Both comments and pings are currently closed.