Hyatt boycott, 10% gets 100%, Every Kinda People…
Friday, September 26, 2014
---
SEATTLE HYATT BOYCOTT

► At KPLU — Seattle Hyatt workers renew call for boycott, rally for fairness — Hotel workers and their supporters planned to picket outside the Grand Hyatt in downtown Seattle Thursday evening, renewing a call for a boycott of the two Hyatt hotels in the city. Says a spokesman for UNITE HERE Local 8: "Workers in California, Maryland, Connecticut have all voted to join the union in a fair elections process, and there's really no reason that Hyatt workers in Seattle shouldn't have the same opportunity, where you can make your choice free of fear and management intimidation."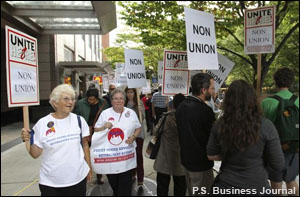 ► In today's P.S. Business Journal — Hyatt workers protest in downtown Seattle over right to unionize — More than 100 protestors gathered outside the Grand Hyatt in downtown Seattle Wednesday to support hotel workers' desire to form a union. Picketers were organized by Unite Here Local 8, which is representing the hotel workers. Housekeepers at the hotel and at its sister location, the Hyatt at Olive 8, say they have not been allowed a fair process to form a union, despite an agreement to do so, according to a press release from Unite Here. Grand Hyatt management say there was no such agreement, and the hotel supports the right of the workers to form a union through the National Labor Relations Board's process.
EDITOR'S NOTE — "No such agreement?!" Maybe they should check out the Hyatt website. For more information, click here.
► Meanwhile, in today's Boston Globe — Hyatt to pay ousted workers $1m in boycott-ending deal — Hyatt Hotels Corp. has agreed to pay $1 million to 98 Boston-area housekeepers who were fired five years ago and replaced by lower-paid, outsourced workers, at the time triggering a backlash that drew national attention.
---
STATE GOVERNMENT

► In the UW Daily — Workers, students rally for fair working conditions — Campus labor unions were among many groups chanting, "Our UW, not UW Inc." in a rally outside of Schmitz Hall on Wednesday after bargains with the university didn't yield the $15 minimum wage increase for low-wage workers. The UW offered workers a final offer of a $12 per hour minimum wage, prompting the rally.
► At WFSE.org — WSU contract agreement reached — The Washington State University Bargaining Team for the Washington Federation of State Employees reached tentative agreement Wednesday night on their new contract that will take effect July 1, 2015, and run through June 30, 2017. It includes pay raises totaling 4.8 percent over the two years of the agreement. The WSU Bargaining Team voted to recommend ratification.
---
LOCAL

► In today's Olympian — Raising the minimum wage in Olympia (editorial) — During the City of Seattle's minimum wage debate, Tom Douglas, owner of 14 restaurants in Seattle, emerged as voice of reason. He has voluntarily raised the pay of all his employees to $15 per hour. Why? As he told National Public Radio, "The more you put dollars into people's hands to be spent, I'm sure it probably would be healthy for the economy." In other words, doing the right thing and taking good care of your employees makes business sense. It might make sense for the City of Olympia, too.
---
CHART OF THE DAY

► At WashingtonPost.com — The rich aren't just grabbing a bigger slice of the income pie — they're taking all of it — This chart doesn't necessarily tell us anything new — we've known for some time that income inequality has risen steadily during the postwar period. But this chart is a novel way of illustrating that fact.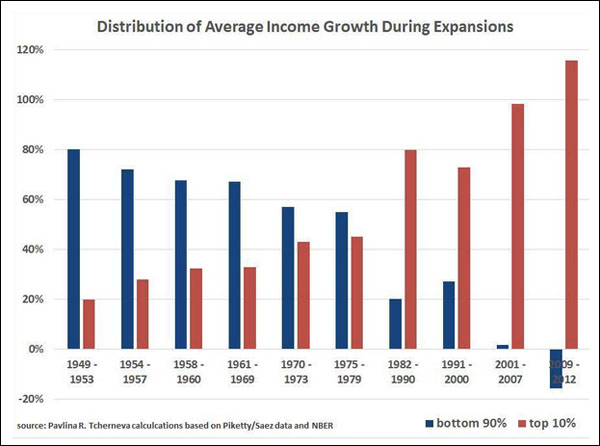 ---
NATIONAL

► In today's NY Times — Eric Holder resigns, setting up fight over successor — President Obama's announcement that Attorney General Eric H. Holder Jr. would leave the administration sets up an election-season scramble for a replacement to carry on Holder's civil rights crusade, wage rhetorical combat with Congress and manage the legal complexities of a presidency increasingly drawn into war with terrorists.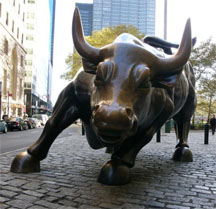 ► At Salon.com — Wall Street's new jackpot at taxpayers' expense — In recent years, public officials have shifted more of public pension money into private equity, hedge funds, venture capital and other so-called "alternative investments." Roughly a quarter of all pension funds are now estimated to be in these "alternative investments" — a tripling in just 12 years. Those investments are managed by private financial firms, which charge special fees that pension systems do not pay when they invest in stock index funds and bonds. The idea is that paying those fees – which can cost hundreds of millions of dollars a year – will be worth it, because the alternative investments will supposedly deliver higher returns than low-fee stock index funds like the S&P 500. Unfortunately, while these alternative investments have delivered a fee jackpot to Wall Street firms, they have often delivered poor returns, meaning the public is paying a premium for a subpar product.
► In today's Seattle Times — Postal Service aims for grocery delivery beyond Amazon — The U.S. Postal Service, which has been testing grocery deliveries for Amazon in San Francisco, is now seeking permission to move to new markets and handle shipments for other companies.
► At AFL-CIO Now — Nurses stage massive protest on Las Vegas strip, highlighting need for Ebola readiness — More than 1,000 nurses attended the protest and dozens held a "die-in," laying on the ground by the Bellagio fountain, while others outlined their bodies in chalk, writing the hashtag #StopEbolaRNRN inside those tracings.
► In The Hill — Disgruntled workers pose 'significant cyber threat,' feds warn — Disgruntled employees and unhappy ex-workers pose a "significant" threat to companies' computer networks and sensitive data, federal officials are warning.
EDITOR'S NOTE — And of course, a significant threat to companies' printers. (NSFW)
---
T.G.I.F.

► Eleven years ago today, Robert Palmer died of a heart attack at the young age of 54. Before he hit it big in the 1980's as the sharp-dressed man surrounded by fashion models in "Addicted to Love," Palmer was a blue-eyed soul singer whose songs were an eclectic mix of jazz, R&B, reggae and the blues. This one — The Entire Staff of The Stand's favorite of his songs — was written by Free bassist Andy Fraser, who also wrote that band's signature hit "All Right Now." (It figures that a bass player wrote it.) Enjoy!
---
The Stand posts links to Washington state and national news of interest every weekday morning by 10 a.m.
Short URL: https://www.thestand.org/?p=34691
Posted by
David Groves
on Sep 26 2014. Filed under
DAILY LINKS
. You can follow any responses to this entry through the
RSS 2.0
. Both comments and pings are currently closed.