WSLC's Johnson: To address climate change, we must 'think big'
SEATTLE (Sept. 22, 2014) — Following are Washington State Labor Council President Jeff Johnson's comments at the People's Climate Rally on Sept. 21 in Seattle: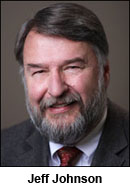 Hello, my name is Jeff Johnson and I am the President of the Washington State Labor Council, AFL-CIO and also the co-chair of the Washington State Blue Green Alliance.  I am proud to be here today and I am hoping that this is the beginning of something huge — they are expecting more than 300,000 marchers in New York City.
We face two great threats to broadly shared prosperity: Extreme inequality and destructive climate change.
The stakes could not be higher — our economic system and our trading paradigm are at odds with nature — unfettered economic growth based on fossil fuels does not synch up with lowering carbon emissions. We are on an existential crash course with climate disaster — where everyone will be impacted, but those who have done the least to cause climate change will be most at risk.
Our children, the poor, the working class, and communities of color — those who have suffered the greatest health impacts of a fossil fuel based economy, will also suffer the most as water levels rise, storms intensify, and clean water and food become scarcer.
I have heard Governor Inslee say, "Ours is the first generation to recognize the impacts of climate change and we might be the last generation to be able to do anything about it."
Increasing glacial melt, ocean acidification, increased forest fires, super storms, are nature's clarion call to us to get our shit together.
I serve on the Governor's Carbon Emission Reduction Taskforce — looking at carbon taxes and cap and trade systems as part of a solution to decreasing our carbon emissions to 80% of their 1990 levels by the year 2050. This is important work, controversial work and it will cause disruptions in our economy and the way business gets done — it won't necessarily be a smooth transition.
So we must make absolutely sure of a few things:
1. We must make sure that there is justice and equity — those who are most vulnerable should not be made to pay the cost of a transition.
2. There must be a just and equitable transition — workers and communities that have been dependent on fossil fuel are not an abstraction — these are real people and real communities and they need to be made whole — wages, health care benefits, pensions, and tax bases need to be protected — workers and communities can't be treated as "stranded costs" — and brothers and sisters we have never done "just transitions" well in this country — we need to now!
3. We need to make massive investments in our infrastructure to protect against climate disruption and we need to invest in the renewable energy economy.
Through large-scale public investments we can rebuild our infrastructure, lower our carbon emissions, protect against climate change, and create family-wage union jobs.
But this is going to require us to fight back against austerity budgets and mentalities and for getting tax revenue from the rich and corporations. It is going to require us to fight back against the Trans Pacific Partnership and the World Trade Organization to make sure that climate investments aren't sub-serviant to trade deals.
We have to think big and we have to act together.
Short URL: https://www.thestand.org/?p=34727
Posted by
David Groves
on Sep 22 2014. Filed under
TAKE A STAND!
. You can follow any responses to this entry through the
RSS 2.0
. Both comments and pings are currently closed.