Victoria para Familias, Spendy McSpenderson, empathy deficit…
Wednesday, October 29, 2014
---
LOCAL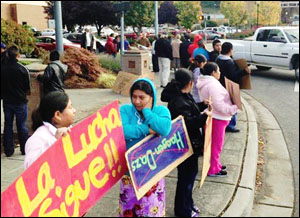 ► In today's Skagit Valley Herald — Judge rules for Familias Unidas in latest Sakuma labor complaint — A Skagit County Superior Court judge again found in favor of farm workers Tuesday morning, saying that Sakuma Bros. Farms' policies prohibiting visitors to worker cabins, as well as other rules, must be removed from employee handbooks. Rules in the farm's employee and housing handbooks banned visitors to worker cabins, except attorneys, and restricted distribution of literature and solicitation during working times and on farm property, which included worker camps.
► In today's (Everett) Herald — Expanded Community Transit service is planned — Community Transit plans to add bus service and hire 34 new bus drivers next year, the agency announced Monday. The service expansion, less than a fifth what was lost in recent years, is part of the agency's proposed 2015 budget.
---
STATE GOVERNMENT

► In today's (Everett) Herald — Spend. Yes, spend to rebuild transportation (by Richard Davis) — Some transportation advocates quietly express concern that the McCleary imperative will deplete the oxygen under the dome, making it hard to breathe life into a transportation funding plan… Some lawmakers balk at how the state handles transportation projects. They should hold administrators accountable and press for efficiencies. That's their job. But don't let the perfect be the enemy of the good. Such concerns should not stymie efforts to make investments now that will pay off tomorrow.
► In today's Seattle Times — Future of charter schools rests with state Supreme Court — The debate over money for education was heard at the Washington Supreme Court again Tuesday. But this time it had to do with the state's new commitment to public charter schools. A coalition of teachers, parents and community groups is suing the state to stop the new charter system from getting off the ground.
---
ELECTION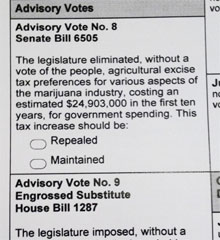 ► At Slog — Vote 'Maintained' (or whatever the hell you want) on Tim Eyman's waste-of-space advisory votes — The state offers a little explainer note about advisory votes: "Advisory votes are non-binding. The results will not change the law." Wait, what? Why do we vote on them, then? Two words: Tim Eyman. The ghost of one of his (excrement-laden) initiatives forces (excrement) like this onto your ballot.
► From KUOW — Who's buying the Washington State Senate? — One race on Seattle's Eastside has attracted more cash than any other: Republican state Sen. Andy Hill versus Democratic challenger Matt Isenhower. Their campaigns, their political parties and outside interests have pumped $2.4 million into the contest for the 45th legislative district. It works out to $28 for every registered voter in the district to date, with last-minute donations continuing to roll in.
► In today's Olympian — In this election, it's Republicans decrying 'dark money' — So-called "dark money" is contributing to the expensive fight for control of the Washington state Senate. And the script is flipped from the usual one, where Democrats cry foul about secretive groups — like one tied to Karl Rove that tried unsuccessfully to help Dino Rossi defeat Sen. Patty Murray in 2010. This time, it's Republicans howling. They are upset about a group purporting to praise state Sen. Tim Sheldon for supporting liberal causes but whose messages appear calculated to make Sheldon's fellow conservatives hesitate to vote for him.
► In The Hill — U.S. Senate battleground tilts away from Democrats — Democrats' path to holding their Senate majority has narrowed, with Republicans pulling ahead in critical states and on the cusp of upsets in several others.  Even some within the party are starting to say their midterm prognosis isn't good.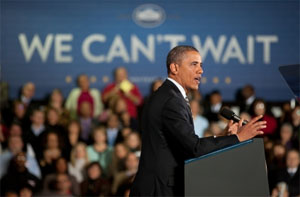 ► A related story in The Hill — Obama heckled by immigration activist; crowd members again leave early — President Obama's campaign event Tuesday in Wisconsin was interrupted by an immigration demonstrator, the second time in the past two weeks the president has had to pause his remarks to address a crowd member protesting his decision not to take executive action to slow deportations.
EDITOR'S NOTE — How's that postponing-immigration-reform election strategy working out for you, Democrats?
► At Think Progress — Court refuses to intervene in case of 40,000 missing voters in Georgia — On Tuesday, Judge Christopher Brasher of the Fulton County Superior Court denied a petition from civil rights advocates to force Georgia's Secretary of State to process an estimated 40,000 voter registrations that have gone missing from the public database.
► At Politico — Union power on the ballot — The campaign for California superintendent of public instruction is on pace to be the most expensive contest in the state this cycle, with total spending likely to hit $25 million. That's because more than education policy is at stake: The race has become a highly symbolic fight for the heart and soul of the Democratic Party — and is shaping up to be major test of waning teachers union power.
---
NATIONAL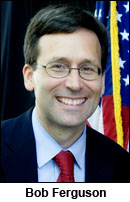 ► In today's NY Times — Lobbyists, bearing gifts, pursue Attorneys General — Attorneys general are now the object of aggressive pursuit by lobbyists and lawyers who use campaign contributions, personal appeals at lavish corporate-sponsored conferences and other means to push them to drop investigations, change policies, negotiate favorable settlements or pressure federal regulators, an investigation by The New York Times has found… Often, the corporate representative is a former colleague. Four months after leaving office as chief deputy attorney general in Washington State, Brian T. Moran wrote to his replacement on behalf of a client, T-Mobile, which was pressing federal officials to prevent competitors from grabbing too much of the available wireless spectrum. "As promised when we met the A.G. last week, I am attaching a draft letter for Bob to consider circulating to the other states," he wrote late last year, referring to the attorney general, Bob Ferguson. A short while later, Moran wrote again to his replacement, David Horn. "Dave: Anything you can tell me about that letter?" he said. "Working on it sir," came the answer. "Stay tuned." By January, the letter was issued by the attorney general largely as drafted by the industry lawyers.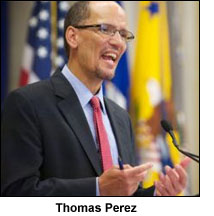 ► At Politico — Labor gets aggressive under Tom Perez — The Labor Department was one of the federal government's sleepier outposts for most of the dozen years that preceded Perez's arrival just over one year ago. But Labor has been newly energized under Perez. Enforcement activity is up and the department has raised its public profile on issues like minimum wage and paid medical leave and lavished favorable attention on companies that give employees what Perez calls "voice."
► At Think Progress — UPS decides to stop kicking pregnant women out of their jobs — The United Parcel Service announced a change in its policies to allow pregnant workers to stay on the job through their pregnancies in a brief filed late last week in a Supreme Court case brought by one of its former workers.
► At Politico — New leader of NBA union shows she's got game — For Michele Roberts, the first woman to lead a major U.S. professional sports union, her long-shot election in July was the latest in a long career of pushing back against the challenges she faced as she rose from the South Bronx projects to become one of the nation's premier trial lawyers.
---
TODAY'S MUST-READ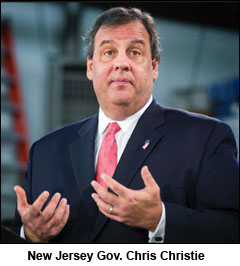 ► At Huffington Post — Empathy deficit disorder (by Robert Reich) — A remarkable number of people who are supposed to be devoting their lives to representing others seem clueless about how their constituents actually live and what they need. Call it Empathy Deficit Disorder. Some Democrats have it, but the disorder seems especially widespread among Republicans. These politicians have no idea what people who are hard up in America are going through… Many are deeply anxious about their jobs and panicked about how they're going to pay next month's bills. Almost two-thirds of working Americans are living paycheck to paycheck. And they're worried sick about whether their kids will ever make it. They need leaders who understand their plight instead of denying it. They deserve politicians who want to fix it rather than blame it on those who have to depend on public assistance, or who need a higher minimum wage, in order to get by.
---
The Stand posts links to Washington state and national news of interest every weekday morning by 10 a.m.
Short URL: https://www.thestand.org/?p=35511
Posted by
David Groves
on Oct 29 2014. Filed under
DAILY LINKS
. You can follow any responses to this entry through the
RSS 2.0
. Both comments and pings are currently closed.