Right-wing Freedom Foundation swept, but still suing away
By DAVID GROVES
The Stand
(Oct. 17, 2014) — The Freedom Foundation has now gone 0-for-4 — a sweep in baseball playoff parlance — in its campaign to politicize city governments' collective bargaining negotiations and to weaken unions. But the litigious right-wing think tank has only just begun its legal assault on the targeted cities, as it attempts to accomplish in court what has been unanimously rejected by elected city leaders, including many conservatives, throughout the state.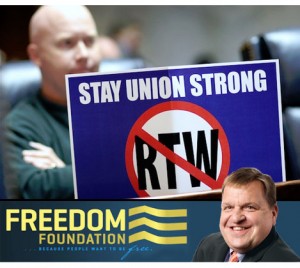 Last month, The Stand reported that the Freedom Foundation's cookie-cutter propositions, which seek to impose so-called "right-to-work" collective bargaining restrictions on city governments and to open all bargaining sessions to the public, had been unanimously rejected by the cities of Sequim and Shelton. Since then, two more cities — Chelan and Blaine — have also unanimously rejected the anti-union propositions.
On Monday, the Blaine City Council refused to adopt the second of the two propositions — having already rejected the first — and also refused to call for an election on the measures. Likewise, the Chelan City council voted unanimously on Sept. 25 not to approve either proposition and not to order elections on them, citing concerns about conflicts with state law.
After the vote, Chelan City Councilwoman Wendy Isenhart openly lamented that the legal proceedings likely to ensue over the Freedom Foundation's measures are going to cost the city money that should be utilized for Meals on Wheels or other community priorities.
The city — and people — of Shelton are already finding that out the hard way.
Diane Good, the Shelton petitioner who submitted the Freedom Foundation propositions, filed a lawsuit on Oct. 6 against her city to try to force an election on the measures in February 2015. Good is also seeking "compensatory and coercive remedies, such as damages and attorney's fees." Her attorney is Shawn Newman of Olympia, who has a long history of working with the Freedom Foundation on its legal proceedings against unions.
A similar lawsuit, also filed by Newman, against the City of Sequim aimed to force the propositions onto the November ballot there, but was denied on Sept. 23 in Clallam County Superior Court .
Unlike state initiatives, which can only be challenged as unconstitutional after being approved by voters, the Washington State Supreme Court has ruled that cities have the right to deem citizens' ballot measures illegal and keep from appearing on the ballot. The four cities targeted (so far) by the Freedom Foundation have all chosen to do just that.
Sequim City Attorney Craig Ritchie said the propositions would violate several state and city laws.
"'Prop 1' and 'Prop 2' attempt to usurp or infringe upon a power granted to the governing body of the City of Sequim," Ritchie wrote in a memo to the City Council. "They interfere with and coerce administrative action. They interfere with and conflict with state law. They attempt to do indirectly what they cannot do directly; collectively bargain through initiative… They put the Sequim taxpayers in jeopardy of paying for potential unfair labor practices."
Why is the Freedom Foundation pursuing this?
Freedom Foundation CEO Tom McCabe has openly bragged that "litigation is an essential part of our strategy to take on unions and their political allies."
The city-by-city campaign against unions mirrors the new strategy of ALEC, a controversial corporate-funded organization that drafts model legislation for conservative lawmakers, to attack unions at the city and local level. It's an idea also being pushed by national conservative groups like the Heritage Foundation, which just released a report urging that localities should "experiment" with local right-to-work ordinances in an attempt to set up legal challenges that could go all the way to the corporate-friendly U.S. Supreme Court.
Tom McCabe's Freedom Foundation refuses to disclose its donors, but Source Watch reports that it has close ties to ALEC and gets its money from national foundations funded by aggressively anti-union Republican billionaires like Richard Scaife, Thomas Roe, and the Walton family. The Center for Media and Democracy also explains how funding for the FF and its fellow members of the State Policy Network is traced back to the billionaire Koch brothers.
In an Aug. 15 fundraising email to supporters, McCabe admitted that the city-by-city campaign against unions is all about politics, touting his organization's role in pushing these city propositions and requesting donations for "our effort to defund the union political machine."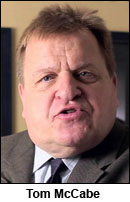 Since Day 1 on his new job, McCabe has vowed to "strike a blow against big union bosses" and if his previous stint running the Building Industry Association of Washington (BIAW) is any indication, this war will be an expensive and divisive one for the cities targeted by his lawsuits. At BIAW, McCabe spent heavily to try to elect Republicans via a scheme that siphoned millions of dollars from the state-run workers' compensation system. But his tenure there netted few victories and his abrasive rhetoric — BIAW once declared that Gov. Chris Gregoire was a "heartless, power-hungry she-wolf who would eat her own young to get ahead" — alienated elected officials and some of BIAW's own members.
McCabe's final straw at BIAW was his decision to spend more than $6 million in 2008 in a failed attempt to get Republican Dino Rossi elected as governor amid a housing crunch that was devastating most home builders. The internal BIAW acrimony that ensued led to McCabe's ouster, but not before he negotiated a $1.25 million buyout and a year of health-care coverage as severance.
Short URL: https://www.thestand.org/?p=35153
Posted by
David Groves
on Oct 17 2014. Filed under
STATE GOVERNMENT
. You can follow any responses to this entry through the
RSS 2.0
. Both comments and pings are currently closed.