Postal banking system makes more sense than USPS cuts
The following is from the Center for Economic and Policy Research:
---
(Nov. 12, 2014) — The Washington Post called for further cuts to the Postal Service and implicitly cuts in pay and benefits in an editorial today. There are two points worth noting on its proposed agenda.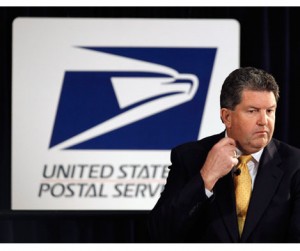 First, the Postal Service has already experienced enormous downsizing. It employed more than 900,000 workers in 1999. In the most recent data it employed 587,600, a decline of 35 percent. This downsizing has been associated with substantial gains in productivity, so it is wrong to imply that it has not been changing with the times.
The other point is that the Postal Service could improve its finances by expanding rather than contracting. Specifically, it can return to providing basic banking services, as it did in the past and many other postal systems still do. This course has been suggested by the Postal Service's Inspector General.
This route takes advantage of the fact that the Postal Service has buildings in nearly every neighborhood in the country. These offices can be used to provide basic services to a large unbanked population that often can't afford fees associated with low balance accounts. As a result they often end up paying exorbitant fees to check cashing services, pay day lenders and other non-bank providers of financial services.
A postal banking system would provide competition for the private financial system, which undoubtedly explains why so many politicians are unwilling to consider it as a route to addressing the Postal Service's financial issues. In the past politicians have often intervened to protect the private sector so that it would not lose business to the Postal Service. For example, in 1999 many members of Congress intervened on behalf of FedEx and UPS, who were concerned that they were losing business due to an effective ad campaign by the Postal Service. (They also sued to stop the ad campaign.)
The Postal Service has been placed in a nearly impossible situation where it is expected to be profitable on a strict business basis, but it is prevented from pursuing potentially profitable paths by the political power of the businesses with whom it would be competing. This is the core problem facing the Postal Service which is not mentioned by the Post.
Short URL: https://www.thestand.org/?p=35900
Posted by
David Groves
on Nov 12 2014. Filed under
NATIONAL
. You can follow any responses to this entry through the
RSS 2.0
. Both comments and pings are currently closed.