ILWU frustrated by shippers' finger-pointing over port delays
By DAVID GROVES
The Stand
TACOMA (Dec. 11, 2014) — "Are West Coast longshoremen spoiling Christmas?"
That Politico headline from earlier this week tells you all you need to know about commercial shippers' efforts to wring concessions at the bargaining table from thousands of longshore workers in Washington, Oregon and California.
Citing competitive pressures in the shipping industry, huge multinational corporations already reaping enormous profits are focused on replacing family-wage International Longshore and Warehouse Union (ILWU) jobs with low-wage subcontractors or machines. But in their effort to accomplish this, the shippers have made some big decisions that have had disastrous consequences in terms of congestion problems and delays.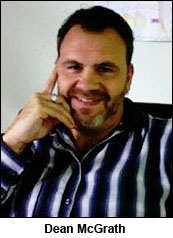 Sound familiar? It does to Dean McGrath, President of ILWU Local 23, which represents more than 1,300 registered members and casual workers at the Port of Tacoma.
"A little over a year ago, Boeing said they'd go broke and couldn't survive here (in Washington) unless they stripped away people's pensions and benefits," McGrath said. "They created fear in the community and now they have record profits. They used the media and the government to create public pressure on Boeing families to give those things up. And it's not just at Boeing, it's symptomatic of what's going on in the global business world, in general. Profits above all else. And now we are their target.
"The ILWU has fought for many years to get some of the best standards, work practices and benefits in the nation. And we're seeing these shipping companies try to erode that away by replacing us, not only with robots, but also by bypassing historic ILWU work jurisdiction to any outside workforce in a perpetual race to the bottom."
Since May 12, 2014, the ILWU has been in negotiations with the Pacific Maritime Association (PMA), which represents more than 70 multinational ocean carriers and maritime companies, on a new contract covering 29 U.S. West Coast ports, including all the major container ports in Seattle, Tacoma, Portland, Oakland, Long Beach, and Los Angeles. The existing six-year contract expired on July 1 without an agreement, but the union agreed to continue bargaining in good faith.
In November, however, the PMA launched what the ILWU calls a "smear campaign" to blame increasing port congestion on an organized work slowdown by the union. Since then, the media has reported about delayed shipments, spoiling agricultural products, and parked container ships waiting to be unloaded — blaming it all on a work slowdown. The union denies this and says port congestion is a product of the shippers' own short-sighted cost-cutting changes. But the media is less interested in reporting about those complex issues.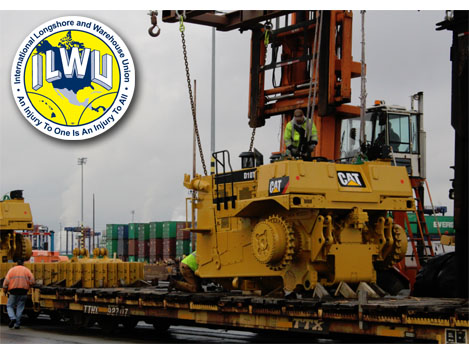 "You have to be familiar with global shipping to understand a lot of this," McGrath said. "When I explain it to reporters, their eyes just glaze over."
For example, the chassis — the wheeled trailers used to move shipping containers in and out of ports — used to be owned by the shipping companies. In 2010, a number of large ocean carriers, including Maersk Line, Yang Ming, and Evergreen, announced that they would no longer provide chassis because they were not in their new business model.
"Maintenance was the cost they were trying to avoid, maintenance covered under our contract," McGrath said. "They were only trying to shift out of their responsibility."
"The shippers sold all those chassis to third-party companies not covered under the union contract, saying it was no longer part of their business model," he said. "But in the process, they lost control of the chassis. Now there's a huge shortage of them and (the shippers) don't have control. They are being hoarded or contractors are using them to their benefit. It's happening at the worst possible time in already overstressed port infrastructure."
McGrath says another major factor in port congestion is the shippers' efforts to reduce container costs by using bigger ships and forming alliances. This has led to ships having multiple customers — often competitors — that have formed alliances to use the larger ships together.
"So a typical port that's used to single customers from single shipping lines has not just one, but five or six customers. And it all has to be sorted for them. Some on rail, some on truck, different schedules, different times," he says. And that has created massive logistical and yard space issues.
"The frustrating part is the finger-pointing at us as if we're the ones who have caused all these problems and created the delays that have resulted," McGrath said.  "We want to talk about solutions to these problems and find a way to ease port congestion while maintaining good family-wage jobs. But they aren't interested in that. Instead of solving problems, they just want to cut our jobs and our benefits.
"We used to work together for mutual benefit. They don't appear to be interested in doing that anymore. Now, it appears to be only about control."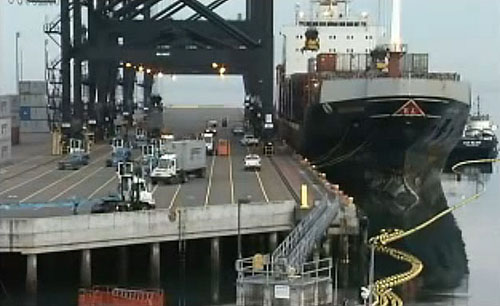 Despite all that frustration, McGrath remains hopeful.
Contract talks were held through last weekend and continue this week. The ILWU has a caucus on Dec. 15 that was scheduled in hopes that the union would have a tentative agreement to take to members for a vote.
"That's a possibility still, but it's still up in the air," McGrath said this week. "I'm cautiously optimistic we'll have one, but there are no guarantees."
In the meantime, he hopes that the community doesn't blame longshore workers for the problems at the ports.  Instead, they should recognize the all-too-familiar pattern of profitable companies trying to cut labor costs by dividing and conquering working-class folks, and using the media to beat them into submission.
"We are your neighbors. We are part of this local community," McGrath says. "We've got a (union) hall full of toys going to disadvantaged kids for Christmas. We sent $32,000 in gift cards to local schools for low-income children. We paint the house of a low-income family in Tacoma every year. We provided $2,100 worth of turkeys to the rescue mission for the holidays.
"So I ask all the media outlets that are painting us as the 'Grinch That Stole Christmas,' who are the real people with no hearts? We are working people standing up for what we have earned, and there is no shame in that!"
WASHINGTON IS A UNION STATE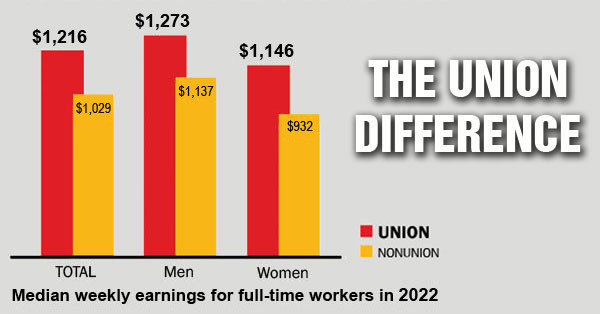 CHECK OUT THE UNION DIFFERENCE in Washington state: higher wages, affordable health and dental care, job and retirement security.
FIND OUT HOW TO JOIN TOGETHER with your co-workers to negotiate for better working conditions and respect on the job. Or go ahead and contact a union organizer today!