Massive walkout at Seattle U. in support of adjunct faculty

The following is from Adjuncts and Contingents Together Washington, a project of the SEIU Local 925.
---
SEATTLE (Feb. 26, 2015) — Hundreds of Seattle University faculty and students walked out of their classrooms Wednesday in support of quality education, fair compensation and the right of SU faculty to unionize. It was one of the largest faculty walkouts in the country, as part of National Adjunct Walkout Day.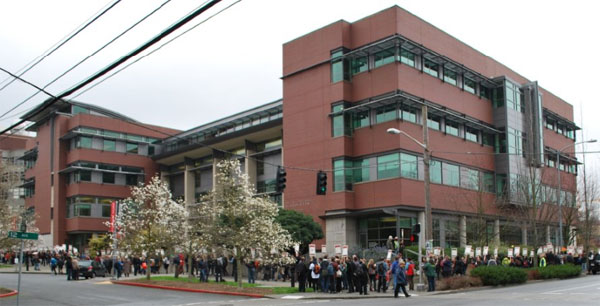 "I am walking out for adjunct job security, a living wage, and transparency in where our student's tuition dollars are being spent," said Dr. Larry Cushnie, Adjunct Instructor of Political Science. "Student instruction must remain the main priority of the university. With a majority of instructors now part-time and non-tenure track, it is important that people know what massive student debt is really paying for in higher education."
Participants held a rally and picket on 12th Avenue, in front of Seattle University. Earlier in the day, students went into classrooms and invited their peers to join them in walking out.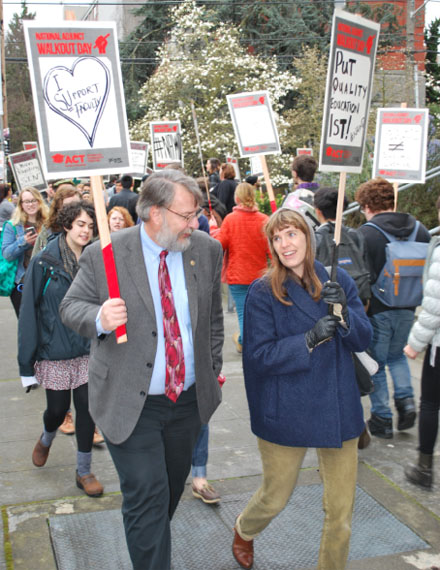 Seattle City Councilmembers Nick Licata and Kshama Sawant (and Washington State Labor Council President Jeff Johnson and Nicole Grant of the Certified Electrical Workers of Washington, pictured at right) joined SU faculty, students, and staff in the day of action, addressing the crowd and marching with them. A fast food worker active in the "Fight for 15 and a Union" movement also spoke about the importance of a living wage so that all workers can provide for their families and contribute to the economy.
Once a middle-class job, many college and university faculty now work part-time and isolated from colleagues for very low pay, no job security, benefits or even office space. At SU, contingent and adjunct faculty now make up 56% of professors.
Students are increasingly saddled with crushing debt that could take a lifetime to pay off. Parents struggle to stay afloat in the face of skyrocketing tuition bills. At SU, tuition has risen 82% in the past 10 years.
Recent decades have seen a dramatic shift away from investment in affordable, accessible higher education for students to a big-business model where corporate boards and their administrators — many of whom have never set foot in a classroom — determine how precious tuition dollars are spent. The SU Board of Trustees has connections to Premera Blue Cross, Boeing, Delta Dental, Costco, Kidder Matthews, Expeditor International, Savers/Value Village, Starbucks and Panera Bread.
Recently, SU's administration announced cuts in class offerings and faculty positions, while spending ever greater amounts on sports programs and new capital projects.
In response to this crisis in higher education, SU contingent faculty began forming a union in 2013. Despite its Jesuit traditions, SU's administration has reacted with endless litigation, dragging the process out for nearly a year.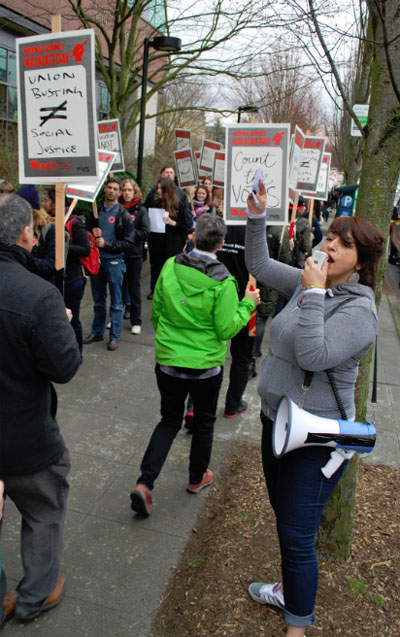 SU faculty and students have built a strong coalition to demand a new direction at Seattle University.
"We have come together today to raise our voices for workplace fairness and justice," said Dr. Louisa Edgerly, Instructor of Communications and Journalism at Seattle University. "As a Jesuit institution, 'Seattle University is dedicated to educating the whole person, to professional formation, and to empowering leaders for a just and humane world,' but social justice should not be a concept that gets left on the doorstep when we walk onto campus. It is a factor in every hiring and budget decision, something we want to highlight through our action today."
"The SU administration shouldn't advertise to applicants it's for social justice and a just and humane world when they works so hard to ignore faculty and student voices," said Olivia Engle, a senior studying Sociology. "I came to SU for a world-class education from amazing teachers. Today, I walked out in solidarity with my professors who deserve more stable and just work lives. It's time the administration reset its priorities, stop employing the big corporate model and treat faculty with the human dignity that they deserve."
"All across the country, families have to work harder to earn a living wage and pay for their children's education," said Seattle Councilmember Nick Licata. "Our college and university faculty are no different. I'm proud to stand with all workers in the fight for dignity and call on all employers to respect their employees' right to form a union."
PREVIOUSLY at The Stand:
Seattle U contingents declare victory, but ballots impounded (June 5, 2014)
Seattle U's union avoidance contrary to Catholic teachings (May 2, 2014)
Short URL: https://www.thestand.org/?p=38111
Posted by
David Groves
on Feb 26 2015. Filed under
LOCAL
. You can follow any responses to this entry through the
RSS 2.0
. Both comments and pings are currently closed.