Alaska fuel distributor faces EEOC discrimination charges

The following is from the Inlandboatmen's Union of the Pacific (IBU):
DUTCH HARBOR, Alaska (March 16, 2015) — A pattern of discrimination targeting Filipino-American and Asian-Pacific Islander American workers in Dutch Harbor including termination, demotion, substandard work conditions, and a ban on speaking Tagalog at work. That's what local workers allege has emerged in recent months at fuel distributor Delta Western — whose corporate parent is Seattle-based Saltchuk Resources, Inc. — in new charges filed against the company with the U.S. Equal Employment Opportunity Commission (EEOC).
"Why does this company refuse to respect all members of the community?" asked Leo Dacio, a fuel dock employee. "All employees work hard to keep the company operations running smoothly and profitably, but management prevents us from doing our jobs by discriminating against Filipino-American and Asian-Pacific Islander American workers."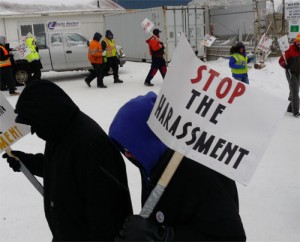 "Regardless of a person's race or ethnicity everyone should be treated equally especially in the workplace," said Richard Gurtiza, Regional Director of IBU Region 37. "Anything less is an insult not only to the individual worker but for entire communities."
Eight Delta Western employees submitted complaints with the federal government last week which state that, among other violations of federal law, managers illegally discriminated on the basis of race, national origin and age when they:
► Harassed and fired Manolito "Mo" Reyes over a trumped-up safety issue;
► Offered better working conditions to white employees commuting from Anchorage to Dutch Harbor than for Filipino-American and Asian-Pacific Islander American employees living and working locally; and
► Ordered employees to stop speaking Tagalog to each other on the job and to speak only English.
"For cleaning equipment the way employees and managers usually do, managers told me I was terminated," stated Mo Reyes. "Instead of sitting down together to look hard at safety practices on the job and bargain any potential discipline, managers broke the law and fired me instead."
"All that should matter to Delta Western and Saltchuk is that the best people for the job are hired and working well together," said Erwin Riodil, another employee. "To harass, discipline, fire and try to prevent us from speaking casually shows an unacceptable practice of treating us as less valuable employees."
The EEOC charges come just as the National Labor Relations Board informed workers it would prosecute Delta Western for violating federal law in discriminating against Mo Reyes and Leo Dacio.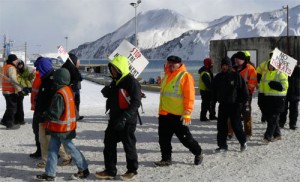 "The federal government is prosecuting Delta Western because managers illegally reduced my position and slashed my pay in retaliation for my union activity," added Dacio. "And these company violations fit the larger pattern of discrimination affecting us all."
"I'm glad to hear the government will prosecute the company because managers gave me a written warning retaliating against me for being a union supporter," said Reyes.
Delta Western workers in Dutch Harbor last year successfully formed a new labor union through the Inlandboatmen's Union of the Pacific and went on strike three times in the last year over federal charges they filed against the company. Currently, employees are bargaining a contract with managers.
"Unfortunately, Delta Western managers violate federal law and our rights at the bargaining table and on the job, while Saltchuk Resources, Inc. refuses to take responsibility," said Kevin Agbayani, who also works at the company. "We expected more from Saltchuk, a company that won a 'World's Most Ethical Company" award last year."
Keoki Andrews, another fuel dock worker, added "we've worked hard for fairness at Delta Western — it's time Saltchuk step in and ensure all workers at this company are respected."
Short URL: https://www.thestand.org/?p=38597
Posted by
David Groves
on Mar 16 2015. Filed under
LOCAL
. You can follow any responses to this entry through the
RSS 2.0
. Both comments and pings are currently closed.