By every standard, guaranteeing paid sick days is a winner
By JOHN BURBANK
---
(March 11, 2015) — I'll spare you the details — since you've likely been through a similarly undignified experience — but a bout of intestinal flu isn't pretty. Hopefully you were able to do what I did: take a few days off work to get well. I could do that without losing part of my paycheck, because the organization for which I work ensures people can earn paid sick days on the job.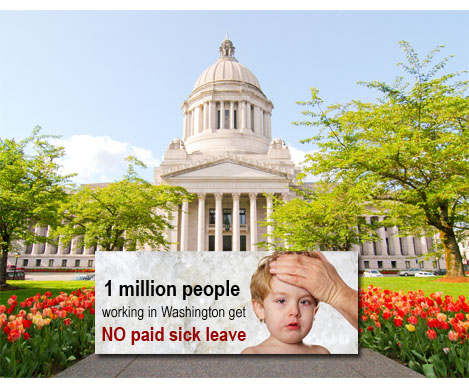 Even if it weren't my organization's practice, Seattle has a paid sick days ordinance that guarantees workers that right. But in Everett, Spokane, Vancouver, or Yakima, my story might be different. In fact, it is a different story for more than one million workers in Washington who are not allowed to earn paid sick days on the job.
Staying home when you're sick helps you get well and keeps others from getting sick. As an employer, I know that our entire staff, healthy and unhealthy, benefit from paid sick days. If you work in a restaurant, your employer certainly shouldn't want you serving food. Indeed, state law prohibits food service workers from working around unpackaged food if they have flu symptoms. But there is no law requiring employers to ensure workers have paid sick days — or any other kind of leave or vacation, for that matter. And there's nothing to prevent an employer from firing someone for missing a day of work if they are sick.
So if you're a sick food-service worker, you can either ignore a law and keep your job, or stay home from work — losing not only part of your paycheck, but maybe your job. If you're a parent caring for a sick child — or your own aging parent — you face the same choice. Give the person you love the TLC they need to start getting better, or leave them home alone or at school, and keep your job.
That's why we need House Bill 1356, which recently passed the state House of Representatives on a party-line vote (all Democrats voting for, all the Republicans voting against). This bill provides five days of paid sick days for workers. You'd hardly call it generous — just one bout of the flu and most of that time is gone — but still a significant improvement over no sick time at all.
We all say that employers should treat workers and their children with respect and care. If we don't think that is a value, then we don't need this law. Opponents of a law for paid sick days always like to say that employers look after their employees and "work things out" to handle circumstances such as having a sick kid… or being sick yourself. That only means that these good employers should have no objection to a state law for paid sick days. For the more than one million workers who work for employers that don't allow them to earn paid sick days, we have to pass a law.
Laws for paid sick days help both workers and their employers. We know this because 21 cities and states have paid sick days laws in effect. Gabriel Block, CEO of California-based Crossroads Trading Co., said implementing paid sick leave for its Seattle location was not hard, and didn't require raising costs. In Connecticut, which has a statewide paid sick days law, a survey of business owners found three-quarters supported the law, a large majority experienced no or small increased cost, and that benefits included less spread of disease in the workplace, and higher morale.
San Francisco's job market has been better that its surrounding counties and the state of California as a whole since the San Francisco paid sick days law went into effect in 2007. The Washington, D.C. City Auditor found that its 2008 sick leave law "neither discouraged business owners from locating in the District nor encouraged business owners to move their businesses from the District." The Connecticut Department of Labor reported that employment in the leisure and hospitality sectors covered by its state law rose after implementation of paid sick days.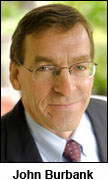 By every standard — respecting workers, supporting strong families, promoting public health, and building a stronger economy — paid sick days is a winner. The next stop for HB 1356 is the Senate, where we'll see whether legislators will vote with those public values in mind — or not.
---
John Burbank is the executive director and founder of the Economic Opportunity Institute in Seattle. John can be reached at john@eoionline.org.
Short URL: https://www.thestand.org/?p=38435
Posted by
David Groves
on Mar 11 2015. Filed under
OPINION
. You can follow any responses to this entry through the
RSS 2.0
. Both comments and pings are currently closed.