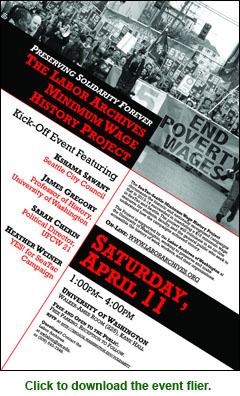 SEATTLE — Join the Labor Archives of Washington as they kick off the SeaTac-Seattle Minimum Wage History Project, documenting the historic and nationally recognized campaigns that in 2013-14 succeeded in passing a $15 minimum wage in SeaTac and Seattle. The project will culminate in an online resource for students, faculty, and the general public who seek to understand how the campaigns were successful.
The kickoff event will be Saturday, April 11 from 1 to 4 p.m. in the Walker-Ames Room (225) of Kane Hall at the University of Washington. Speakers will include:
●  KSHAMA SAWANT, Seattle City Council
●  JAMES GREGORY, Professor of History, University of Washington
●  SARAH CHERIN, Political Director, UFCW 21
●  HEATHER WEINER, YES! for Sea-Tac Campaign
The mission of the Labor Archives of Washington at the University of Washington is to preserve and make accessible the history of work, workers, and their organizations. Founded in 2010, the Labor Archives is made possible by the contributions of dozens of unions and hundreds of individuals.
The April 11 event is free and open to the public, but please click here to RSVP. Free parking is available and a reception with drinks and refreshments will follow the program. Questions? Call (206) 543-7946, or e-mail uwlabor@uw.edu.