MayWorks event will help you tell workers' stories—and yours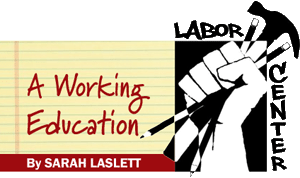 (March 6, 2015) — The Washington State Labor Council, AFL-CIO, does a fantastic job with our MayWorks, involving many unions, labor councils, and community partners. As we enter our fourth year of this monthlong, statewide celebration of workers' history and culture, we should all be proud of what we have built.
This year's MayWorks theme is Solidarity Forever, in honor of the 100th anniversary of the writing of that song, labor's anthem. The MayWorks calendar will be chock full of great events to be part of and the Labor Center has something really special to offer as part of it.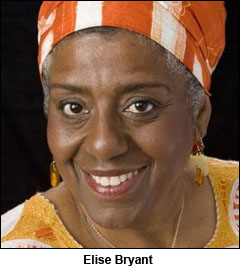 The Labor Center is very pleased to bring Elise Bryant, Executive Director of the Labor Heritage Foundation, to Seattle. She will be leading a spoken word workshop on Saturday, May 9 that focuses on experiences of solidarity. This is your opportunity to tell a story, develop a rap, slam a poem, and share your experiences!
Too often, workers' voices remain unheard. The stories we have to share of struggle, of victory and defeat, of transformative consciousness raising, and of our union brothers and sisters need to be told and heard. Even if you have no prior experience with the spoken word arts, you are invited to apply for one of the limited spaces in this workshop. It will be an experience not to be missed!
One possible performance venue for the spoken word pieces that come out of this workshop is the "labor stage" at the Northwest Folklife Festival on Saturday, May 23rd. This year's Folklife cultural focus is Beats, Rhymes and Rhythms: Traditional Roots of Today's Cultures. We can enrich that focus with workers' stories!
Download the workshop flier/application for more information or to apply for your spot.
---
Calendar of upcoming Labor Center classes and events
Here are some other important Washington State Labor Education and Research Center classes and events to add to your calendars. (You can find out more about any of these events on our website or by calling 206-934-6859.)
Leadership for Safety at Work — Saturday March 21 from 9 a.m. to 4 p.m.
Exhibition on Apprenticeship — Date of March opening TBA
Shop Steward Train-the-Trainer — Friday, April 10 from 1 to 5 p.m. & Saturday, April 11 from 9 a.m. to 5 p.m.
Leadership Education and Activist Program — Wednesday, April 22 to Sunday, April 26 — Offered by the Spokane Regional Labor Council. Email Beth Thew for more information.
MayWorks Spoken Word Workshop   — Saturday, May 9 from 9 a.m. to 4 p.m.
Collective Bargaining Training — Thursday, May 28 to Saturday, May 30 from 9 a.m. to 5 p.m.
Summer Institute for Union Women — Tuesday, June 23 to Saturday, June 27 at Reed College in Portland, OR. Hosted by the University of Oregon Labor Education and Research Center. Get details.
2015 Emerging Leaders Conference — "Leading from the Margins: Sustaining Ourselves and Building The Labor Movement" — Friday, Sept. 11 (evening) and Saturday, Sept. 12 (full day). Download a save-the-date flier.
---
Sarah Laslett is Director of the Washington State Labor Education and Research Center at South Seattle College. Her column — "A Working Education" — is a regular feature of The Stand. Learn more about the Labor Center here.
Short URL: https://www.thestand.org/?p=38310
Posted by
David Groves
on Mar 6 2015. Filed under
OPINION
,
W.S.L.C.
. You can follow any responses to this entry through the
RSS 2.0
. Both comments and pings are currently closed.