Let's celebrate our solidarity at MayWorks 2015 events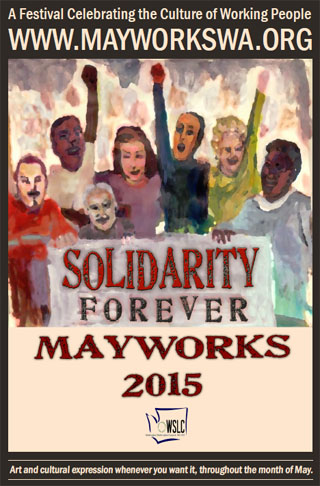 (April 27, 2015) — The labor movement has been a driving force in the production of arts and culture, both in the United States and throughout the world, employing art and music to celebrate and affirm the many facets of the work we do — on the job, raising children, and serving as volunteers and activists in our communities and unions.
But there has been a long term-trend to "professionalize" the arts, and high-tech media has taken over the delivery of our cultural activities and identities. That's why the Washington State Labor Council, AFL-CIO celebrates the culture of workers — their art, music, dance, poetry, and stories — every year with MayWorks, a tradition that delegates at the WSLC's 2012 Convention voted to begin.
Download a printable (PDF) program of MayWorks 2015 events.
Here are just a few highlights of the many MayWorks 2015 events that are planned. Visit MayWorksWA.org for more details about each event and a full calendar that will be updated throughout the month. (The "Solidarity Forever" artwork for the MayWorks 2015 poster and program cover, which appears above, is by Beverly Naidus.)
TODAY (April 27) — Video contest entries are due! — Submit your 3- to 5-minute film with the theme of "solidarity" for your chance to win cash prizes and have it showcased at the MayWorks Opening Celebration. Get details.
MAY 1 — MayWorks 2015 Kickoff — In conjunction with the Pacific Northwest Labour History Association's annual conference, the MayWorks kickoff will be Friday, May 1 from 5:30 to 8:30 p.m. at the IBEW Local 77 Hall, 19415 International Blvd. in SeaTac. This social event will include a Labor Art Show, refreshments, welcoming remarks and music, as well as registration for the PNLHA conference. There is no charge, but please RSVP to pnlhawa@gmail.com. Submissions for the Labor Art Show are being accepted through Thursday, April 30 at the IBEW Hall. Get details about submitting your artwork for the show!
MAY 2-3 — The Pacific Northwest Labor History Association 2015 Conference — This annual event features workshops, panel discussions, social events, elections and an awards banquet. It will be held at the Doubletree Hotel, 18740 International Blvd in SeaTac. Get details, including detailed agenda information and registration information.
MAY 9 — Spoken Word Workshop — The Washington State Labor Education and Research Center at South Seattle Community College is bringing Elise Bryant from the Labor Heritage Foundation in D.C. to lead a daylong spoken word workshop on Saturday, May 9. Get details.
MAY 11 — Mural Design Workshop — Friends of the Jackson Street Mural Project at the Washington State Labor Council's new Seattle office is hosting a series of design workshops, through the lens of the social justice movement, bringing neighbors together, giving voice to, and eventually illustrating the stories of communities that have been historically marginalized. ALL are invited to the Monday, May 11 workshop from 5 to 7:30 p.m. at the WSLC office, 321 16th Ave. South. For details, call Kamaria Hightower at 206-254-4913.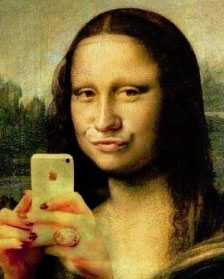 MAY 14 — Art Walk Party Bus and Selfie Scavenger Hunt — Washington Young Emerging Labor Leaders (WA YELL) hosts "To Thine Own Selfie Be True" from 5 to 8 p.m. Thursday, May 14. Meet at the WSLC Seattle office, 321 16th Ave. S. and hop on a party bus to the Capitol Hill Art Walk. Your mission, search for art that reflects the stories of workers or depicts social justice issues, snap a selfie with the piece and post it on social media with #MayWorks2015. Space is limited so check out the event flier to RSVP and get more details.
MAY 16 — Pierce County Labor History Walking Tour — The tour begins Saturday at 1 p.m. at Tacoma's historic Firemens Park, 9th and A Street downtown, and will visit eight additional sites with two or three local labor historians narrating the action. The walk will last about 90 minutes with total walking distance (on flat streets) at just under 3/4 of a mile. Call the Pierce County CLC for details at 253-473-3810.
MAY 20 — Job Fair? Exhibit Reception — Job Fair? showcases the work of University of Washington Tacoma interdisciplinary students who have taken the Labor, Globalization, and Art course with artist/professor Beverly Naidus. This reception will be Wednesday, May 20 from 4 to 6:30 p.m. at the UW School of Social Work's first floor gallery, 4101 15th Ave. NE in Seattle. The art will be on display there April 21-June 15, M-F from 8 a.m. to 6 p.m.
MAY 21 — Workers Film & Photo League Newsreels — The Northwest Film Forum presents this archival film program celebrating the history of worker rights by diving into the lost canon of worker-made films from the 1930s. It will be Thursday, May 21 at 7 p.m. at the Northwest Film Forum, 1515 12th Ave. in Seattle.
MAY 23 — NW Folklife Festival Labor Show — This event at the annual northwest people's music festival featuring two hours of labor story and song will be Saturday, May 23 from 8 to 10 p.m. at the WSLC Seattle office, 321 16th Ave. South.
MAY 30 — Pierce County Hootenanny — Bring your acoustic (unplugged) instrument and a song to share or just join in the jam at this fun event Saturday, May 30 from 6:30 to 8:30 p.m. at the ILWU 23 Hall, 1306 Alexander Ave. East in Fife. Call the Pierce County CLC for details at 253-473-3810.
Those are just a few highlights. There are MANY more MayWorks events planned, including book talks, art exhibits, film screenings, and more. Visit MayWorksWA.org at check out the event calendar for all the details.
Short URL: https://www.thestand.org/?p=39740
Posted by
David Groves
on Apr 27 2015. Filed under
W.S.L.C.
. You can follow any responses to this entry through the
RSS 2.0
. Both comments and pings are currently closed.