Farmworkers aim to block H-2A guestworkers at Sakuma Bros.
By TOMÁS ALBERTO MADRIGAL
Special to The Stand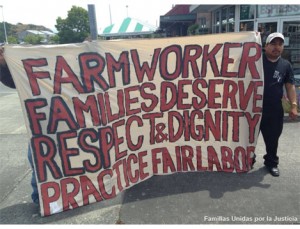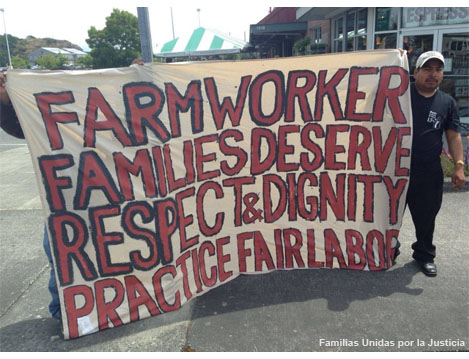 OLYMPIA (April 7, 2015) — Familias Unidas por la Justicia, an independent farmworker union based in Burlington, honored the legacy of Cesar Chavez on March 31 by launching a new campaign to block their employer from applying for H-2A guestworkers to replace them.
A coalition of union farmworkers, students, community advocacy organizations, state labor representatives and supporters held a demonstration at the Employment Security Department (ESD) where they crushed Driscoll's label berries and allowed for letters of intent prepared by 177 skilled berry pickers to be symbolically stained by the fruits of their labor.
The ESD is a state agency that works together with the federal Department of Labor (DOL) to oversee state agricultural industry's participation in the H-2A visa program. The farmworkers sought to make it clear that they would be displaced if an H-2A application by Sakuma Brothers Farms is to be approved this harvest season. They argued based upon litigation they won last year that the farm was using the H-2A program as a form of retaliation against their formation into a union.

The dependency upon H-2A guestworkers has grown exponentially in Washington state over the last several years due to an increase in its unconventional use that has been facilitated by a non-profit organization, Washington Farm Labor Association, that teaches growers how to navigate around regulations that were originally put in place as disincentives from its overuse.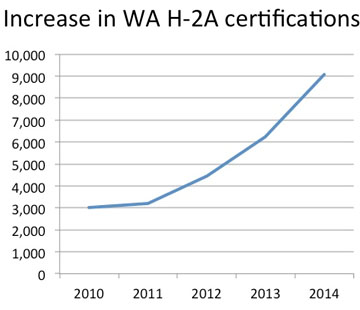 They met with members and aides of the Washington State Senate's Agriculture, Water, and Rural Economic Development Committee and the house Agriculture and Natural Resources Committee to encourage them to stand behind the rule of law when it comes to the misuse of H-2A guestworker applications, violations of wage and hour, labor rights and housing rights for farmworkers.
---
Tomás Alberto Madrigal is a Ph.D. candidate at UC-Santa Barbara's department of Chicana and Chicano Studies, part of the leadership of Community to Community Development, and a volunteer with Familias Unidas por la Justicia.
Short URL: https://www.thestand.org/?p=39157
Posted by
David Groves
on Apr 7 2015. Filed under
LOCAL
. You can follow any responses to this entry through the
RSS 2.0
. Both comments and pings are currently closed.