Report: Non-profit MultiCare prioritizing profits, collections
TACOMA (April 9, 2015) — "Leave No Money on the Table," a report released Wednesday by Washington CAN, decries the aggressive patient debt collections by Tacoma's largest employer, MultiCare Health Systems. It describes how executives at the non-profit organization have prioritized profit margins by aggressively pursuing collections and tying them to staff performance evaluations.
In one case, a patient was already under sedation beginning a critical cardiac procedure when asked to produce his credit card to pay the estimated costs.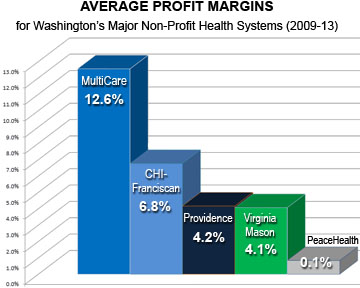 The report found that MulitiCare has the highest profit margin of any non-profit hospital system in the state and that collection agencies contracted with MultiCare charge 12 percent interest on medical debt, the highest legally allowable amount.
"MultiCare is a non-profit, but with these practices, it's hard to see the community benefit," said Washington CAN! Executive Director Will Pittz.
A news conference to release the report included speakers who have been affected by MultiCare's aggressive debt collecting practices.
Carmelita Swain is an Army medic who moved to Tacoma after she returned from deployment in Afghanistan. She received a bill for $3,000 when her two sons were x-rayed and diagnosed with knee and ankle sprains.
"I called to let them know I have Tricare so I should be covered," said Swain. "Before I could even get off the phone the lady was telling me, 'If you don't pay this today, we're going to send you to collections and put this on your credit report'."
Many patients reported finding themselves on an aggressive collections treadmill that included harassing phone calls, threats to be turned over to collections agencies, and in many cases, were sued to have their wages or bank accounts garnished. The amount taken by force includes attorney's fees and interest.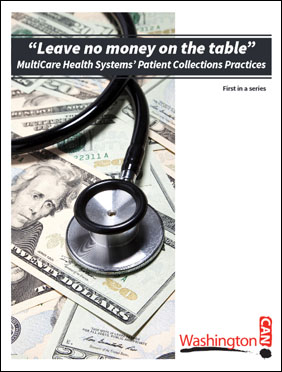 "I just had to cancel my physical therapy appointments because I am not sure how much will be covered," said Washington CAN! member MykleAnn Mora. "I am being forced to make decisions about my health because of fear of being harassed by collection agencies."
Recommendations from the report include:
► Oversight — MultiCare's patient collections activities and vendors should be overseen by an independent, community-based committee with the power to make changes in collections protocols and respond to complaints about billing.
► Interest Reduction — MultiCare should review and reduce the interest rates it and its collections vendors add to medical debts.
► Retroactive Financial Assistance — MultiCare and its collections vendors should retroactively offer financial assistance to all patients in collections.
With more than 44,000 members, Washington Community Action Network is the state's largest grassroots community organization. Together we work to achieve racial, social, and economic justice in our state and nation. Our strength as an organization depends on our members' involvement. We believe that we can only achieve our goals when people take action for justice.
Short URL: https://www.thestand.org/?p=39238
Posted by
David Groves
on Apr 9 2015. Filed under
LOCAL
. You can follow any responses to this entry through the
RSS 2.0
. Both comments and pings are currently closed.