49 for Fairness: People's hearing calls for fair revenue package
OLYMPIA (May 5, 2015) — While State House and Senate budget leaders negotiate behind closed doors, Washington United for Fair Revenue called its own people's hearing on Monday, featuring testimony from people representing each of Washington's 49 legislative districts. Taxpayers, small business owners, teachers, nurses, parents, and many others from Walla Walla to Bellingham to Vancouver delivered thousands of petitions signed by people in their districts.

​
The "49 For Fairness" each called for the State Senate to pass a revenue package that is fair, accountable, and shared.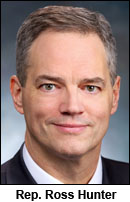 Rep. Ross Hunter (D-Medina) chaired the unusual People's Hearing in House chambers. Calling it the chair's prerogative, Hunter directed the overflowing room of people to testify in reverse order — from the 49th Legislative District in Vancouver to the 1st LD in North Seattle.
"One of the key responsibilities of the Legislature is to listen to our constituents," said Hunter. "We have to make balancing decisions between the level of revenue we collect and the services we provide to Washington citizens. This forum provides an opportunity for the Legislature to hear from the people about the intersection of these two factors."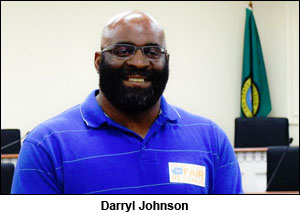 "Since retiring from the United States military, I have been a home health care worker for eight years," said Auburn veteran Darryl Johnson of the 30th LD. "I pay my fair share in taxes and I am happy to do so. However, the wealthiest, including large corporations, continue to get tax breaks that gut the states safety net which protects the vulnerable people I care for. I'm not okay with the top 2% of Washingtonians profiting at the expense of the people I care for."
"I am a mother of three amazing school-age children," said Sumner mom and activist Immaculate Fererria Allah of the 31st LD. "I want a wide-open path of opportunity for them — and for all of Washington's children. But our state's tax system puts too many of our children in harm's way. Our revenue system is outdated and inadequate, which means families and children have limited access to the services they need. Struggling families pay between 10 and 17% of their incomes in taxes, while the wealthiest few pay just 2%. The Legislature needs to pass the capital gains tax and ensure that Washington's wealthiest households pay their fair share."
Washington's inadequate and unreliable revenue system has resulted in years of cuts to vital state services, weakening our communities. Washington's wealthiest residents pay only 2.4% of their total income in state taxes. Middle-class families pay four times that rate, while low-income families pay seven times that rate, with a disproportionate impact on communities of color.
"As a small business owner, I'm happy to pay my fair share of taxes," says Tiffany Turner, owner of Long Beach's Adrift Hotel in the 19th LD. "I believe we need to ensure Washington is a vibrant place to live, now and in the future. However, some large corporations get special tax breaks and don't have to pay their fair share, which means less money for our roads, parks, schools and health and safety services."
Here is a video from the people's hearing on Monday produced by the Washington Federation of State Employees, Council 28, that highlights some of the testimony from public employees: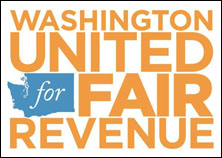 Washington United for Fair Revenue's more than 100 participating groups include regional and statewide organizations such as AARP Washington, American Academy of Pediatricians, Children's Alliance, Head Start, National Alliance on Mental Illness, Eldercare Alliance, Washington Environmental Council, State Fire Fighters Council, State Nurses Association, the WA Parent Teacher Association, and the Washington State Labor Council, AFL-CIO.
Short URL: https://www.thestand.org/?p=40050
Posted by
David Groves
on May 5 2015. Filed under
STATE GOVERNMENT
. You can follow any responses to this entry through the
RSS 2.0
. Both comments and pings are currently closed.