Happy Fair Trade Music Day! Seattle council OKs musicians' measure
The following is from the Musicians' Association of Seattle, AFM Local 76-493:
---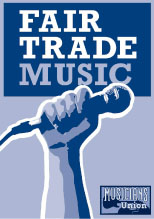 SEATTLE (May 20, 2015) — The Seattle City Council voted 9-0 on Monday to pass a resolution supporting fair and more equitable relationships between musicians and area clubs, and declaring today — May 20, 2015 — to be "Fair Trade Music Day" in Seattle.
The action came in response to a growing campaign by area musicians to get written agreements for their work, with reasonable assurances of adequate pay. More than 40 musicians have been involved in developing a set of standards which they're asking clubs to sign on to. About twenty area venues have already signed that pledge.
A 2008 study by the City found that the music industry contributes $2.6 billion annually to the local economy, supporting over 11,000 jobs directly in music, with more indirectly in music-related work.
Councilmember Nick Licata, Chair of the Seattle City Council Finance and Culture Committee and co-sponsor of the resolution, praised the musician-activists leading Fair Trade Music, stressing that "this is legislation which literally has come up from the grassroots," and describing the situation facing many musicians as "basically a form of wage theft, dying from a thousand cuts. For Seattle to remain a national cultural hub, we must treat our musicians to fair working conditions. This legislation is a first step toward that."
"The resolution provides working musicians with a safety net and a shield to help us organize ourselves," said Nate Omdal, a leader of Fair Trade Music who plays upright bass in jazz and hip-hop bands. "Knowing that we're being taken seriously by the City leaders has helped to open doors to engage musicians, some of whom have been worried about possible retaliation if we stand up for ourselves."
Omdal noted that musicians often feel that they lack power and community support, and described the action of the Council as "empowering. It shows that when we act together, we can win."
Tim Burgess, City Council President, proudly wore a Fair Trade Music sticker on his lapel.
"All workers should be treated fairly and equitably" noted Burgess; "that's a core value that we hold in Seattle. We do not want to see our workers, whether in the fast food industry or musicians, mistreated."
Although the resolution speaks primarily to club musicians, they're not the only ones impacted. Joan Sandler, Vice President of American Federation of Musicians (AFM) Local 76-493 and a member of the Seattle Music Commission, is a classical violinist and member of the Seattle Music Commission.
"This raises the image and protects the value and status of all musicians, no matter what kind of music we play," she commented. "Just because we play different kinds of music is no reason to value someone more than another musician."
Musicians are often told that they should play for the love of the music. But singer-songwriter David Guilbault responded to this by noting that "Our work is given little or no value. It's considered a labor of love. But it is labor, and I should be paid for my labor."
Councilmember Mike O'Brien, co-sponsor of the resolution praised the musicians who developed Fair Trade Music. "This speaks very highly of our music community, and provides a model for other industries with independent contractors not protected by traditional labor law."
Omdal said that Fair Trade Music has plans for a series of innovative classes to hone musicians' skills on topics such as negotiating a fair agreement and using social media. The group also plans to consider problems with excessive "non-compete clauses" imposed by some area music festivals to prohibit musicians from earning income before and after the festival.
Motter Snell, President of Musicians Association of Seattle, AFM Local 76-493, expressed appreciation to the Council.
"Seattle is fortunate to have a City Council committed to workers' rights and fundamental social justice," she said, "and we particularly want to thank Councilmembers Licata and O'Brien for their leadership."
Beginning next week, Fair Trade Music will provide window stickers for participating venues to identify the clubs that have signed the pledge. "We're asking that people go to the clubs that treat musicians fairly," said Omdal. "Seattle values our music, and we call ourselves a music city. We need to back that up by valuing musicians, as well as the music."
Short URL: https://www.thestand.org/?p=40498
Posted by
David Groves
on May 20 2015. Filed under
LOCAL
. You can follow any responses to this entry through the
RSS 2.0
. Both comments and pings are currently closed.