Why aren't we allowed know what's so 'smart' about TPP?
Local group aims to lift veil on new, 'enforceable' labor standards
(May 12, 2015) — Over the weekend, President Barack Obama again criticized Sen. Elizabeth Warren (D-Mass.), for opposing his trade agenda, calling her "absolutely wrong" and, in a speech at Nike's corporate headquarters in Beaverton, Ore., saying she and other opponents of trade deals such as the Trans-Pacific Partnership (TPP) are just "making stuff up." Obama assured Americans that the TPP contains stronger "enforceable" labor protections than ever before and won't harm workers, adding:
If you are opposed to these smart, progressive trade deals, then that means you must be satisfied with the status quo.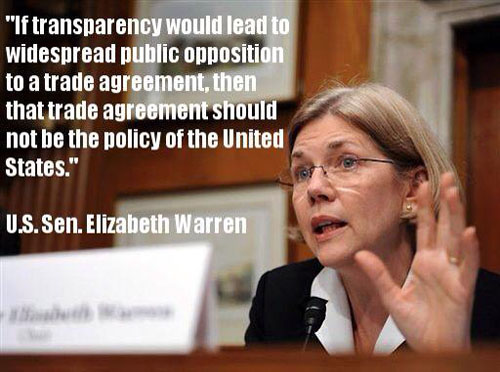 But as Sen. Warren responded, the president is asking us to take his word for it.
"The president said in his Nike speech that he's confident that when people read the agreement for themselves, that they'll see it's a great deal," she told Washington Post's Plum Line blog. "But the president won't actually let people read the agreement for themselves. It's classified."
So what are the labor protections that supposedly make the TPP different from previous NAFTA-like trade deals? If the TPP language is a state secret, how can anyone find out what makes its labor protections so "smart and progressive" that they merit Fast Track Trade Promotion Authority (TPA) that blocks Congress from proposing improvements?
It's a question Stan Sorscher, President of the Washington Fair Trade Coalition, asked Rep. Derek Kilmer (D-Wash.) in a letter sent last week: "I'm writing for clarification on what many agree is a central provision of TPA and TPP. Simply put, what are the current labor protections in place since 2007, and how is TPP different?"
As Sorscher points out, existing labor rights protections in these "free trade" deals have not just been woefully inadequate, they have been effectively non-existent. Sorscher writes:
Currently, organizations in the US can ask the Department of Commerce or the Department of Labor to investigate other countries' violations of the core ILO labor standards. During the investigation, agencies may resolve the problems. Failing that, the USTR will consult with the other government, before seeking arbitration under the dispute settlement process. Under arbitration, the other country may pay fines, which go back to itself to improve labor standards. I would need to think about the deterrent value of a fine you pay to yourself.

Please consider three cases:

Colombia's Labor Action Plan took effect in April 2011. In the subsequent 4 years, Colombian workers reported 1,933 threats and acts of violence, including 105 assassinations of union activists and 1,337 death threats, making Colombia the poster child for violence against labor activists.

Honduras. Last fall, CWA President Larry Cohen wrote that eighty-three human rights lawyers and 43 journalists have been murdered in recent years trying to enforce or report on the constant violations in Honduras. A complaint about labor violations was on hold at that point for 2 years at the Department of Labor.

Guatemala. A complaint regarding labor standards in Guatemala was submitted in April 2008. Consultations took place in 2010. In April 2013 an Action Plan was negotiated. In September 2014, the Department of Labor reported that a moderate advancement in efforts to eliminate the worst forms of child labor. It is now 9 years since the complaint was filed.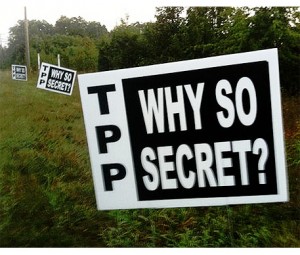 The question of what makes the TPP labor protections so much better that Congress should approve Fast Track is one that could be posed to any member of Washington's delegation. But Sorscher has asked Rep. Kilmer for clarification about the labor standards because the 6th District Congressman has specifically said he is satisfied with the improved labor protections.
"You tell us TPA meets your threshold for improved labor standards," Sorscher writes. "We presume your judgment is informed by your personal access to the labor chapter in TPP, and your direct communication with negotiators. By endorsing TPA, you are signaling us that you are satisfied with what we have negotiated in the TPP.
Sorscher concludes: "TPP is not just another trade deal. It will define global standards for a generation. We expect real, meaningful, actionable, provisions. If TPP will do better, we would like to know how the new standards are different from and better than the old standards."
The Stand will be happy to report Rep. Kilmer's response if/when Sorscher receives it.
WASHINGTON IS A UNION STATE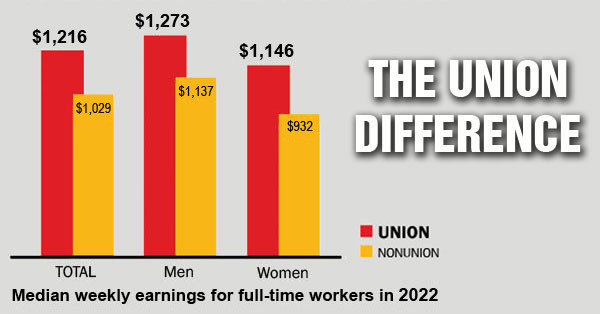 CHECK OUT THE UNION DIFFERENCE in Washington state: higher wages, affordable health and dental care, job and retirement security.
FIND OUT HOW TO JOIN TOGETHER with your co-workers to negotiate for better working conditions and respect on the job. Or go ahead and contact a union organizer today!