UW student employees reach tentative contract agreement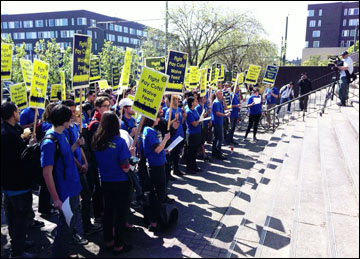 SEATTLE (May 1, 2015) — With just hours to go before their current contract expired and a possible strike looming at the University of Washington, Academic Student Employees (ASE) represented by UAW Local 4121 at the state's largest university reached a tentative agreement that the union says addressed all priority issues. A ratification vote for the proposed contract covering some 4,000 ASEs will be scheduled soon.
Liz Mills, a Bargaining Committee member and ASE from the Information School, told The Seattle Times that the agreement "creates a more equitable and inclusive campus environment."
The union's website reported that the tentative agreement achieved "some incredible, hard-fought victories," including:
Waiver of the Building Fee – and thus the entirety of tuition – for the first time ever.  This fee is currently $152 per quarter (more for some programs) and is projected to steadily increase over the next three years, but our tentative contract waives this fee in its entirety.
Certain student-approved fees (SFR and U-Pass) will become required fees for all ASEs, however the University agreed to a lump sum $150 payment to 50% ASEs in 2015 which will offset this.
Overall, out-of-pocket fees will be reduced by 19% (or more, depending on program) for most 50% FTE ASEs.
Another victory on the path to $15 an hour: Hourly ASE wages in every work location (not just Seattle) will increase to a minimum of $12.50 on January 1, followed by a minimum 2% increase on July 1st, 2016 (nearly 20% compared to pre-April 1 minimum rate).  We expect and will continue to fight for the minimum to increase to $15 by January 1, 2017.
Building on prior victories, for Graduate Student Service Appointments wages will increase 24% compounded over the next three years in base rate departments. We expect this will also drive increases above the minimum 6% in variable pay departments.
Health care benefits are locked in for 3 years, with $0 premiums, and the University has agreed to significant increases to transparency and accountability, including a process for considering another insurance company.
Childcare subsidies will increase by $200/quarter.
The University will build/re-purpose 26 all-gender bathrooms and provide adequate access to all-gender bathrooms for all ASEs.
The University will provide and publicize private, clean lactation facilities, and provide adequate break time.
ASEs can pursue grievances and the Union and University can jointly create trainings with the goal of eliminating microaggressions on campus.
Having a 3 year contract duration maximizes the number of rank-and-file members who have the opportunity to participate in the democratic bargaining process while they're at UW.
"We sincerely appreciate your support, mobilization, passion, and tenacity in helping us get to this exciting moment," wrote UAW 4121 in its message to members. "All of your work in turning out for actions, voting yes to authorize a strike, and communicating your interests and priorities has shaped the process and has shown the University that you would accept nothing less than a fair, inclusive, and equitable contract for all ASEs."
Short URL: https://www.thestand.org/?p=39948
Posted by
David Groves
on May 1 2015. Filed under
LOCAL
. You can follow any responses to this entry through the
RSS 2.0
. Both comments and pings are currently closed.